We'll say it again: Referees don't have an easy job.
It's often difficult to get in the right spot to make a call, simply because there's so much space to cover, and without the benefit of a replay, decisions must be made in a split second.
Some referees can't stay out of the spotlight, and when they make news, it's almost always for the wrong reason. Bring back Pierluigi Collina -- the Italian widely regarded as the best of all time.
Five refs bound for the World Cup deserve special mention.
Martin Hansson: Hansson still won't want to visit Ireland.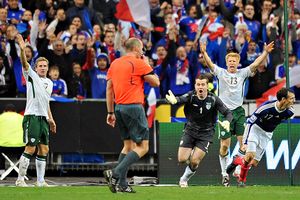 Lionel Bonaventure/Getty ImagesIreland couldn't believe it when Hansson failed to call Thierry Henry's handball.
Hansson took charge of the ill-fated playoff game between France and Ireland in Paris last fall and had a solid game through 90 minutes. The Swede was unfussy, letting the play go, and stood firm when France cheekily sought a penalty in extra time. He got that one right.
However, he got the biggest decision of all wrong, allowing William Gallas' decisive goal to stand after Thierry Henry's Hands of God. Further, chased by the Irish, he was adamant the ball struck Henry's side.
England probably wants to avoid Hansson, too. In the second round of the Champions League this season, the 39-year-old allowed FC Porto to take a quick free kick against Arsenal. His discretion. Hansson, though, didn't exactly get out of the way as Gunners defender Sol Campbell tried to get into position, and Porto scored.
He was the ref in last year's Confederations Cup final, and even that had controversy, when a header from Brazil's Kaka against the U.S. crossed the line but wasn't given.
So how did Hansson get picked for South Africa?
Jorge Larrionda: The ref smack dab in the middle of the U.S.'s pulsating draw against Italy in 2006 is back.
Larrionda sent three players off in the group game in Germany and certainly got two of the decisions right. Daniele De Rossi had to go for a vicious elbow on Brian McBride, while Pablo Mastroeni's lunge on Andrea Pirlo might have sidelined the playmaker for months. Larrionda became a little trigger happy, though, later brandishing a second yellow card to Eddie Pope for a fairly mundane challenge. Once the cards start coming out, it's hard to stop (or select the right color).
Larrionda, 42, was also harsh in showing Michael Bradley a straight red late in the U.S.'s stunning semifinal win over European champ Spain at the Confederations Cup. Bradley took ball and man on a 50-50, catching midfielder Xabi Alonso. The U.S. may have held a 2-0 lead against Brazil in the final with Bradley in the lineup.
The Uruguayan missed the 2002 World Cup after he was banned due to unspecified irregularities. What exactly does that mean? No one knows precisely, but use your imagination.
Howard Webb: Just because Webb works in the Premier League, widely considered the best soccer league in the world (or in the top two, with La Liga), don't assume he's one of the best referees at the World Cup. He's made one howler after another.
Last year, Webb publicly apologized for his performance in an F.A. Cup game between Wolves and Birmingham City. Webb, trained as a police officer, denied Birmingham a clear penalty, and later inadvertently helped Wolves score when he was accidentally struck by the ball. A misdemeanor.
Months later came a more serious error. In a game with title implications, the 38-year-old ref awarded Manchester United a penalty at home when trailing 2-0 to Tottenham, even though replays showed Spurs keeper Heurelho Gomes getting the ball before making contact with Michael Carrick. United converted from the spot and ended up winning, leapfrogging Liverpool in the standings.
Maybe giving that penalty had something to do with a blown call as Barcelona beat Bayern Munich in the Champions League weeks earlier. Incredibly, Webb showed a yellow card to Lionel Messi for diving when there was clear contact in the box.
We could go on (see Poland versus Austria at Euro 2008), but you get the point. Webb had a mediocre, at best, season in the Premier League, although was chosen to officiate Saturday's Champions League final. Luckily for him, he didn't have to make a huge call.
Wolfgang Stark: For the second straight season, Chelsea didn't have much luck when it came to refs in the Champions League. He wasn't as bad as Tom Henning Ovrebo, but Stark had a stinker in Chelsea's 1-0 loss to Inter Milan in March.
Stark kept his whistle in his pocket when Branislav Ivanovic was mugged in the box at Stamford Bridge, and did the same as Walter Samuel manhandled Didier Drogba. Let's give credit where it's due, though: Drogba deserved his red late in the game for a stamp.
At least the German, 40, didn't need to be escorted off the field by police.
At the under-20 World Cup in Canada in 2007, Stark did need an escort following a contentious semifinal between Chile and Argentina (which featured current senior internationals Angel di Maria and Sergio Aguero). Stark issued 11 cards, nine to Chile, including both reds, and called 53 fouls. Match reports suggest dives were in season.
One Chilean fan sprinted onto the field, trying to get to Stark, but was intercepted by Chilean players.
Eddy Maillet: If Slovenia (population 2 million) overachieved to reach the World Cup, what of Maillet? Maillet hails from the tiny African paradise of Seychelles (population less than 90,000).
Maillet has refereed at the African Cup of Nations numerous times, as well as the most recent edition of the Confederations Cup. More impressive, the 42-year-old was picked to work the highly charged playoff between Egypt and Algeria in Sudan in November. From all accounts, he passed with flying colors.
So maybe it's not all doom and gloom when looking at the refs.
London-based Ravi Ubha covers soccer and tennis for ESPN.com.