The ultimate World Cup playlist
Apr 25
Soccer and song go hand in hand like Kid 'n Play. Long before "The Super Bowl Shuffle" was even a twinkle in Jim McMahon's eye, soccer teams from around the world made the act of recording a crude yet infuriatingly catchy single a sporting tradition.
The English squad perfected the art in 1990, recording "World In Motion" with electro-dance pioneers New Order, who proceeded to pack as many nudge-nudge drug double-entendres as humanly possible into a 4 minute, 32-second track.
It seemed as if this hook-laden single was audible everywhere in May 1990, turning nightclub dance floors into soccer terraces, as thousands of drunk, giddy fans would close their eyes and scream along. The tune does what only a great soccer song can -- tap into a countrywide sense of anticipation and make an entire nation believe:
"We're playing for England (IN-GER-LAND!) / We're playing the song
We're singing for England (IN-GER-LAND!) / Arrivederci, it's one on one.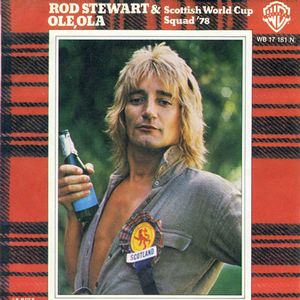 Courtesy of Roger Bennett
"World In Motion" remains New Order's only British No. 1 single to this day. If it fails to move you, sit back and enjoy Chris Waddle's spectacular mullet just 25 seconds into the video. Here are nine tracks that no self-respecting soccer fan could live without and one they should never allow in the vicinity of their iPod. Click on the title of each song to hear the track in all its splendor.
1. Rod Stewart and Scottish World Cup squad: "Ole Ola" (1978)

Lilting tropical-rhythm arrangements elevate this track, distinguishing it from its traditional calling as an evergreen on the bar mitzvah circuit. But the disc's legendary status was cemented by the presence of a particularly hoarse-voiced Stewart, who graces the cover with his shirt open down to the navel, chest puffed and a tightly clenched bottle of lager in hand.
2. England WC squad: "Back Home" (1970)

Written for the England team (ironically by Scottish singer Bill Martin), "Back Home" was the first soccer player World Cup song. Full of chintzy horn arrangements and hand-clapping lifted straight from the terraces, it roused even the most cynical fan to bouts of flag-waving mania in Mexico. Of course, the English melted in the searing heat, but they fared better on the charts, where "Back Home" was No. 1 for three weeks.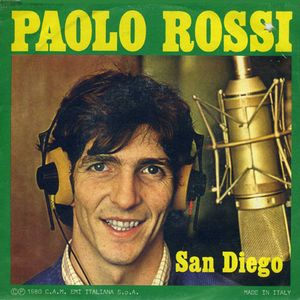 Courtesy of Roger Bennett
3. Paolo Rossi: "Domenica Alle Tre" (1980)

Paolo Rossi displays his melodic side on this jaunty, calypso-inflected ode to the traditional 3 p.m. Sunday kickoff time. The track starts slowly, not unlike the Italian striker himself at the 1982 World Cup. He failed to find the net in the first four games before going on a tear and ending up as the tournament's top scorer. This single mirrors his pace, as it builds into an emotional climax, making it one of the greatest love songs to have been released by a World Cup-winning soccer star.
4. Johan Cruyff: "Oei, Oei, Oei (Dat Was Me Weer Een Loei)" (1972)

Rousing oompah-oompah horns back this sing-along special from the early '70s in which the great Dutchman waxes lyrical about his otherworldly skills. Translating to "Oi, Oi, Oi (He Surely Hits That Ball)," the song proves that although Cruyff could play any position on the pitch, he couldn't quite hit the right pitch in the studio.
5. Groupe El Bahara: "Djibouha Ya Louled" (Algeria's World Cup song for 1982)

The venue may be a little sterile; the television producer favored flipping camera angles at the speed of a strobe light; and El Bahara's lead singer, Sadek Djemaoui, could pass as Ruud Gullit's older, more musically inclined brother. But the hypnotic rhythm section undergirding this track provides it with a class and dignity matched only by the display of the Algerian team on the field (see No. 6 in our list of controversial moments).
6. Glenn Hoddle and Chris Waddle: "Diamond Lights" (1987)

Take two cult England internationals, deck them in shiny suits with the sleeves rolled up, Don Johnson-style, back them with angular electronic instrumentals that proved even silkier than their blond mullets, and you get the theme song to "Miami Vice: East End." Nothing about this track screams novelty song, but plenty might scream "turn it off" after 30 seconds.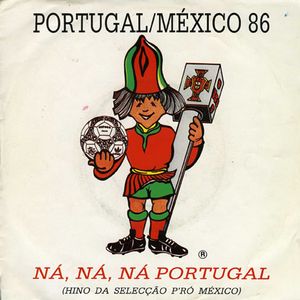 Courtesy of Roger Bennett
7. Portugal team: "Na, Na, Na, Portugal" (1986)

From the country that gave the world the mournful musical tradition of fado comes a surprisingly poppy smash. The song title is repeated over a backing riff that could pass as a porno-movie sound track. The effect is mesmerizing. As the Portuguese World Cup campaign was marred by doping scandals, political conflict and a first-round ouster, the single remained the only positive Portuguese performance at the 1986 tournament.
8. Julio Iglesias: "Gwendolyne" (1970)

After his burgeoning career as Real Madrid's goalkeeper was cut short by a horrific car crash, Iglesias ditched his gloves for the hair gel and microphone, salsa-dancing into the hearts of housewives across España. "Gwendolyne" placed fourth at Eurovision in 1970 (think "American Idol" but for an entire continent) and spent eight weeks atop the Spanish charts, setting him up for four decades of bubble-gum singing that his son Enrique has since continued.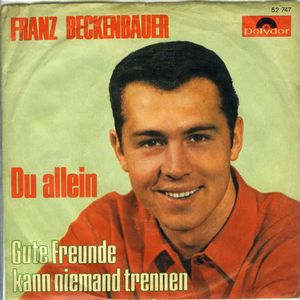 Courtesy of Roger Bennett
9. Franz Beckenbauer: "Gute Freunde Kann Niemand Trennen" (1966)

Beckenbauer re-engineered the modern game with his attack-from-the-back performances as a sweeper, leading the 1974 West German team to glory. By then, he already had become the pop star of German football courtesy of his hit single "True Friends Can't Be Separated," a whispered vocal over a hurdy-gurdy track that was part Donovan, part Hasselhoff. In 1978 he reinforced his musical offerings by curating a scintillating album for German tabloid Bild, featuring Austria's answer to Billy Joel, Udo Jürgens, who belted "Buenos Dias, Argentina" with the German national team as well as the romantic "Think About Me, Young Girls" and the cautionary "The Devil Makes Schnapps."
And one to avoid:
10. Alexi Lalas: "Goodnight Moon" (1998)

Lalas is a man of many achievements as a player, general manager and TV analyst, most famously turning in a stellar performance at the 1994 World Cup and becoming the first American to grace the Italian Serie A. Despite hailing from Detroit Rock City, home of the Stooges, the MC5 and the White Stripes, among others, being musically blessed was not one of his accomplishments. His 1998 album "Ginger" gives both hard rock and soccer a bad name. Lalas laid down the vocals, guitar, drums, bass and percussion, yet the album is tolerable only when listened to amid a packed stadium of blaring vuvuzelas.
Roger Bennett and David Hirshey are the co-authors of the forthcoming "ESPN World Cup Companion," your guide to everything you need to know to enjoy the 2010 World Cup. Roger Bennett can be e-mailed at sirfabiocapello@yahoo.com.