France enters World Cup in disarray
When spring rolls around, France is usually a lovely place. Paris is Paris, the rest of the country offers up regional delights and bodies start getting tanned on the Riviera beaches. A warm baguette, soft cheese and a Bordeaux red make for a nice trio.
French soccer fans, though, can't be in great spirits. Their team is in disarray with the World Cup a month and a half away.
Les Bleus lack cohesion, have several injury worries and are still led by controversial coach Raymond Domenech. A refereeing decision here or there and France might have missed this summer's extravaganza altogether.
The French are also coming off a crushing 2-0 loss to tournament favorite Spain in a March friendly at a disappointed Stade de France, which erupted in celebration 12 years earlier when the nation won its maiden World Cup. To make matters worse, this week star winger Franck Ribery, a married man, and enormous prospect Karim Benzema were implicated in a prostitution scandal.
"We aren't really in a good position," said retired left back Bixente Lizarazu -- who did the World Cup and Euro double with France -- in a telephone interview with ESPN.com. "There are things France has to change, but the problem is, the coach didn't try them before. We have good players, but we don't have a team at the moment."
Lizarazu's words were gentle compared to Christophe Berard, a soccer writer with the French daily Le Parisien. Berard didn't give France much chance in South Africa, only turning positive when discussing sterling keeper Hugo Lloris. When asked what France needed to taste success, Berard replied, "A lot of luck."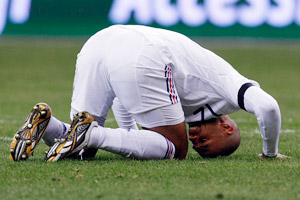 AP Photo/Francois MoriDoes Thierry Henry have anything left in the tank?
No repeat of 2006 in Germany, when, surprisingly, France upset Brazil in the quarterfinals thanks to Thierry Henry's great volley and went on to reach the final?
"Well, we can always dream," Berard said in a phone interview. "[Patrick] Vieira was four years younger, and above all, we had Zinedine Zidane."
Domenech somehow kept his job in the wake of France's disastrous showing at Euro 2008, making things worse by immediately proposing to his girlfriend on live TV as a nation tried to digest the performance on the pitch. The praise Domenech received in Germany was long gone.
Domenech infused much-needed youth into the squad when he had no other choice, yet the balance is suspect. The all-important spine consists of, among others, Lloris (as good as he is, he's only 23 and looked shaky on crosses as Lyon lost 1-0 at Bayern Munich in the Champions League on Wednesday); William Gallas, a 32-year-old center back battling a calf injury; Vieira, a Domenech favorite who turns 34 in June; and Henry, inching towards 33. Henry remains the talismanic forward.
Vieira hardly plays for Manchester City, while Henry has made two starts for Barcelona since the end of February. Illustrating how the mighty have fallen, Henry didn't get off the bench as Barcelona chased a two-goal deficit at Inter Milan in the Champions League on Tuesday. Instead, towering Spanish defender Gerard Pique was employed as a center forward.
Perhaps the rest will turn out to be a positive for Henry -- booed vociferously against Spain -- and Vieira, both survivors of the 1998 team.
Benzema is learning about politics at Real Madrid, far from a starter despite his hefty €35 million ($47 million) price tag. The striker, heavily linked with Manchester United last summer, returned from a lengthy thigh injury this month. The defensive partner for Gallas, should he get fit, is unknown. Yoann Gourcuff -- compared to Milan playmaker Andrea Pirlo by Lizarazu -- tailed off, like the rest of his Bordeaux teammates, in Ligue 1.
Who knows how long the prostitution brouhaha will last? And Domenech hasn't found a way to get fellow winger Florent Malouda, having a fantastic season at Chelsea, into the starting lineup. Domenech and Malouda have quarreled in the past.
"We have a lot of players injured or who aren't playing, so if you don't use the players that are playing, then what do you do?" Lizarazu said. "It's important to use players who have been playing. It's true Domenech hasn't been playing Malouda a lot, but he has to change. And he also has to change his mind regarding the position of other players."
Lizarazu's alterations would include starting Malouda on the left, employing Ribery behind the main striker (or strikers), not on his usual spot on the left, and using Henry up front, rather than seeing him drift on the left as he did versus Spain.
"We have a problem finding width when Henry is playing on the left, because he comes in to the center, and when [Chelsea's Nicolas] Anelka is playing on the right, he comes into the middle, too," Lizarazu said.
Domenech has three games to tinker before the World Cup. Steering clear of World Cup participants, France faces the gentle trio of Costa Rica, Tunisia and China in late May and early June. Call it a chance to build confidence.
France then snuggles up to Mexico, Uruguay and South Africa in Group A, not exactly the group of death. If France tops the table, the next foe, in the round of 16, is likely either Greece or Nigeria. Certainly manageable. In the quarterfinals, the English -- perennial underachievers -- could await.
Domenech is confident his team can turn things around.
"Beautiful babies sometimes come to the world after difficult deliveries," he told L'Equipe last week in typically bizarre fashion.
France hopes he's right.
London-based Ravi Ubha covers soccer and tennis for ESPN.com.