Eleven players who can up their stock
Apr 02
Billions of fans worldwide will tune in to this year's World Cup to see which nation emerges victorious, but not everyone watching the matches will be primarily concerned with the final scores. As there is with most modern sporting competitions, there's a lot of money at stake in South Africa -- much of it in the form of multimillion dollar player transfers.
The tournament provides the perfect stage for players to prove their worth to clubs looking for emerging talent and hoping to secure the services of tomorrow's superstars. Some of those likely to be on the move this European summer are already well-known -- France's Franck Ribery and Spain's Cesc Fabregas among them. For others on the brink of stardom, the World Cup is the chance to spark a bidding war or win that once-in-a-lifetime move, perhaps to the famous club of their boyhood dreams.
Here's a full team of such players to watch in South Africa, budding stars likely to be on radar screens of the largest clubs in world soccer. For these players, a productive World Cup likely will bring a high-priced transfer and significant payday:
Hugo Lloris, GK, France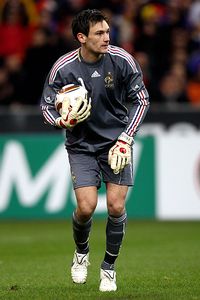 Michael Steele/Getty ImagesFrench goalkeeper Hugo Lloris could engineer a move from Lyon with good results in South Africa.
Lloris is a rare quantity -- a world-class goalkeeper who might be available for the right price. Just 23 years old, the athletic Lyon backstop has seized the starting spot for Raymond Domenech's Blues. The French will be tested against three quality attacking sides in Group A, so Lloris will have plenty of chances to prove himself on the world's biggest stage, and his success is key to French aspirations.
With several large European clubs searching for a long-term solution at the vital position, a good performance will spur even more demand for the Frenchman's services, estimated to be worth a $30 million transfer.
Nicolas Otamendi, D, Argentina
This bulky central defender for Argentine club Velez Sarsfield is another rarity: a projected starter for a legitimate World Cup contender who still makes his living outside Europe. That the 22-year-old hasn't yet made the jump overseas is a testament to his rapid rise to the top of Argentine soccer.
Otamendi made his first professional appearance less than two years ago and not long after was called into the national team. Coach Diego Maradona now prefers him over the likes of Real Madrid's Ezequiel Garay and Barcelona's Gabriel Milito. Reported to be in the sights of Inter Milan, Juventus and Real Madrid, Otamendi's tenure in the Argentine league is as sure to end this summer as Maradona is to cause controversy in South Africa.
Neven Subotic, D, Serbia
Though many U.S. fans will no doubt hope other Americans solidify their stock at the World Cup, they might not wish the same for this expatriate. To their relief, American-born Italian striking phenom Giuseppe Rossi falls short of this list, but there's no way to leave out the rapidly improving Subotic.
The 6-foot-4 American of Bosnian-Serb descent is one of Europe's most highly coveted young central defenders, with estimates of the cost to pry him away from his four-year contract at Borussia Dortmund easily topping $20 million. That hasn't stopped some of England's largest clubs from considering bids, and a strong World Cup for Serbia alongside Nemanja Vidic will only increase interest in the wayward American.
Taye Taiwo, D, Nigeria
Just as top level goalkeepers are in short supply, so are quality left backs. Taiwo, a soon to be 25-year-old Nigerian, increasingly fits the bill. A combination of speed and power on the left side of defense for Olympique Marseille, Taiwo is an aggressive left back in the mold of Roberto Carlos. For a defender, he gets forward into the attack with impressive regularity, having scored seven times for Nigeria in 26 international appearances. Such a unique quality, even accompanied by irregular defensive efforts, has attracted the attention of Inter Milan and Liverpool. If Taiwo can step it up against top competition this summer, his value will increase significantly.
Mesut Ozil, MF, Germany
This young German of Turkish descent has been a part of the full national team for less than a year, joining last summer after sparking the German under-21 team to the European championship. In that time, Ozil has won over coach Joachim Low with his displays of flair for club team Werder Bremen and has been mentioned as a potential replacement for Fabregas at Arsenal if the Spaniard leaves over the summer. Ozil is out of contract in the summer of 2011, making this year's World Cup an ideal time for Bremen to cash in.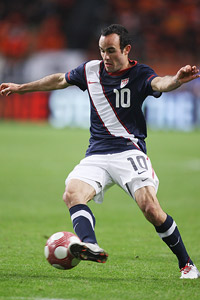 Ian Walton/Getty ImagesIf Landon Donovan can play a strong World Cup, he could be back in Europe again -- and soon.
Landon Donovan, MF, United States
The World Cup is a golden opportunity for the American to consolidate his growing reputation as a world-class player. Donovan's impressive performances during a 10-week loan spell at Everton removed doubt as to whether he can contribute in one of the world's top leagues.
What's still left to be determined is the height of the ceiling for one of America's all-time best. Is he simply a capable but common role player, or does he justify breaking the bank -- meeting what is likely to be a transfer fee to MLS in the neighborhood of $15 million? Donovan has long had a disturbing habit of disappearing from certain matches (sometimes of the high-stakes variety). For a team such as Chelsea, to which he has been linked, to pay up for the Galaxy man, he'll need to put on a consistent and impressive show in South Africa.
Lee Chung-Yong, MF, South Korea
Still largely under the radar, this 21-year-old Korean playmaker isn't likely to be a secret much longer. A shifty and elusive midfielder who followed in the footsteps of countryman Park Ji-Sung when he moved to England, joining Bolton last year, his skill will be needed in a tough group for South Korea. At times this season, Lee's creative midfield play has pulled his struggling club team up by the bootstraps. If he can replicate those performances at the World Cup against Group B opponents Argentina, Greece and Nigeria, Bolton will soon be showered with offers from bigger clubs.
Anthony Annan, MF, Ghana
Fitting into a midfield that includes Michael Essien, Stephen Appiah and Sulley Muntari is certain to raise the profile of any player. That's the situation in which Annan, a central midfielder for Norway's Rosenborg, will find himself at the World Cup.
A hard-working, box-to-box type, the 23-year-old has inevitably been compared to Chelsea's Essien. If everything comes together for Ghana in a very complicated group, the Arsenal-linked Annan could easily find himself competing in the Premier League alongside Essien next season.
Yoann Gourcuff, MF, France
Those who follow European soccer closely are more than familiar with this French midfielder, who spent three less-than-productive seasons at AC Milan before returning to France and his current team, Bordeaux.
The reigning Ligue 1 Player of the Year has thrived while receiving consistent playing time in his native land and is likely to prove a major force alongside the likes of Thierry Henry and Franck Ribery in rejuvenating France's sometimes tepid attack. At tournament's end, Gourcuff's transfer could well prove the most costly on this list -- just entering his prime, he is a ready-made addition to any club's midfield.
Angel Di Maria, MF/F, Argentina
Portuguese club power Benfica swooped for Di Maria along with Freddy Adu in the summer of 2007, after the under-20 World Cup in Canada. That's about as far as the similarities between the two go -- while Adu has struggled in Europe, the Argentine has gone on to establish himself as one of the brighter young attacking minds in the game.
Di Maria is another member of Argentina's next generation ahead of schedule in winning over Maradona, who has labeled the 22-year-old the country's next superstar. Exactly what that counts for in light of the coach's often questionable personnel decisions is up for debate, but with that confidence set to result in plenty of playing time in South Africa, Di Maria is in prime position to increase his transfer value during the World Cup.
Gervinho, F, Ivory Coast
Gervais Yao Kouassi is his real name, but Gervinho's flair earned him a Brazilian nickname even before he left his native Ivory Coast for European soccer. There, the Ivorian has used his speed and skill to maintain a prolific strike rate during five professional years in Belgium and France. With opposing defenses focusing much of their attention on Didier Drogba, Gervinho, like the others on this list, might be set for an expensive transfer on the heels of a breakout tournament in South Africa.
Brent Latham covers soccer for ESPN.com. He previously covered sports throughout Africa for Voice of America radio and now works as a soccer commentator for a national television station in Guatemala. He can be reached at brentlatham@ymail.com.