The goal that changed U.S. soccer
Passionate Trinidad & Tobago fans banged on steel drums in the stands, chanting, singing and screaming, the noise deafening.
Meanwhile, on the Hasely Crawford Stadium pitch, U.S. defender Paul Caligiuri watched teammate Tab Ramos collect the ball just across midfield on a throw-in. Ramos was looking at Caligiuri, feeding him with a square ball, which bounced to his waist.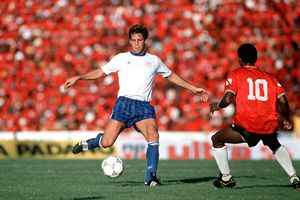 Getty ImagesPaul Caligiuri's goal against the Soca Warriors is arguably the most important goal in U.S. soccer history.
The crowd was at a fever pitch, but Caligiuri heard none of the roar. Instinctively, he pushed forward with the ball, beating a T&T defender.
Caligiuri took a shot. It wasn't the greatest look. Still, from 30 yards out, he hit a left-footed volley -- with just enough pace and topspin -- that beat the keeper in the far right corner.
Better than bending one like Beckham. Suddenly, the steel drums, the carrying on in Port of Spain, went silent.
1-0, the Americans.
Caligiuri's 30th-minute goal stood up, and more than 20 years later it's still known as "the goal heard 'round the world." The shot that qualified the U.S. for the World Cup for the first time in 40 years. A goal that changed the American game forever.
"Over the years, people have asked me about that moment," said Caligiuri, referring to his historic goal on Nov. 19, 1989. "I dedicated my life to the game and I care deeply for U.S. soccer, so it meant a lot. I was just going on adrenaline, I just seized the moment, and just let that shot go."
And, thanks to Caligiuri's moxie, the slumping U.S. game also took off. His blast not only sent the Americans to Italia '90, but helped the U.S. host the event for the first time four years later. The U.S. has qualified for five straight World Cups, and Major League Soccer was founded in 1993 as part of this country's bid to hold the world party.
MLS began play in 1996 and has showcased American players like Landon Donovan, DaMarcus Beasley and Jozy Altidore, who have since played in Europe. These days, dozens of Americans play overseas -- from Holland to England.
Back then, before Caligiuri's magical shot, only a handful of Americans played in Europe.
"Paul's goal was just meant to be, it was meant to be," said Marcelo Balboa, who played defender for the U.S. national team from 1988 to 2000. Balboa, playing for San Diego State University at the time, wasn't capped for the historic T&T win. "It was huge; nobody will ever forget that goal, even though we still joke with Paul that he just closed his eyes and hit it. But it was the biggest goal in 40 years and let all of us fulfill our dream of playing in the World Cup. That's the way I look at it."
Added John Harkes, an ESPN analyst who played in the midfield for the U.S. national team from 1987 to 2000: "We're lucky it happened. It was a must-win situation. I think Paul's goal changed the landscape of soccer in America. It's something miraculous that happened, a great goal; it set up the launching stage for soccer in America."
Caligiuri, now 46, remains humble about his goal. Still, Caligiuri is proud and honest about the goal, speaking on behalf of the sport.
"Is there a home run, a grand slam, that changed the sport like that goal?" said Caligiuri, who played 110 games for the U.S. from 1984 to 1997, competing in two World Cups. "Is there a basketball shot? The only thing that is close is the Miracle on Ice. Our win made the U.S proud of soccer again. Our federation was completely out of money, headed for bankruptcy. What we did changed all that."
Caligiuri played professionally in Germany with Hamburg SV, SV Meppen, FC Hansa Rostock and SC Freiburg from 1987 to 1992. He ended his career with the L.A. Galaxy in 2001. These days, Caligiuri lives with his wife, Jenny, and three children -- Ashley, 17; Kayley, 13; and Luca, 1 -- in Southern California.
He coached soccer at Division II Cal Poly Pomona from 2002 to 2008 and now works with the Tustin United Soccer Club and FC Murrieta. Caligiuri also is involved in several business ventures.
As proud as he is of that goal and what that U.S. team accomplished, Caligiuri is even more passionate about today's players and their impending run at World Cup glory. He hopes striker Charlie Davies continues his miraculous recovery from injuries sustained in a horrific car accident in October and plays for the U.S. in South Africa.
Caligiuri is pulling for defender Oguchi Onyewu, who's recovering from a patellar tendon rupture, to be a go at the World Cup. Speaking about Landon Donovan's success on loan with EPL side Everton, and how he has been embraced across the pond, Caligiuri is almost moved to tears. "What Landon's doing, it's amazing. How great is it, how wonderful?" Caligiuri said. "That's touching for me. I'm really proud of him. The game and the respect we get has changed so much for the U.S."
And the Americans' rise, as rocky as it's sometimes been, all began with Caligiuri's ferocious strike in Port of Spain.
The goal heard 'round the world.