Italy chief blames clubs for Euro woes
June 22, 2010
Italian football federation president Giancarlo Abete has said money is the reason European sides have so far failed to impress at the World Cup.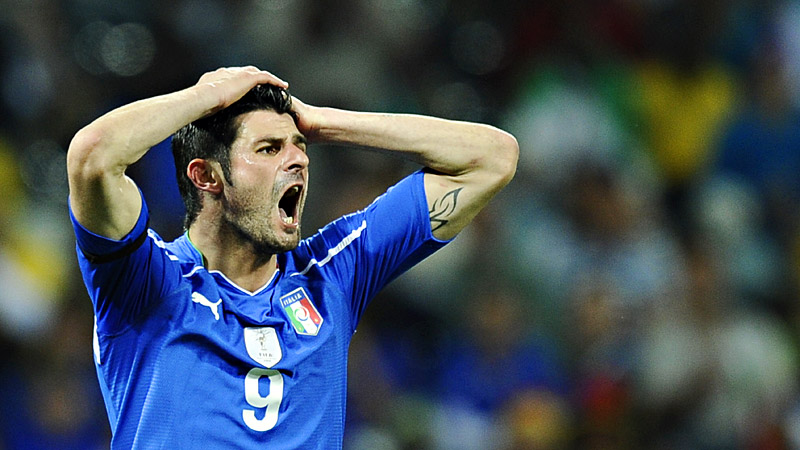 no_source / Filippo Monteforte/AFP/Getty Images)Vincenzo Iaquinta joins Juventus' growing injury list
• Gilardino: Team-mates must step it up
• Blog: Must win game lies ahead
Europe's traditional big six of Germany, Spain, Italy, Netherlands, France and England have mustered only four wins between them in the first 11 days - and the Dutch provided two of them without hitting anything like top gear.
Abete blamed Europe's big clubs, awash with money from lucrative broadcast contracts, for failing to develop young players good enough for international football.
"If you look at this World Cup you'll realize that all the big European teams are having problems," he said. "Between Spain, France, England, Germany and Italy, we've only managed one win. Apart from the Netherlands, only Central and South American teams are smiling. The clubs have more power than the federations."
UEFA president Michel Platini is attempting to swing the balance back in favour of national associations and young players by enforcing minimum quotas on so-called home-grown players. But Abete is unconvinced.
"Real Madrid has a budget eight times that of the Spanish federation," he said. "All we can do is try to encourage coaches to put more faith in younger players. That's it."
The concerns are greater in England where more than half the players in the Premier League are from abroad. The Football Association's head of development, Trevor Brooking, said that the national team faces greater problems still once the current generation of players fade.
"Every place in the league is worth £750,000 ($1.1 million), so even at the end of season you don't get a chance to try out youngsters because you might lose three places and cost yourself £2 million ($3 million) in the transfer budget."
In contrast, South American countries may be benefiting from the relative financial weakness of their clubs. Even big clubs such as Boca Juniors, Santos and River Plate struggle to hold onto their best players once European clubs show interest. That forces them to invest heavily in young players, with the game a traditional route out of poverty for many.