PARIS -- France's World Cup squad arrived home to a cold welcome after a humiliating early exit condemned by domestic media as "A State Scandal."
The team's chartered plane landed Thursday in the small Bourget airport, where police guarded the tarmac to let the players disembark away from media and fans.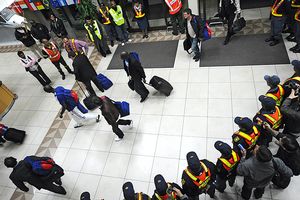 Franck Fife/AFP/Getty ImagesA heavy security presence allowed France's players to avoid contact with fans and journalists.
Les Bleus were eliminated from the first round after a tournament in which they refused to attend a practice session, failed to win a match, and had striker Nicolas Anelka kicked off the team for insulting the coach, Raymond Domenech.
Domenech, who is retiring as coach, added yet more dismay by refusing to shake hands with rival coach Carlos Alberto Parreira after France's 2-1 loss to host South Africa.
Star striker Thierry Henry, a former team captain and a 1998 World Cup champion who played only 52 minutes in two games in South Africa, joined a small motorcade sent by President Nicolas Sarkozy. Henry went to a private meeting with Sarkozy, entering the Elysee Palace by a side door and making no comment.
The soccer fiasco is taking an increasing political turn in France, where the leading sports daily L'Equipe had dubbed the debacle "A State Scandal."
Sarkozy has vowed to personally investigate the matter. He met with prime minister Francois Fillon and sports minister Roselyne Bachelot on Wednesday to discuss ways to reform French soccer.
"The head of state asked the ministers to ensure that those responsible learn the lessons of this disaster quickly," Sarkozy's office said in a statement, implying that several managers from the team and federation could resign. "He also asked the ministers to ensure that no financial reward is given."
Henry and some other team members have confirmed they aren't taking any bonuses from the World Cup, including from private sponsors.

Copyright 2010 by The Associated Press