Long after the game had ended and the jubilant players had left the field, the U.S. fans partied on in the stands, singing, dancing and waving their American flags. Back home, folks who couldn't pick Landon Donovan out of a lineup only a few weeks ago celebrated his goal with die-hard gusto.
For decades now, soccer enthusiasts have insisted it was only a matter of time before the game grabbed hold of the United States as it has the rest of the world.
That time is here.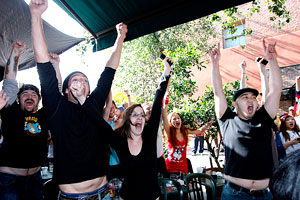 AP Photo/Nick UtEcstatic Americans were partying hard in Pasadena, Calif. and across the nation Wednesday after Landon Donovan kept the U.S.'s Cup dreams alive with a big winner against Algeria in the game's final seconds.
U.S. sports fans love winners, and the Americans are moving on to the second round of the World Cup as the top team in their group -- ahead, even, of mighty England. But it's the way this team is playing, every match an adrenaline-fueled, heart-in-your-throat, can't-look-away-for-a-second dance on the edge that is captivating the country. And changing the game in the United States.
"Anybody that watched today's game and can't get excited about it, we're not going to win them over," U.S. Soccer president Sunil Gulati said. "But I think we won a lot of people over today."
Peter Wilt, president of the Milwaukee Wave professional indoor soccer team and U.S. coach Bob Bradley's former boss at the Chicago Fire, called it the biggest moment in American soccer in more than 20 years.
Walter Bahr, who played on the 1950 U.S. World Cup team that beat England 1-0, watched the U.S. victory from his home in Boalsburg, Pa. He says he is already looking forward to the next match.
"I thought it was one of those games where they couldn't buy a goal," Bahr said. "They certainly had enough opportunities -- a little here and a little there -- and they just couldn't put it in the net."
Soccer has been on a slow, steady climb for years now, and its growth is inevitable with all those kids who've been packing their local parks each weekend. But to become a major player in the U.S. sports scene, to generate the kind of interest the NFL, NBA and Major League Baseball do, soccer needs some kind of watershed moment.
South Africa is it.
The wall-to-wall TV coverage on ABC and ESPN -- unprecedented in the United States -- helps. So, too, does having a team filled with friendly, likable, humble guys. The first World Cup in Africa holds a certain appeal, too.
But none of that would mean anything if the Americans weren't advancing. And doing it in entertaining fashion.
One of America's biggest complaints about soccer is that it lacks action, that it doesn't have the high-scoring drama of our other sports. You can play 90 minutes and see only a goal or two. Or, worse, a 0-0 tie.
The U.S. notched a grand total of one goal in the victory over Algeria on Wednesday, yet it would be a chore to find any game, in any sport, more exciting or nerve-racking.
"It was like a track meet," goalkeeper Tim Howard said. "Back and forth."
The Americans knew they had to win or they were going home, and they played with a scrappiness that is uniquely American. They banged balls off the posts and sent the Algerian goalkeeper diving to block shots. They hustled from end to end, taking shots and shutting down Algeria's counterattacks. They even shed blood, with Clint Dempsey sporting a busted lip afterward.
But when 90 minutes were over, it was still tied at zero. Had the game ended like that, the Americans may as well have lost.
"We all believed we were going to win this game," Jozy Altidore said. "No other result would have worked for us."
Less than a minute into injury time, Howard made a spectacular save and fed the ball to Donovan. He sent a long pass from about midfield to Altidore, whose shot on the breakaway was tipped by Dempsey into Algerian goalkeeper Rais Bolihi. Donovan -- who might have given Usain Bolt a run for his money with his full-throttle sprint to the front -- got the rebound and tapped it in, setting off raucous celebrations.
Donovan belly-flopped into the corner, and his teammates quickly dogpiled on top of him. Chants of "U-S-A! U-S-A!" thundered through the stadium.
The reaction back home is even more telling, however. The fans who made the long, expensive trip to South Africa are going to be fans regardless of where the Americans finish here.
It's the folks just discovering the allure of the beautiful game that matter. People who played hooky from work to watch the game at a bar exchanged hugs and high-fives. Screams of elation were heard on suburban streets. Twitter and Facebook were flooded with celebratory posts.
One of the home-based fans, Carl Witkowski, declared that he has cried only three times in his life.
"When I got married, when I saw my son was born," said Witkowski, who wore his blue No. 17 Jozy Altidore jersey to watch the match at the Highbury Pub in Milwaukee. "And today."
The 1-0 victory over Algeria saved the Americans from elimination and sent them into the second round for a game Saturday against Ghana. With no work to get in the way and a viewer-friendly kickoff time (the game starts at 2:30 p.m. ET, ABC), expect ratings even higher than the blockbuster numbers ESPN and ABC have already seen.
"I'd be surprised if we didn't make a few more fans tonight," Donovan said, a smile playing on his lips. "My guess is Saturday is going to be a pretty cool occasion for our country."
Not everybody who wanted to watch was able to skip work, of course, leading to lost production akin to what happens in the U.S. during the NCAA men's basketball tournament each March.
Jayme Joers, a clerical assistant at a law firm in Cincinnati, had to make due with an Internet feed at her desk. Pushing the limits of the office's business-casual policy, she wore her U.S. jersey and a blue headband to work while her "very understanding" co-workers even brought her some heartburn medicine.
"I tried really hard to be quiet," she said. "But as the game progressed, I couldn't."
At places like the Highbury, a soccer-themed bar in Milwaukee's Bay View neighborhood, Donovan's goal led to an explosion of joy.
"If you imagine an atom bomb dropping, imagine 30 of them going off at once in the 100-foot radius," said Alan Bykowski, who was waiting outside the door when the bar opened at 5:30 a.m. "Except they're atom bombs of joy!"
An hour after the big win, Highbury patrons were embracing, singing and dancing on the bar. James Brown's "Living in America" was blasting on the sound system.
"I have hugged and kissed more men and women today than I have in my entire life," Bykowski said.
Will the U.S. win the World Cup? Not this time. It still has a ways to go before it is truly the equal of the Italys, Spains, Argentinas and Brazils of the world, and there are bound to be some setbacks on the way to full membership in soccer's elite. The United States made the quarterfinals in 2002, remember, only to crash out without a victory four years later.
But Americans now know that soccer is as exciting and exhilarating as any NFL or NBA game. And that is enough to keep them coming back for more.
Information from The Associated Press was used in this report.