The esophagus that saved U.S. soccer
June 22, 2010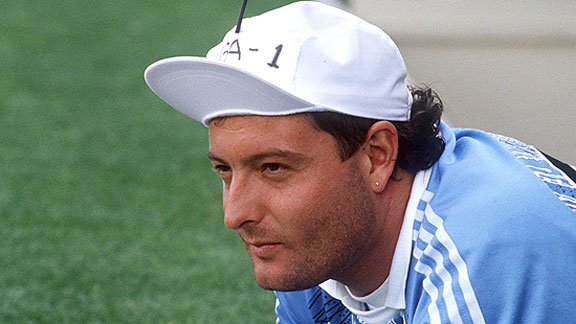 Bob Thomas/Getty ImagesDavid Vanole was a backup goalie for the 1990 U.S. World Cup team. But that's just part of his story.
Every summer, the 8-year-old campers would crowd around Uncle Dino. What story would he tell this time? Would he belt out a song? Would he leave them in stitches?
He'd wave them in close, all the fresh-faced kids, all the wannabe World Cup superstars. They'd sit down on the grass, this captive audience, and Uncle Dino would ask them, "Who wants to hear about the esophagus that saved American soccer?"
Every hand would shoot into the air.
* * * * *
The United States is a World Cup regular now, in the midst of its sixth consecutive appearance. But back in the stone ages -- i.e., the late 1980s -- its national team was on the brink, held together by a goalkeeper and his flag.
No one is saying that David "Dino" Vanole is the sole reason the U.S. is in South Africa this month, playing in high-stakes games of soccer. But the people who saw him psyche up teammates and psyche out Neanderthals; the people who heard his jokes and rhymes; the people who covered their eyes when a 1989 penalty kick was headed straight for his throat ... think he deserves much of the credit. That he should be on the Mount Rushmore of U.S. soccer.
Smirking.
* * * * *
They usually don't grow goalkeepers this big -- literally and figuratively. Dave Vanole was always a goalie in a linebacker's body, and if anyone says they saw a World Cup in his future, they're lying.
As a kid in and around Manhattan Beach, Calif., in the mid-1970s, he was the Babe Ruth of his Little League. When he came to the plate, everyone cowered and moved back. When he reached puberty, he began dominating 2-on-2 beach volleyball games at the pier. He high-jumped for the high school track team. He grew to 6-foot-4 and could reverse-dunk a basketball. And as an afterthought, he became a virtual brick wall in the sport of soccer.
He wasn't one of these kids who had a private goalkeeper coach; he taught himself to lay out for saves by diving for volleyballs in the sand. He was barely recruited to play soccer out of high school because the sport was basically his hobby. The only reason UCLA latched on to him was because an assistant coach refereed a game at Vanole's school, Aviation High, and came away enthralled. The Bruins assistant liked how the kid owned the field, how he could boss teammates around without alienating them. Vanole could ream a guy and smile at the same time, which was genius for a high school kid. The Bruins offered him a scholarship.
By his junior year, he was the starting goalkeeper on a stacked UCLA team that included Paul Caligiuri and Paul Krumpe. But more than that, he was the team's pied piper. At the tail end of practices, to ratchet up camaraderie, he'd gather the group together and literally lead them in song:
Vanole: I saw a bear ...
Rest of the team: I saw a bear ...
Vanole: He wore tennis shoes ...
Rest of the team: He wore tennis shoes ...
Vanole: He looked at me ...
Rest of team: He looked at me ...
Vanole: I looked at him ...
Rest of team: I looked at him ...
Vanole: He ran through campus ...
Rest of team: He ran through campus ...
By the time the sing-along ended, the whole team was doubled over, laughing about a Bruin bear that had sprinted mischievously all over Westwood. The shrewd UCLA head coach, Sigi Schmid, wasn't about to put a stop to it, either. Schmid knew the value of having a team lynchpin, and decided to put up with all of Vanole's quirks.
Make no mistake, the kid could be a loose cannon sometimes; he'd show up a minute late to meetings or rock the team minivan back and forth at traffic lights. After UCLA beat Duke on the road, he secretly took the team out partying and, at 4 a.m., left a bag of Winchell's donuts outside the hotel room door of every player. When Schmid woke up at 7 a.m. and noticed all the bags, only one culprit came to mind: Vanole!
But the goalkeeper was just a chip off the old block. One morning, when the team was staying at a Fresno motel with outdoor hallways, Schmid woke up at 8:30 a.m. to take a shower. As he was soaping up, he could hear music blaring from a neighboring room. Schmid wrapped himself in a towel, prepared to "just rip into one of my guys." He walked toward the music, found a radio sitting just inside an open door, entered the room and saw ... Vanole's father, Ray.
"Ray?"
"Oh," Ray said. "I just thought the fellas would like a little music to wake up to."
Schmid thought to himself: "Well, now I know why David's David." But the coach never flinched at any of it, because the team always played lights-out for the kid. "When players like the goalkeeper behind them, they seem to sacrifice their bodies a little more," Schmid said. But Vanole's serious side also endeared him to teammates. For instance, Caligiuri had come to UCLA as a prodigy, concerned teammates might chastise him. But Vanole accepted and counseled the kid, became his big brother. When Caligiuri fell behind in school, due to travel with the national team, Vanole decided he could help him.
"You'll tutor me?" Caligiuri asked.
"No, somebody smarter than me," Vanole said. "What, are you kidding?"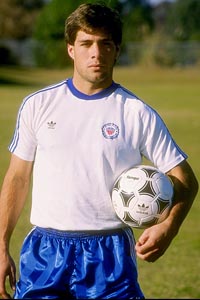 Ken Levine/Getty ImagesPaul Caligiuri was a teammate of Vanole's at UCLA and then on the U.S. national team.
For all of these reasons, the 1985 UCLA Bruins began steamrolling toward an NCAA title. First of all, no one could score on them. Schmid had nicknamed Vanole "Dino," after the buff Italian goalkeeper Dino Zoff -- and Vanole was aggressive the exact way Zoff had been. Vanole would sprint out to intercept crosses -- risky in that he was leaving the goal unattended -- and could throw or kick the ball 50 yards downfield on a line. Schmid had long known Vanole was a great athlete, but he'll never forget the day he watched Vanole and the rest of the soccer team playing intramural softball on campus. In one game, Vanole chased down a fly ball over his head in deep center field -- a la Willie Mays -- and then fired a strike to home plate. After that, half-field soccer passes seemed passé.
In the '85 NCAA tournament, his prowess was on display for everyone to see. In a second-round match against UNLV, the game was scoreless when the Rebels' premier player, All-American Rob Ryerson, timed a ball perfectly off the bounce, flicking it hard to the right of Vanole. At the time, Vanole had been moving decisively to his left, so he had to stop and explode right to deflect the shot. It was an impossible maneuver, and witnesses say Ryerson started to turn around to celebrate. Except Dino made the save.
"He always came up with those," Schmid said. "He had a knack for coming up with dramatic big saves."
UCLA won in overtime 1-0 and later advanced to the championship game against American University at the Kingdome in Seattle. The two teams played two scoreless 45-minute halves, then seven scoreless 10-minute overtimes. The first team to doze off for a millisecond would lose. Vanole had already stopped six point-blank shots and spent much of the day organizing and cajoling his team. Any time a defender would make a play in front of him, he'd holler, "You are the man. YOU ARE THE MAN." Finally, in the eighth overtime -- 166 minutes and 5 seconds into the game -- a little-used UCLA defender, Andy Burke, curved in the only college goal of his career to clinch the title. Vanole leaped into the air. In the Final Four alone he had allowed just one goal in 256 minutes and now he needed somebody to hug.
The first person he found was the team's academic advisor, Fred Stroock, who had sprinted onto the field, with his jaw wide, arms raised. The two embraced and rolled onto the turf.
"Closest I've ever gotten to an academic advisor in my life," Dino deadpanned later.
* * * * *
The U.S. Soccer Federation was paying attention, not that it had a handle on much else.
By 1985, American soccer was dying a not-so-slow death. The country's only major outdoor league, the NASL, had already folded, and almost all of the nation's best players had migrated to the Major Indoor Soccer League. That was all well and good, except the indoor and outdoor games weren't even remotely similar. The indoor sport was pinball soccer, full of short bursts. It was basically played on a rink. The outdoor game took more stamina, teamwork and precision, and perhaps the worst decision the federation made in 1984 and 1985 was to ask the indoor players to move outside and join them.
The national team suited up pros such as Hugo Perez of the San Diego Sockers and Chico Borja of the Las Vegas Americans. It also had a young Caligiuri, just out of UCLA, but there was no cohesion, and especially no impassioned ringleader on the field, no one singing, "I saw a bear ..."
In 1984, for instance, the U.S. Olympic soccer team, given a gift bid as the host country, was eliminated in the first round after an ugly tie with Egypt. That didn't bode well for the upcoming World Cup qualification round in 1985. The U.S. hadn't appeared in a World Cup since 1950, and to the rest of the world, U.S. soccer was a laughingstock, a stepchild. In May of 1985, the U.S. bowed out of World Cup qualifying again when Costa Rica (along with half its fan base) came to Torrance, Calif., and eliminated the Americans 1-0.
The year off in 1986 proved valuable, though. With the national team largely idle, the U.S. Soccer Federation decided to start over with mostly younger players straight out of college. The coach was German-born Lothar Osiander, a former restaurant waiter in San Francisco who had a boyish sense of humor. On road trips, he would get off the team bus wearing a genuine "Goofy" cap from Disneyland. In other words, David Vanole was his type of guy, and vice versa.
He was doing this as much for his teammates as he was for the fans. At team lunches, he'd show up wearing U.S. shorts and a U.S. polo shirt -- anything the team sponsors would hand him. Don't think his teammates didn't notice. He'd put mini American flags behind both ears like pencils. On the way to games, he'd tuck these same mini flags inside his headband or inside his wristbands or inside his socks. This wasn't Uncle Sam; this was Uncle Dino.
Vanole and several of his UCLA brethren -- Krumpe and Caligiuri to name two -- were named to the squad in 1987, and Osiander quickly gave the goalkeeping reins to Dino. "We were a frickin' novice organization, a novice team," Osiander said. "We had no money, and everybody was scared s---less. And this David Vanole, he kept us in an optimistic mood for most of the time. His qualities were off the field as much as they were on the field."
It was clearly the most critical and tense time in U.S. soccer history. FIFA, the sport's international governing body, was sending smoke signals that the U.S. was in line to host the 1994 World Cup, a potential windfall for the country. But there were conditions to be met, and it got back to several coaches and players that the U.S. needed to qualify for the 1988 Olympics to earn the bid. FIFA apparently needed to know American soccer had a pulse, and, quite frankly, no one was certain it did.
The fledgling national team played its initial games in front of paltry crowds of about 1,500. Things seemed bleak. The only town guaranteed to draw was St. Louis, but its crowds weren't terribly larger. "We'd get 3,000 in St. Louis, and we'd be like, 'Wow, we're making it to the big time,'" said the backup goalkeeper, Jeff Duback.
The team had every right to cave in under the stress -- and impending doom -- but it was Vanole who kept revving everyone up. When the U.S. would score a goal in preliminary games, the other players would merely cheer ... while Vanole would leap and gyrate and come close to hyperventilation. "We'd be excited," Duback said, "but he'd be through the roof."
Raised by a patriotic family, Vanole was the one constantly reminding his teammates who they were playing for. "Listen, guys," he'd say, "you're representing your country now. This isn't college anymore. We're all on the same team now; we're one group."
If that didn't sink in, the sight of Vanole running onto the field with an American flag cinched it. Then, after games, he'd sprint to the four corners of the stadium again, waving the stars and stripes.
He was doing this as much for his teammates as he was for the fans. At team lunches, he'd show up wearing U.S. shorts and a U.S. polo shirt -- anything the team sponsors would hand him. Don't think his teammates didn't notice. He'd put mini American flags behind both ears like pencils. On the way to games, he'd tuck these same mini flags inside his headband or inside his wristbands or inside his socks. This wasn't Uncle Sam; this was Uncle Dino. During the national anthems, he'd place a mini flag inside his goalkeeper glove, and, right before game time, he would emphatically plant the flag behind his goal.
"That flag was symbolism to him," former teammate Jim Gabarra said. "It was like he was saying, 'I'm not only protecting this goal, I'm protecting my country.'"
Not that it guaranteed success. The Americans' first official Olympic qualifying game, in Canada, was a deplorable 2-0 loss on May 23, 1987. The Canadians and Americans were slated to play again a week later in St. Louis, and the U.S. had to win by three goals or be eliminated. They had a hard enough time scoring one goal, much less three, so their prospects were slim and none. If they lost, consensus was the federation would break up the team, that they'd consider bringing in college kids a failure. Not only that, the '94 World Cup bid would likely be lost, Osiander would be fired and Vanole would be back in Manhattan Beach playing volleyball in the sand.
But something peculiar happened on May 30, 1987, at Soccer Park. Krumpe, one of Vanole's best friends, scored two first-half goals. In the second half, Gabarra -- another of Vanole's close friends -- scored a third. The U.S. was up 3-nil, and now only needed Dino to slap everything aside. Eventually, one of Canada's premier players, Lyndon Hooper, squirmed free on a breakaway, but Vanole smothered the shot. It was over; the Americans were in the '88 Seoul Olympics.
"You have no idea how much David contributed to U.S. soccer with the game he played that day," Duback said. "Had we lost, the U.S. national team would've been done. ... It would've been the same old story that had been happening for 20 years."
Instead, Vanole -- who doubled as the team's "social director" -- organized a raucous pizza and beer celebration party. He had them up for most of the night. And he sang a song about a bear.
* * * * *
On July 4, 1988, the United States was officially granted the 1994 World Cup. And then the national team went out and lost its next four exhibitions.
Maybe the heat wasn't off, after all. There was immediate talk that FIFA wanted a backup plan in case the U.S. laid an egg in Seoul and couldn't qualify for the ensuing 1990 World Cup. Word leaked back to the Americans that FIFA was not afraid to yank the bid away and grant it to either Brazil or Mexico, both of whom had pro leagues and cavernous stadiums. The tension was back.
In Seoul, the national team actually acquitted itself well. In the opener, the U.S. was leading powerful Argentina 1-0 when, in the 82nd minute, a young midfielder named John Harkes -- playing out of position at defender -- was called for a tripping foul inside the goal box. Argentina was awarded a penalty kick, leaving the game essentially in Vanole's hands. He cherished these moments and was one of those goalies who tried not to guess one side or the other during penalty kicks. He preferred to hold his ground until the last instant and then explode, like in beach volleyball. But the Argentine player struck the ball perfectly and scored, the game ending in a 1-1 tie.
A victory in the second game against host South Korea still would've advanced the U.S. into the next round. But South Korea was a World Cup regular and barely let the Americans cross midfield. Almost the entire game was played 25 feet in front of Vanole, yet he still got a paw on every South Korean shot. Gabarra claims the U.S. should have lost 10-0, but Vanole single-handedly willed them to a 0-0 tie. "Best game I ever saw him play," Caligiuri said. "He was getting shelled."
The third game was a 4-2 loss to eventual gold medalist Soviet Union, which meant the Americans had gone winless and given FIFA a reason to rescind the '94 World Cup bid. A forlorn Caligiuri again heard rumblings that FIFA was looking hard at Brazil and Mexico. Clearly, the U.S. needed to qualify for the 1990 World Cup to end the speculation. Vanole didn't think it was a problem.
Forty years in between berths, he was probably the only one.
* * * * *
Osiander began cracking the whip, flying the West Coast players into Miami on red-eyes -- because it was cheaper -- and making them practice just hours after they'd landed.
The players seemed down in the dumps. But Osiander would simply say, "Vanole, get 'em going," and the goalkeeper would rouse the team up. The goalie was a cut-up and a motor mouth, but, when it came to practice, he was single-minded and ultra-competitive. He was also not afraid to tell teammates to get their act in gear. He'd say, "Listen, I'm giving you a warning. Let's go. You've got to get moving. You can't just be hanging out." But his trick, just as in high school, was to do it with a wink. He'd kill them softly. He'd critique his guys and somehow it would come off as comedy. If he and Duback would make a string of saves during shooting drills, he'd yelp: "Get that weak sauce out of here." The field players would respond by firing kick after kick back at him. To Osiander's relief, he would indeed get the crew going.
The team found Vanole amusing. The players nicknamed him "The Dancing Bear," because he'd gyrate after his saves. But the players also knew he was the glue of the team. On rides to and from the team hotel, he'd rock the team minivan back and forth -- his old college trick -- hoping to give Osiander a headache. He was somehow managing to keep the team loose, which was absurd considering all that was on the line. "He was the backbone of our team, our leader," Caligiuri said. "Everyone loved him. He was the most likable guy on the team. The flag on this arm, that arm, in his socks. We never put anything past him. He wasn't trying to be corny, either. He was sincere."
If he had a weakness, it was beer and pasta. Gabarra will never forget the look of joy on Vanole's face when, at the World Championships in Holland, the two of them found a Heineken vending machine in an adjacent dorm. A Heineken vending machine? Just the idea of it had Vanole salivating. "So every night, it was like the 'Mission: Impossible' theme song,'" Gabarra said. "We're sneaking around, big Dave and I, with our coins. He's doing the Belushi from 'Animal House,' stopping, looking around, listening. He reminded me a little bit of Belushi anyway. ... Then, the look on his face when the Heineken ended up at the bottom of the chute. That was better than actually drinking the beer. He was like a little kid at Christmas."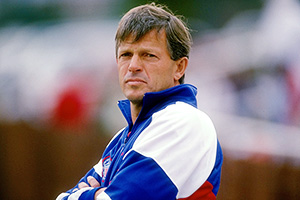 Mike Powell/Getty ImagesWhen Bob Gansler took over as coach, he didn't take to Vanole's boisterous leadership or excess weight.
But Vanole wasn't in college anymore, and his body was starting to change. His playing weight had originally been 220, but had suddenly ballooned up to 235 or 240. Osiander didn't take much issue with it, but then, in January of 1989, the coach was gone.
The U.S. Soccer Federation, desperate for success, wanted a full-time head coach and Osiander -- who enjoyed his home in the Bay Area -- preferred a part-time role and left. He was replaced by his polar opposite, Bob Gansler, a former national team assistant who didn't believe in shenanigans or out-of-condition players. Gansler was the last person on Earth who'd wear a "Goofy" cap, and, for the first time in his career, Vanole had a disciplinarian for a head coach.
Clearly, the two were oil and water. At his early training camps, Gansler mandated that every player complete a 2-mile run in 12 minutes, including the goalkeepers. But Vanole wasn't much of a runner and couldn't see the logic in it. He'd trudge in with times of 13 minutes, and Gansler complained he wasn't taking the work seriously. Vanole was serious; just not about 2-mile runs.
Gansler stayed on his case. One day, Vanole and teammate John Doyle were supposed to fly into Florida for practice, but their flight from California was delayed. When their taxi pulled up to the training center at dusk -- several hours late -- Vanole noticed the team running on the track. So he told the cabbie to keep circling the compound. When it appeared the 2-mile run was finally over -- and it seemed too dark for anything else -- Vanole had the driver drop them off. Gansler took one look at the pair and said, "We're all going back to the hotel, but you guys stay here with the trainer and run."
So off Vanole went on his 2-mile jaunt, and when he finished, the trainer was awestruck: The goalie had run it in 11 minutes, 30 seconds. A personal record.
The trainer passed this good news along to Gansler, who told Vanole, "I'm glad you finally took this seriously." On the surface, it was a breakthrough, until an amazed Doyle later asked Vanole how he'd done it.
"I cut corners on the far end of the track," the goalkeeper said. "It was so dark, nobody saw me."
It was Dino being Dino, and Gansler never found out. But the coach never warmed up to Vanole, either. And as the Americans headed into their first 1990 World Cup qualifier, in April of 1989, the coach had something else to tell his goalkeeper: You're benched.
* * * * *
Vanole had been replaced by his good buddy and roommate Duback, and, outwardly, he never let on that he was hurting inside. The team, the '90 Cup and the '94 Cup meant too much to him. He was never going to chafe publicly. Like Caligiuri says, it wasn't corny; it was Dave.
But the players were miffed. Nothing against Duback, who was a smart, reliable veteran, but Gansler was about to find out how much Vanole's fire meant to the group.
In the qualifying opener in Costa Rica, on April 16, 1989, the Americans came out flat and gave up a sloppy goal at the 14-minute mark. According to game accounts, defender Steve Trittschuh slipped in front of the net, allowing Costa Rica's Gilberto Rhoden to beat Duback from five feet out. The rest of the day, the U.S. got shoved around by a hulking defender named Mauricio Montero and fell unimpressively 1-0.
Considering the Americans had never won a World Cup qualifier outside of the U.S., it didn't appear to be a shocking defeat. But with Mexico ineligible for the World Cup for using an ineligible player and with Canada already eliminated, the U.S. had frittered away a chance to capitalize. If it lost an upcoming rematch to Costa Rica two weeks later at the St. Louis Soccer Park, both the '90 and '94 World Cup dreams would conceivably be over. Soccer in this country would be set back even further. They'd be six points behind Costa Rica with road games still to play in Guatemala, Honduras and Trinidad. Their chances would be practically nil.
On the morning of the second Costa Rica game, Gansler pulled out his trump card: Vanole. He informed 26-year-old Dino that he was starting ahead of Duback, purely to pump adrenaline into a young team. As usual, the goalkeeper took the field with a mini American flag in his glove. He placed his hand over his heart, listened to the dueling anthems and, before kickoff, stuck the flag in the ground next to his goal. He seemed more hyped than normal, if that was possible, and his defenders could soon hear him chirping loud and clear:
"You THE MAN!"
"You're unbelievable!"
"You just saved me; I'll save you next!"
The referees were saving Vanole, as well. An early Costa Rican goal was nullified by a borderline offside call, keeping the game scoreless. Vanole's emotions were already over the top, and it didn't help that a Costa Rican trainer, after treating an injured player, swiped Vanole's flag out of the ground and snapped it in half. "I don't know if it was gamesmanship or the guy was trying to get Dave thrown out of the game," Gabarra said. "But Dave went storming after the guy."
Eventually, the game settled down, and, in the 72nd minute, Tab Ramos had a shot deflect in for a 1-0 U.S. lead. The Costa Ricans retaliated with a goal themselves, but referee Rodolfo Martinez Mejia of Honduras disallowed it, ruling that the ball nicked the hand of the Costa Rica goal scorer. With under one minute to play, the U.S. still led 1-0.
It was no time for reckless goalkeeping, but, as the final seconds ticked off, Vanole left his goal area to intercept a crossing pass out front. He'd made that play thousands of times, all over the world, but this time the ball eluded him, giving Costa Rica's Alvaro Solano a shot at a wide-open net. The ball seemed certain to be rolling in, just as the game clock was striking :00. But Trittschuh alertly dove and used his hands to halt the ball at the goal line. The Costa Ricans complained that the ball did in fact crawl over the line, but the referees ruled no. There would instead be a penalty kick -- straight at Vanole.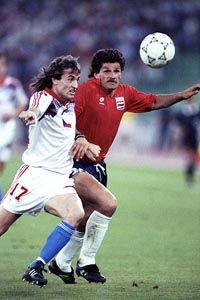 Simon Bruty/Allsport/Getty ImagesCosta Rican defender Mauricio Montero (right) was known for his vicious shot.
The Costa Rican kicker was, of all people, the defenseman Montero. He was Costa Rica's burliest player, and had spent the day bullying U.S. forwards. He had mammoth thighs and forearms, and U.S. forward Peter Vermes called him "a butcher" and "a psycho." Back home in Costa Rica, though, Montero was a legend, creator of "El tiro del zoncho" -- "the Vulture Shot." In layman's terms, it was a high-velocity kick with hair on it, and now was Montero's time to use it.
But first Vanole came up with a brilliant idea: get inside Montero's head. He approached him before the penalty kick, got within six or seven feet and stared the Costa Rican down. Montero, dripping with sweat, refused to look back. He seemed perturbed.
Vanole was trying to incite Montero into overpowering the ball and hopefully missing wildly. As long as the refs didn't give him a yellow card for taunting, it was ingenious strategy. Vanole knew that defensemen were not fond of finesse and figured Montero wouldn't be aiming for the corners or bending the ball. The goalie decided he'd stand his ground, that he would not guess either direction, that he would rely on his beach volleyball skills one more time.
Turns out, Montero aimed for Vanole's head.
Well, maybe he didn't aim there, but that's the direction Montero booted it, at about 100 miles per hour. Vanole had already leaned slightly to his left, but quickly centered himself and blocked the ball with his upper chest and throat area. "As it was coming toward me, it looked as big as a pumpkin," he said later.
As the ball caromed off of him, away from the goal, Vanole went bonkers. He threw his fists in the air and tried high-fiving teammates, forgetting that the ball was still officially in play. Because of earlier injury stoppage, there was actually a minute left in the game, and Costa Rica was able to take a rebound shot that sailed -- luckily for Vanole -- out of bounds.
"After that, they still had a corner kick, and Dave was so excited, I don't think he was even aware of it," Gabarra said. "It was almost to the point he was hyperventilating. I was, 'Let's go ... next play here ... let's make sure we don't give it up right away.'"
In the end, the U.S. held on for the victory, and Vanole was the undisputed hero of the game. He had seen a bear wearing tennis shoes, all right -- Mauricio Montero. And he lived to tell about it. And tell about it. And tell about it.
* * * * *
For Vanole, the rest of the 1989 was somewhat anticlimactic. That June, he pulled a muscle in his thigh before a Marlboro Cup tournament at the Meadowlands. The U.S needed a new backup to Duback, simply to ride the bench on opening night, and brought in an emerging University of Virginia goalkeeper named Tony Meola.
During the ensuing game, Duback left the goal to intercept a cross and got flattened, fracturing three ribs. He and Vanole might as well have been Wally Pipp. Meola entered the match, excelled for two games and stole the No. 1 job.
Gansler had long thought the team was too unemotional under Duback and too emotional under Vanole. It didn't matter that Vanole was on a diet now, eating salads. He was the clear No. 2 goalie behind Meola and was on the bench in November when the U.S. clinched its 1990 World Cup berth with a stunning 1-0 win in Trinidad.
Vanole went nuts like the rest of them, mobbing his old pal Caligiuri, who had floated in a left-footed, game-winning goal -- the "shot heard 'round the world." But after that, nothing was the same. Before the team's first practice of 1990, in La Jolla, the U.S. Soccer Federation asked every player to sign a standard contract. One of the clauses stated that the team would have to wear adidas cleats, even though about 10 of the players already had deals with Puma. For some of these players, the Puma money was one-third of their income and nothing to sniff at. Another contract issue was the size of the World Cup bonuses and another was medical insurance. These were all details that could not be resolved overnight, so Vanole -- rather than risk practicing without insurance -- left the team and drove back to Manhattan Beach. According to Caligiuri, the federation took that as a slap in the face. Vanole was no longer on the roster.
Vanole had had his reasons for leaving. As the team leader, he felt it was his duty to take a stand for the players who couldn't risk alienating the federation. He did it for solidarity, even though almost all the players caved in to the federation's requests -- leaving him on the outside looking in.
"It was sad to see what was happening to him," Caligiuri said. "He was made an example of. Not taking anything away from the other goalkeepers, but let's face it: Dave got us to the World Cup. And we lost a big piece of our team by him not being a part of it.
"I mean, you not only took away the player, you took away the spirit of the team. Everybody's on pins and needles, wondering if it could happen to them. We were all replaceable."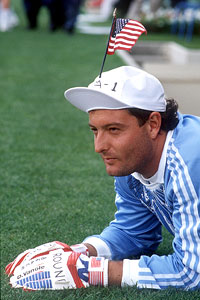 Bob Thomas/Getty ImagesVanole was on the sidelines for the 1990 World Cup in Italy, wearing his flag and cheering on his teammates.
For approximately three months, Vanole was absent from the team, replaced by Meola and another up-and-coming goaltender, Kasey Keller. But as the World Cup approached, Gansler sensed the lack of team morale. A call was made to the West Coast: Vanole was invited back.
Of course he said yes. He was still third on the depth chart, but he'd missed everything about the team and outwardly supported the other goalies. "He could've easily made life tough for Meola," Vermes said. "And he didn't do that; he was still a team guy. He was still the same guy."
Said Krumpe: "Listen, if it wasn't for him, we wouldn't have gotten to the World Cup. He needed to be there."
In Italy, his role was to rile up the team. In the purest sense, he was a mascot. He broke out a red-white-and-blue bandana and wore his patented mini American flags behind his ears and inside his cap. Gansler, at one point, thought it was a little too much jingoism, a little too unprofessional, and asked Vanole to tone down his get-up. Vanole acquiesced. There was nothing he could do to save the team, anyway. Gansler had housed the players in barracks a good hour from all the action in Florence, and the frustrated players rebelled. A day after their opening 5-1 loss to Czechoslovakia, two unnamed American players came to blows on the practice field. Vanole was among the first to break the fight up, and, after that, the U.S. managed to play respectfully in its next two games, one-goal losses to Italy and Austria.
So that's how Vanole's national team career ended: with in-fighting and two narrow defeats. But at least he'd seen a World Cup with his own eyes. And to celebrate, he gave up salad.
* * * * *
Free at last, Vanole could get back to what he did best: hang with the fellas. He was forever going to be their teammate, and at Doyle's wedding, he danced with his girlfriend's pantyhose on his head. He was also the best man at Gabarra's wedding and tried telling their photographer who to take pictures of.
"And let me tell you," Gabarra said, "if you look at our wedding photos, he's in a lot of those pictures, as happy as my wife and I."
He played on the Pro Beach soccer tour for four years -- because no one could change direction in the sand better than he could -- and ended up spending another six years coaching the men's and women's goalkeepers at UCLA. Krumpe coached with him in Westwood, and, one day, Krumpe's two young boys -- then 2 and 4 -- asked to ride in Vanole's jeep. When Vanole was a bit late bringing the kids back, the 4-year-old bragged to Krumpe's wife, "Mommy, mommy, Uncle Dino says I'm a chick magnet."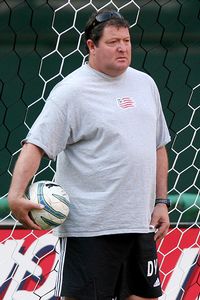 Andy Mead/Icon SMIVanole in 2005, while working as a coach with the New England Revolution. He later left the sport, planning to attend culinary school.
Everyone agreed Vanole needed to settle down. Then, in June of 2001, after joining Gabarra's staff with the Washington Freedom of the Women's United Soccer Association -- and coaching Mia Hamm -- he met a league TV executive named Kerry Tatlock. The two had an instant connection, and he won her heart on 9/11 when he took a train from D.C. to New York to make sure Kerry and her mother -- who worked at the World Trade Center -- were OK (they were).
When he took a job as goalkeeper coach of the New England Revolution in 2004, Tatlock moved with him to Boston. When she took a job as an executive with the NBA, he moved with her to New York. In July of 2005, they married. At the wedding, he didn't wear her pantyhose on his head.
Not long after that, he and Tatlock were walking outside their Manhattan apartment when someone recognized him.
"Oh my Gawd, you're David Vanole," the person said, bug-eyed. "You're the reason we went to the '90 World Cup."
Oh that, Dino said.
* * * * *
He actually loved retelling the story, particularly to kids at soccer camps. Children were the ones who got it, who got him. Uncle Dino would bring the children close and tell them how he'd stalked Montero before the penalty kick, hoping to psyche the Neanderthal out. He'd wave his arms and tell them how he saw "buggers in Montero's nose and drool coming out of his mouth" -- all of which had the 8-year-olds howling. He'd tell the 8-year-olds: "This man was ugly, he was fat. He was kicking everybody in the shins, and I wasn't going to have it. I wasn't going to let him beat me. This meant too much to soccer, to our country." He'd imitate Montero's hulking gait, and he'd then imitate the ensuing "Vulture Shot."
He'd describe how the ball came flying at him like a BB, and how his esophagus, of all things, changed the course of American soccer.
None of it was a lie. Everything had changed. In 1994, the World Cup in the United States drew average crowds of 69,000, a FIFA record. By 1996, there was an upstart outdoor league, Major League Soccer. By 2003, the next great American goalkeeper, Tim Howard, had been signed by the New York Yankees of soccer, Manchester United. Vanole's per diem in 1988 had been $15; Howard was now making millions.
The U.S. had also qualified for every World Cup since 1990, and all of this was progress enough for Vanole. He could ease up now. Hoping to start a new life without soccer, he quit the Revolution in 2006 and decided to apply to culinary school. He loved to cook and loved to eat. Talk about a perfect job.
"I don't think I'd seen him that happy, ever," Gabarra said. "With Kerry, he was completed as a person. It was wonderful to see."'
He and Tatlock spent much of their free time travelling, and in January of 2007, they took a ski trip to Utah with her family. The way some of his ex-teammates hear it, he took ill in the middle of the trip, thinking he had altitude sickness. Then on Jan. 15, while eating dinner with Tatlock at a Salt Lake restaurant, Vanole collapsed and died of a heart attack. He' d had an undetected coronary disease. He was 43.
"I was with him [at the end]," Tatlock said. "I will always cherish that because that would've been very difficult not to be with him. People ask me how difficult that was, and I candidly say when I think of Dave, I don't think about that. It doesn't come into my frame of mind. It's about the laughs and the time we had. I laughed every day with him, and I continue to."
There were memorial services on both coasts, and the soccer players from the late '80s, the pioneers, the forerunners to this June's World Cup in South Africa, reconvened to tell their stories. They talked about the Heineken vending machine ... the flags behind his ears ... the 2-mile run that wasn't ... bears in tennis shoes.
There was only one tale they left untold: the esophagus save.
They decided it wasn't theirs to tell, that it belonged to the 8-year-olds. Better to let the kids have it, anyway. It was their story now, their sport. Dino had seen to that.
Tom Friend is a senior writer for ESPN.com.