IRENE, South Africa -- Clint Dempsey says the referee who disallowed a late American go-ahead goal against Slovenia encouraged rough play in the penalty area by failing to whistle infractions early in the game.
Koman Coulibaly of Mali, who was on the sideline Sunday as a fourth referee despite the controversy, waived off the goal Friday for reasons he didn't explain, and the game finished 2-2.
"Before the tournament, they told us that any type of holding on corners is a penalty, any type of grabbing around a player is a penalty. So when we get to the game, that's not what's going on," Dempsey said Sunday. "So you have to adapt."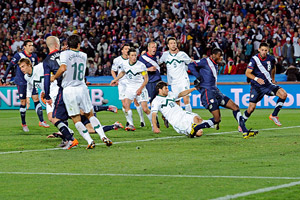 Kevork Djansezian/Getty Images"That's the one set piece where I'm probably not mixing it up with somebody," American Clint Dempsey said of the play Friday that resulted in Maurice Edu's disallowed goal.
After the U.S. rallied from a two-goal halftime deficit to tie the score, Maurice Edu appeared to put the Americans ahead in the 85th minute when he volleyed in Landon Donovan's free kick.
Some speculated Coulibaly's whistle came as the result of Dempsey possibly pushing Andraz Kirm as Donovan took the kick.
"That's the one set piece where I'm probably not mixing it up with somebody," Dempsey said. "I acted like I was going to go in. I came back, and went around to the far post, and if Mo had missed the ball, I would have had the goal. So if you freeze-frame that play, three of our guys are in a head lock. So to single me out, that that's a play that I caused trouble on, I don't think you're really watching the game. But saying that, probably there were plays where I did mix up it during the game, on other plays. But on that one, for sure not."
Dempsey thought Coulibaly's inaction led to increased pushing and shoving. Coulibaly was the fourth official in New Zealand's 1-1 draw Sunday with Italy in Group F, included among the crew of game referee Carlos Batres of Guatemala.
"The ref in this game was letting things go in the box, so you've got to be physical," Dempsey said. "If someone has your arms around you, I'm not going to sit there and be like, `OK, this is fine.' I'm going to try to bust out of it and get in position to score a goal. So if the ref is letting that type of play go on, that's how you're going to play. If the ref is calling it tight, well then you're not going to do that. So you going to have to gauge how the ref is calling it and what you can do and what you can't do, and you have to adapt."
FIFA will not address World Cup officiating before Monday, a spokesman said Saturday.
And even then, questions about Coulibaly's controversial call during a media session with referees will likely be met with refusals to answer.
Coulibaly was given a poor rating in an expedited performance review Saturday, according to a Yahoo! Sports report, which cited an unnamed FIFA source.
FIFA said the governing body would not comment on officiating before a scheduled session, when as many as 30 World Cup officials and members of the FIFA Referees Committee will meet with the media.
Not all referees will be present, as there will be some in transit for the matches they are scheduled to officiate or some who simply would be unavailable.
And FIFA said Sunday morning those in attendance will not discuss specific decisions "whether in relation to their own performance or that of a colleague."
The Americans (0-0-2) are second in Group C with two points, trailing Slovenia (1-0-1) and ahead of England (0-0-2) on goals scored going into Wednesday's first-round finale against Algeria (0-1-1). The U.S. would advance with a win and possibly with a draw.
Goalkeeper Tim Howard believes the Americans have kept their emotions in check but are prepared for physical play.
"If tackles start flying in and we need to stand up for ourselves, you best believe we will," he said. "We always have, and that's not something that this team takes lightly. We stand up for each other. We stand up for ourselves."
Information from The Associated Press was used in this report.