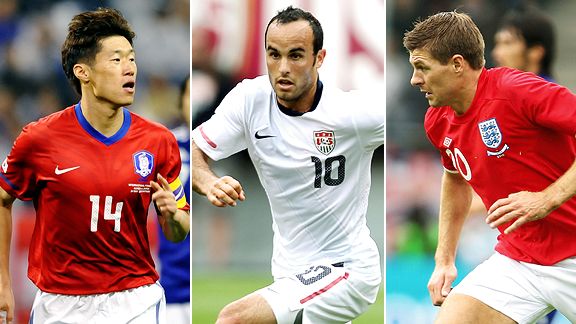 Getty ImagesReady for the World Cup? ESPN The Mag is.
This story appears in the June 14 issue of ESPN The Magazine.
There will be words, a continent's worth, about the historical significance of the first African World Cup, the challenges facing the hosts and the elegant elder statesman who made it all possible. But one thing that gets lost in all the verbiage may be the most important: The soccer will be great, perhaps the best ever.
Heading in, there is no clear favorite. Spain and Brazil, talented as they are, can be beaten. Portugal, ranked third in the world, just barely squeaked in. And while Argentina and England may have a shot at the trophy, they're already neck and neck in the race for best traveling circus.
What's more, it's winter in South Africa, and games will be played in cool, even cold, temperatures -- football weather, when players are apt to conserve little and run all game. In certain venues, hearts might skip a beat because of the altitude. And then -- a tired defender, a poor decision, a spectacular goal. That's how upsets are made.
But in the end, it's the African people who best capture the spirit of this year's Cup. They want nothing more than to see this tournament be a success. That commitment infects players. They want to succeed here too. Not just win, but win well.
Enough words. Roll out the ball.