Any chance of cracking the 2006 World Cup squad evaporated for Illinois native Jonathan Spector when he sustained a shoulder injury. Two years later, a lock for the U.S. Olympic team, Spector was sidelined due to a bad hip. The versatile 24-year-old, barring a late setback, appears set to make his World Cup debut in South Africa.
Spector started a personal-best 22 Premier League games this season, becoming West Ham's first-choice left back in the absence of Congolese international Herita Ilunga. West Ham barely survived relegation.
In an interview with ESPN.com, Spector discusses the much-hyped World Cup opener against England on June 12, U.S. prospects in general, and his own form.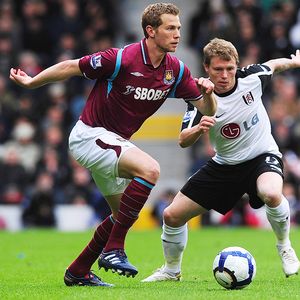 Jamie McDonald/Getty ImagesSpector's West Ham squad avoided relegation by one spot.
ESPN.com: Jon, we're around a month away from the start of the World Cup. How excited are you?
Jonathan Spector: I'm really excited, and for a number of reasons. It's the first opportunity to represent my country at such a big stage, which is a massive honor. Then personally, having missed the last World Cup and Olympics, I'm certainly looking forward to not missing out and being able to compete against the best teams and players in the world.
Obviously the struggles we've had at West Ham this season have been well-documented. During that time it was difficult to think too far in advance about the World Cup. My focus was the job at hand, which was staying in the Premier League. It was a poor season for us, but importantly we managed to keep hold of our Premier League status.
ESPN.com: How much banter has there been between you, [England goalkeeper] Robert [Green] and some of the other England hopefuls at West Ham?
JS: There hadn't been a lot about the World Cup, because we were focused on the job at hand. But more recently, there's been a bit more. None of us are making predictions. I think because we don't want to jinx ourselves.
ESPN.com: There's much debate about who should be England's No. 1 keeper. You play in front of Robert. What's your take?
JS: I always personally felt confident having him behind me, that if something goes wrong, he'll be there. I think he's the most consistent as well, compared to the other England keepers. I think that's something [England manager] Fabio Capello or any manager would value in a World Cup, especially when there's a lot more pressure, the kind of pressure the England team will be facing going into it.
ESPN.com: How much do you think the English media consider the U.S. a threat?
JS: To be honest, I don't read a lot of the English papers, but I can say that I think in a lot of cases the media is trying to downplay the ability of the U.S. team, and I think that's putting more pressure on the English team, for one. I don't think that's going to transfer to the players, to be honest. They'll have seen what we did in the Confederations Cup, upsetting Spain. I don't think they'll be taking us lightly. From what I know about the England manager, I don't think he will, either. I don't think there will be an element of surprise.
ESPN.com: What's the key to earning a point or beating England?
JS: They actually play different to a lot of the other European teams. It's pretty well-known they're going to be more direct. They obviously like to get the ball forward as quickly as possible, and there will be a lot more crosses coming in from them than the other teams in the group. I think we'll need to defend well as a group in that respect. They'll have good possession and we'll have to make sure possession is ahead of us, not behind us. I think they'll be sending quite a few players forward, so we can certainly counterattack, which is something we did very well at the Confederations Cup.
ESPN.com: How do you stop Wayne Rooney?
JS: He was in unbelievable form before his injury. It didn't seem like you could stop him or take him out of the game. I think we need to limit his contribution as much as possible. He has so many great attributes and scored many goals and scored so many headers, which we haven't seen in the past. It's not a job of one person to defend against him, but the team in general. He's very clever. Sometimes he drops off in the midfield to find space and pick up the ball and run at you.
ESPN.com: Is there a possibility of putting so much into the England game that the team overlooks the other two nations in the group, Slovenia and Algeria?
JS: That's something I don't think we'll let happen. All the questions I've fielded about the World Cup have been mainly about the England game, but there is the danger of strictly focusing on that game. It's the first game, so it is very important, so we're going to try and get off to a good start, whether it's one or three points. But the other two games are games we'll really be looking to win. I don't think we'll be content just to draw.
ESPN.com: Those games could be more meaningful.
JS: There's certainly that possibility. I'd say we'll put equal importance into all three games because it's important to get something out of all the games so we can advance out of the group, which is the main goal right now.
ESPN.com: Apart from advancing from the group, how much belief is there within the squad that you can match 2002 and reach another quarterfinal?
JS: There's a lot of belief, actually. Our main objective is to get out of the group, and we don't want to look too far ahead. After that, it's one game, a single-game elimination, and we know no matter who we come up against, we were able to beat Spain and took the Brazil game down to the wire [in the Confederations Cup final]. We've shown we can compete against two of the best teams in the world and probably two of the favorites to win the Cup, according to most. We know when it's a single game we have the ability to beat the top teams.
ESPN.com: How much of a defining World Cup is this for the team?
JS: In the history of U.S. soccer, we've gradually made progress. Sometimes it's been a case of two steps forward, one step backward, so whether it's a defining moment, I'm not sure that's the right way of putting it. But it's time for us to certainly make progress as a country in terms of soccer. We captured the public's attention with the last Confederations Cup. It was amazing how many people came up to me and said they saw the [Brazil] game in a bar. Usually the game wouldn't be on TV, there'd be a baseball game on. We know we have the attention of the public, and we definitely want to capitalize on that. The only way to do so is to be successful.
ESPN.com: Having played in South Africa last summer at the Confederations Cup, is that an advantage? Does it make a difference?
JS: I'd certainly say it was an advantage for us. For us, as a team, we know what it's like to be there, the atmosphere, the day-to-day aspect of being out there. We know what to expect going into it. It'll just be on a larger scale this time.
ESPN.com: Let's talk about your own season. Fair to say it was up and down?
JS: Yeah. I think it's difficult when you're in a team that's struggling. For whatever reason, we didn't have the season we'd hoped for. We wanted to push on from the previous season, finish in the top half and try to progress from that. I think that's going to show in the performances of the players.
ESPN.com: You played mostly at left back with West Ham this season. Have you spoken to [U.S. manager] Bob [Bradley] about where you might line up in South Africa?
JS: I've spoken to him but nothing is set in stone. The team's not chosen. I don't think anyone's position is entirely certain. You have to be playing well and earn it. What he's going to decide in terms of who plays where is entirely his decision. Most of my games this year have, as you mentioned, been at left back at West Ham. I'm comfortable there. I'd prefer to play there, but again, wherever the manager asks me to play is where I'll be playing.
London-based Ravi Ubha covers soccer and tennis for ESPN.com.