Is Ronaldo ready to lead Portugal?
Despite the enormous club successes of superstar Cristiano Ronaldo, there exists a palpable skepticism whether the former Manchester United and current Real Madrid phenomenon will ever similarly raise his game at the international level and carry Portugal to soccer supremacy.
While just 25 years old and with three Premier League titles and one Champions League title under his belt with Man United, the 2008 FIFA World Player of the Year has nevertheless been haunted by the duality of poor performances for his country.
Most recently was his bad run of form in the 2010 World Cup qualifying as Portugal struggled through a scoring dearth and Ronaldo failed to tally a single goal. Portugal eventually won a two-game playoff against Bosnia to book their passage to Africa, playing without their injured captain, who missed the playoff because of an ankle injury.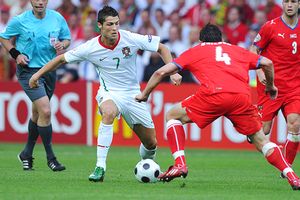 Papon/Presse Sports/US PresswireHow much does Portugal need Ronaldo's scoring touch? Portugal averaged just 1.6 goals per game during qualifying.
He also scored just one goal in the 2008 European Championship (but scored eight in that qualifying phase) before Portugal was eliminated by Germany 3-2 in the quarterfinal round. In that tournament, Portugal transitioned from former coach Luis Scolari and stars Luis Figo, Rui Costa and Pedro Pauleta while handing the captain's band to the self-assured star.
Those spotty performances came amidst a magical phase at his club when Ronaldo scored 42 goals for Man United in the 2007-08 season and then tallied another 26 goals for Man United in 2008-09.
A powerfully built 6-foot-1 winger comfortable in both the ruggedly direct Northern European and mazy South American schools of soccer, the spotlight is destined to shine bright on him in South Africa to see whether he can lift the small Iberian nation out of the so-called "Group of Death," which includes Brazil, Ivory Coast and North Korea.
But a legend of Portuguese soccer who is currently serving as an assistant to Portuguese coach Carlos Queiroz wonders whether the expectations of the Portuguese public, and those of Ronaldo himself, have been excessively unrealistic. Antonio Simoes, a midfielder on Portugal's 1966 World Cup third-place team, said Ronaldo's subpar performances up to now are rooted in the player's intense pride and inflated sense of responsibility to the national team.
"I do agree that Cristiano Ronaldo does not play well for Portugal," he said. "But I think it's not his final history yet. In history, this is the challenge for him to prove. I believe that's going to happen. To analyze what Ronaldo is as a club player and a national team player, you see two different things. He has not been comfortable with the national team, and people put too much pressure on him with the national team than on the club. I think he feels more obligated to make a big difference when he plays on the national team. I think he is too young to put that on his shoulders. He thinks he has to win the game with every single play. He feels he has the obligation to lead the team every single game. I don't think he is prepared yet to take that responsibility."
Simoes, 63, who played for many years in the United States in the 1970s and is also the current Portuguese under-23 coach, hinted that he along with others around Ronaldo hope to persuade the Portuguese captain to take the game in its natural stride instead of imposing himself on the run of play, a process he said the player is beginning to demonstrate at Read Madrid.
"If he wants to be No. 1 he has to have the collective culture of the game," Simoes said. "He has people with him to help to play well and to be No. 1. Lately he has been a better player with Real Madrid than when he was with Manchester United. I think he went to the right club to grow up in the right manner. Right now he is 25 years old and he has grown up enough and is mature enough to know what it means to be No. 1 without being selfish. He is old enough to know that soccer is not a selfish game and to have good players around to help him is a good thing. I think he finally understood that he needs to do all of this to be the best in the world."
Another reason Ronaldo has been more effective at the club level is having the tranquility and confidence that comes with playing with top players who could help lead the way.
"At Manchester United there were many good players," Simoes said. "Not better players than at Portugal, but players very identified with the club's mystique and the coach and they were able to take some pressure off. He wasn't so preoccupied to play. He doesn't have the responsibility to play well, to score goals and win the game all the time. If the team doesn't play well, it isn't Cristiano Ronaldo's fault. "So we have to stop with that with Portugal. Let him play and be Cristiano Ronaldo on the national team in the same way and the same responsibility he has on the club. If we do that, Cristiano can be the same player that he is now at Real Madrid and was at Manchester United."
Simoes said he also wants nothing to do with the notion that Portugal is a better team without Ronaldo, that even the playoff against Bosnia demonstrated a particularly tight team effort.
"Because we won both games with Bosnia and because Cristiano Ronaldo didn't play, and didn't play very well with Portugal in the qualifiers before, [that] made the people say what they were saying," Simoes said. "The people kept feeling that Cristiano Ronaldo didn't play and Portugal beat Bosnia. That was a mistake. I don't think the games against Bosnia would say that they are right.
"The big challenge for Cristiano Ronaldo now in his career, because World Cup is in two months, is the challenge to play in a natural way of not putting pressure on himself. To be part of the history of Portuguese soccer in World Cup he has to be himself. No more than that. A normal Cristiano Ronaldo doesn't have to work harder, think more or be more in reality than he is in the game. We expect him to play well in the World Cup, and I expect he will, and he is going to put away this feeling that everybody has that he doesn't play well for Portugal."
Gus Martins is a freelance writer who has covered two World Cups and MLS for more than a decade.