Gomez hopes to catch eye of Bradley
Herculez Gomez knows what it feels like to be on the outside looking in.
Growing up in Nevada, he found himself left out of the top youth leagues when his family found it difficult to afford the fees for traveling teams. That didn't stop the son of Mexican immigrants; he moved south of the border to join the youth system at Mexican club team Cruz Azul.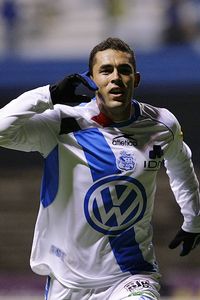 Jam Media/LatinContent/Getty ImagesHerculez Gomez is getting used to celebrating goals in Mexico.
But opportunities with the senior team of one of Mexico's biggest clubs were hard to come by, so the young American wouldn't get the chance to play in Mexico's top league -- not yet, at least.
Gomez moved on, trying indoor soccer in the U.S. and playing in the fourth-tier developmental league, where he caught the eye of L.A. Galaxy scouts. He signed with MLS, and after a stint on loan in the USL, he finally got the chance he had been waiting for, in 2005, at age 23. He took full advantage that season, scoring 18 goals across competitions with the Galaxy, and was named the team's MVP by the local media.
In following years, the goals stopped coming as quickly, as injuries and coaching changes led to a move to midfield and reduced playing time with Colorado and Kansas City. This past winter, Gomez decided to again try something different, engineering a move back to Mexico to join Puebla FC.
"I put a lot of hard work into this offseason, not knowing if I had a job," Gomez said recently via phone. "I had to really dig deep and work hard. There was a lot of doubt there. When I came here I was unknown."
Despite the risk, the move to Mexico has paid off. For the past two months, Gomez has defined "en fuego," lighting up the league with eight goals in his past 10 appearances.
"More than anything, I'm playing with confidence," the striker said. "For the first time in a long time, I'm having fun."
There's no denying that Gomez's renewed form at the club level has been scintillating, leaving him squared away professionally for the first time in years. But in a World Cup year, the forward's torrid scoring pace also has been impressive enough to raise the question of how late in the cycle is too late for a player to make a case for inclusion in the national team.
Inconsistent play in MLS over the past few seasons had left Gomez far out of the American national team picture. The forward was capped by Bob Bradley during the 2007 Copa America, in which he played his only two matches in an American uniform, but Gomez has not been in contention for a national team spot since an ACL injury sustained shortly after that tournament.
With the World Cup just two months away, that's a long absence from international play to overcome. But with Charlie Davies still in doubt for the World Cup and a number of other forward contenders failing to convince despite numerous chances, the U.S. national team remains thin in attack. It's a situation not lost on Gomez, who is holding out hope for a call from Bradley.
"It's a shame it's so far along in the World Cup cycle," said Gomez, whose appearances in the Copa America cap-tied him permanently to the United States, rather than Mexico. "But I'm never going to say never. It's probably about a one in a million, but my mindset is there's a chance, so you've just got to keep on working."
Gomez said he has not heard from the United States Soccer Federation, but his recent surge in form combined with Bradley's lack of options at the forward position will make it increasingly difficult for the coach not to take notice. According to sources with knowledge of the situation, it wouldn't necessarily be unusual for the USSF to not have contacted Gomez, since the U.S. doesn't play another match until late May.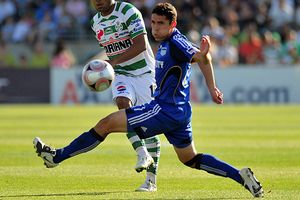 Denny Medley/US PresswireGomez didn't score a goal in 31 appearaces with Kansas City last season.
Meanwhile, Gomez's eight goals tie the American for second in the Mexican league, but even more remarkable is Gomez's strike rate. Used mainly as a second-half substitute in his 13 appearances this campaign, he is averaging a goal for every 75 minutes played. That's the kind of contribution that could be valuable if carried over to the international level.
"Bob Bradley is a smart coach. He knows that if players are contributing to their team they can also contribute to their country," Gomez said. "To be honest, I wouldn't blame him if he didn't take me because the timing is pretty bad, but do I want to go? Absolutely. Do I think I could help? Absolutely."
It's possible time might have already run out for Gomez, but with each goal, he could also be inching closer to another shot with the national team.
One thing the striker does have going for him is a change to the World Cup roster selection process. In mid-May, Bradley may call up to 30 players to camp, from which the final 23-man roster for the World Cup will be selected before the team travels to South Africa. If that initial roster is expanded, it may provide the leeway needed for the coach to take another look at Gomez.
"I'm playing with confidence right now that I've never played with, and I'm doing things I've never done," Gomez said. "If I keep doing what I'm doing, who knows what will happen. I know that if any World Cup is a good time for me, then it's this one. I think if given the chance I could show that."
It might be best to take Gomez at his word. His career has proved that when the man on the outside is shown an open door, he tends to make the most of his chances.
Brent Latham covers soccer for ESPN.com. He previously covered sports throughout Africa for Voice of America radio and now works as a soccer commentator for a national television station in Guatemala. He can be reached at brentlatham@ymail.com.