Altidore looking strong up front
April 6, 2010
Marcus Hahnemann impressed for Wolves, while Steve Cherundolo scored his first goal of the season for struggling Hannover. Brad Guzan, meanwhile, is getting tired of the bench. Here's the latest roundup of Americans in Europe.
England
Premier League
Brad Friedel, GK, Aston Villa: Aston Villa is pretty much out of the running for fourth after a string of poor results, with the fans taking out their frustration on manager Martin O'Neill.
Friedel and company failed to beat Sunderland at home March 24, then suffered a defeat in horrible fashion -- falling 7-1 to rejuvenated Chelsea at Stamford Bridge. Friedel didn't have a chance on any of the goals.
Villa showed heart by bouncing back Saturday, edging Bolton 1-0 away. Friedel stopped Ivan Klasnic from close range in the second half to preserve the shutout. The only thing to play for now is the F.A. Cup. Villa faces Chelsea again this weekend in the semifinals.
Season: 35 games played (0 substitute appearances)
Tim Howard, GK, Everton: The Toffees might be unbeaten in six, but any chance of finishing fourth -- and it was slight following a horrific start -- ended with back-to-back draws against relegation-threatened clubs.
Everton tied resilient Wolves 0-0 away March 27 and surrendered a late 2-1 advantage to tie West Ham 2-2 at home Sunday. Howard saved a penalty in the first half, diving to his right to repel Mido's tame effort. He was beaten by a bullet header, though, from Brazilian Araujo Ilan in the 87th minute.
The slipups came after Everton downed Manchester City, favorite for fourth, 2-0 on the road March 24. A thigh strain suffered late in the game didn't stop Howard from completing the full 90 minutes.
Season: 45 (0)
Clint Dempsey, M, Fulham: Fulham's dream run in the Europa League continues.
The Cottagers beat Wolfsburg 2-1 on April 1, although a late goal gives the reigning German champions plenty of hope heading into the second leg at home this week. Dempsey, who sent Fulham into the quarterfinals with a wonderful chip against Juventus, didn't get on the score sheet.
Dempsey started against Hull on March 27 and almost netted in Fulham's 2-1 win against Wigan on Sunday. Streaking toward the goal, he was denied thanks to a good tackle by the much-maligned Titus Bramble.
Dempsey took a swipe at West Ham after the Hammers officially complained to the Premier League about Fulham's team selection in the 2-0 defeat at Hull. Looking ahead to the Europa League, manager Roy Hodgson left out five regulars.
"It's disrespectful to me because I was on the pitch against Hull," Dempsey was quoted as saying in the Mirror. "I'm sure it's frustrating for them, but we have to do what is best for the club."
For the record, Hull was fortunate to win. The home team cleared two balls off the line and could have conceded two penalties.
Season: 28 (7), 8 goals
Brad Guzan, GK, Aston Villa: Guzan is getting frustrated by his lack of games. He hasn't started in the league and was dropped for the Carling Cup final, despite being the regular prior to the finale.
"To make it to the final, and to then get benched and to lose the game was absolutely heartbreaking," Guzan was quoted as saying in the Express and Star. "After you help your team get to a final, it was devastating not to play. I have thought about playing more regularly. I know that I need to start playing. If at the end of the season the plans make sense for me to go out on loan, then that is a possibility I will be open to."
Season: 9 (0)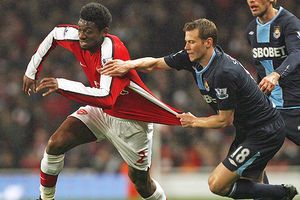 Glyn Kirk/AFP/Getty ImagesJonathan Spector's West Ham squad continues to struggle.
Jonathan Spector, D, West Ham: Spector was part of the team that lost a sixth straight, against Stoke on March 27, undone by a brilliant individual effort from the brooding Ricardo Fuller.
Spector's poor defensive header led to Everton's opener Sunday, so he was relieved when West Ham eventually earned a morale-boosting point. Everton had won seven straight at home in the league.
Season: 20 (5), 0 goals
Jozy Altidore, F, Hull (loan from Villarreal): Still not many goals from Altidore, but his strength continues to cause opposing teams problems. Altidore earned Hull an early penalty (converted) against Fulham when promising defender Chris Smalling, off to Manchester United in the summer, hauled him down.
"He has quality in his feet and is a handful, and could be the player that keeps Hull up," new Hull manager Iain Dowie told reporters. "He can run, he has power, a cool finisher, lovely feet."
Surprisingly, then, Altidore came on only in the second half of a 2-0 loss at Stoke on Saturday.
Hull trails 17th-place West Ham by a point, but with a game in hand.
Season: 15 (11), 2 goals
Marcus Hahnemann, GK, Wolves: Hahnemann probably was on the plane to South Africa before the weekend, but he solidified his spot with his display at Arsenal.
Hahnemann denied Bacary Sagna, the slumping Eduardo and Tomas Rosicky from close range, and his handling was superb Saturday. He was cruelly beaten deep in injury time by a Nicklas Bendtner header.
He collected the shutout versus Everton. Barring a late collapse, Wolves, five points above the drop zone, should survive.
Season: 22 (0)
Stuart Holden, M, Bolton: Holden is still recovering from a fractured right fibula and is due to return this month. He sustained the injury on international duty in March.
Season: 2 (0), 0 goals
Championship
Jay DeMerit, D, Watford: The skipper missed Saturday's 1-1 tie against Preston with a minor knock but was called on in the ninth minute Monday against West Brom when Lloyd Doyley got hurt.
DeMerit and teammates held firm against West Brom (sure to gain automatic promotion) even after Jon Harley was dismissed at Vicarage Road in the 79th minute. When Danny Graham scored in the 85th minute, three vital points looked to be secured. But five minutes into injury time, Watford failed to clear (DeMerit's header included), and Chris Brunt levelled with a header.
DeMerit started in a crucial six-pointer March 24 against Sheffield Wednesday -- the Owls prevailed 2-1 -- and against Crystal Palace and Middlesbrough.
One win in 12 leaves Watford above the relegation zone only on goal difference ahead of Sheffield Wednesday.
Season: 24 (2), 0 goals
Frankie Simek, D, Sheffield Wednesday: Simek remains on the fringes at Wednesday, an unused substitute against Watford, Coventry, QPR and Bristol City.
Season: 11 (3), 0 goals
Kenny Cooper, F, Plymouth (loan from 1860 Munich): Cooper saw three minutes of action against Barnsley on March 30 and 10 in Plymouth's 2-1 comeback win at Doncaster on April 3.
The hulking forward was an unused sub against Blackpool and Middlesbrough. Plymouth trails Watford by four points, with the teams going head to head this weekend in London.
Season: 10 (9), 3 goals
League One
Jemal Johnson, F, Stockport County (loan from MK Dons): Johnson, sidelined with a hamstring injury in early March, made his return in a 5-0 loss at streaking Millwall on March 27.
He was a constant threat on the wing in a 1-1 draw against Walsall on April 3 -- last-place County scored for the first time in seven games -- and played the first 68 minutes in a 2-1 loss at champions-elect Norwich on Monday.
Season: 24 (6), 3 goals
Mike Grella, F, Leeds: The race for the second automatic promotion spot in the division is going down to the wire.
Leeds, which led League One for four months, ended a four-game losing streak and scored for the first time in five games in a 2-1 win at Yeovil on Monday. Grella was an unused sub. He entered in the 14th minute against Norwich on March 27 after first-choice striker Luciano Becchio was accidentally kicked in the face going for a header. He worked space for himself in the second half but shot tamely at the keeper, and Norwich won it 1-0 with an 89th-minute strike.
Grella was substituted in the 74th minute of a 3-0 defeat at home to Swindon on April 3.
With six games remaining, Swindon sits second with 76 points, one more than Millwall, and two more than Leeds and Charlton.
Season: 9 (16), 5 goals
Italy, Serie A
Oguchi Onyewu, D, AC Milan: Onyewu's injured knee was examined by medical personnel from the national team in California, and he was expected to return to Italy late last week, The Associated Press reported.
Milan trails Inter by three points atop the Serie A table, with Roma nestled in second, one point behind Inter.
Season: 0 (1), 0 goals
Germany, Bundesliga
Steve Cherundolo, D, Hannover 96: Only a minor miracle will prevent Hannover from relegation.
Hannover fell 4-1 at home to Cologne on March 27, and getting reduced to 10 men didn't really affect matters. By the time Hanno Balitsch was dismissed in the 45th minute, Hannover trailed 3-0. Cherundolo scored a consolation effort, sending his free kick into the corner in the 81st minute.
Hannover held on for a 0-0 draw at Hamburg, chasing a European spot, on Sunday. Once again, Hannover had a man sent off, this time in the 59th minute.
Hannover is four points from safety, and the next three games are against the top three -- Schalke 04, Bayern Munich and Bayer Leverkusen.
Season: 21 (4), 1 goal
Michael Bradley, M, Borussia Monchengladbach: Bradley collected his fifth yellow card of the season March 19 against Cologne, thus earning a one-game ban and missing a 1-0 win over Hamburg on March 28.
He was back in the lineup this past weekend and played the first 88 minutes in a 2-1 loss at Stuttgart.
Season: 25 (1), 2 goals
Bundesliga 2
Luis Robles, GK, Kaiserslautern: Robles backed up Tobias Sippel against 1860 Munich and Oberhausen. Kaiserslautern inches closer to the Bundesliga.
Season: No appearances
France, Ligue 1
Charlie Davies, F, Sochaux: Davies, who many thought would miss the rest of the season after suffering multiple injuries in a car crash in October, hopes to return to action in late April.
"I don't feel the same like I did before, of course," he said in a news conference at the end of March. "I'm still a little ways away. I need to get stronger, but I think once that strength comes, everything will be back to normal, because playing the ball and passing it feels the same."
Davies visited Holden, his national team roommate, in England and took in Manchester United's clash against Chelsea on Saturday.
Season: 6 (2), 2 goals
Carlos Bocanegra, D, Rennes: Rennes made it four straight wins March 28, beating slumping Le Mans 3-1 on the road. Bocanegra set up Rennes' third goal with a long ball that found Jimmy Briand.
A fifth consecutive victory was on the cards when Rennes took a 1-0 lead against Lyon, only for the visitors to net twice in the second half. Bocanegra went the distance. The defeat realistically ended Rennes' slim title hopes. As it stands, Lyon leads Montpellier and Auxerre on goal difference. Bordeaux, with two games in hand, and Marseille are one point behind, and Lille three.
Could Lyon be on course for a league and Champions League double?
Season: 23 (2), 1 goal
Greece, Super League
Eddie Johnson, F, Aris Salonika (loan from Fulham): Johnson started in Aris' 1-0 win against Levadiakos on March 28 and played the final six minutes in the second leg of the Greek Cup semifinals against Kavala.
In a match overshadowed by crowd trouble, the teams drew 1-1, with Aris advancing 4-2 on aggregate.
Season: 5 (12), 2 goals
Freddy Adu, M, Aris Salonika (loan from Benfica): Recently recovered from a sore hamstring, Adu, too, started against Levadiakos.
Season: 6 (4), 2 goals
Scotland, Premier League
DaMarcus Beasley, F, Rangers: Beasley's only action during the fortnight came against Dundee United in a Scottish Cup quarterfinal replay March 24.
United dominated, and one of Rangers' few bright moments resulted when Beasley put in an inviting cross for striker Kenny Miller. United won 1-0 with a goal in the 90th minute to end Rangers' hopes of a domestic treble.
Beasley is currently fighting off illness. "I need a nurse who makes house calls!" he tweeted.
Season: 9 (4), 2 goals
Maurice Edu, M, Rangers: Edu scored the only goal against Hamilton on Saturday, taking a pass from Miller and beating Thomas Cerny in the 11th minute. Seconds earlier, Cerny had stopped Edu's good effort from 20 yards.
Rangers, sluggish, were fortunate to claim all three points.
"We'd obviously have liked to put on a great show as we won this afternoon, and it's always good to be able to do that in each game that you play," Edu told Rangers' Web site. "But at this stage of the season, it comes down to getting results when you need them and we were able to get that."
Despite an upturn with the hiring of Neil Lennon, Celtic trails Rangers by 10 points with a game more played.
Edu also started against Dundee United, and entered as a second-half sub against Hearts and St. Johnstone.
Season: 5 (9), 2 goals
Sweden, Allsvenskan
Alejandro Bedoya, M, Orebro: Bedoya went the full 90 in a 2-0 loss to newly promoted Mjallby on March 29 and a 1-0 win at defending champion AIK on Monday. Through four games, Orebro, which finished just outside the European places in 2009, has two wins and two losses.
Season: 4 (0), 0 goals
Denmark, Superligaen
Benny Feilhaber, D, Aarhus: Feilhaber returned earlier than expected after suffering an ankle injury in mid-February, coming on in the 70th minute of a 4-0 win at Esbjerg on March 31.
He replaced David Devdariani in the 16th minute Sunday, when Aarhus drew 0-0 against Randers.
League: 16 (3), 1 goal
Michael Parkhurst, D, Nordsjaelland: A regular the first half of the season, Parkhurst has lost his spot at Nordsjaelland. He was an unused sub in three of four games, starting against Midtjylland on April 1. Nordsjaelland sits ninth of 12 teams, 10 points above the relegation zone and one behind Aarhus.
League: 15 (0), 0 goals
Marcus Tracy, F, Aalborg: Tracy revealed to a Danish newspaper that he's likely gone for the season with a lingering knee injury. "It's probably not realistic that I am back in action this spring," he told Nordjyske Stiftstidende.
League: 3 (3) 1 goal
London-based Ravi Ubha covers soccer and tennis for ESPN.com.