U.S. should change its formation
After watching the U.S. strain to get past a meek El Salvadoran side Wednesday night, I couldn't help but wonder: Why is coach Bob Bradley so hell-bent on playing 4-4-2?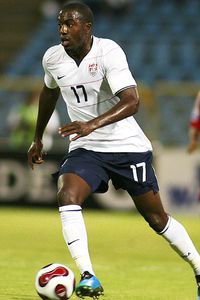 Anthony Harris /LatinContent/Getty ImagesJozy Altidore seems assured of his starting position, but questions remain about who his partner will be.
Bradley has been successful with a 4-4-2 formation of advanced wingers, most notably at the Confederations Cup this past summer, so his clinging to a winning tactic is somewhat understandable. But in light of recent and not-so-recent events, an alteration in his approach is in order.
For the longest time, or since Charlie Davies' car accident in October, Bradley has tried to fill the vacant spot up front next to Jozy Altidore. But it's become plain to see that there are very few suitable candidates.
Robbie Findley showed flashes of promise at times but was dire overall Wednesday night, running away from the ball when he should have been running toward it and making wrong decisions on almost every one of what few possessions he had. He is not the answer. Jeff Cunningham, whose career was reinvigorated by a strong season with FC Dallas after being dumped on the scrap heap by Toronto FC, has yet to prove he can play at the international level. That was against Honduras and El Salvador mind, which all but rules him out for the World Cup roster.
Conor Casey and Brian Ching have been solid, contributing important goals during qualifying. But their style -- holding the ball up front, looking to get other teammates involved and providing an aerial threat -- isn't all that dissimilar to Altidore's, making a pairing with the latter probably unproductive.
Certainly, Clint Dempsey or Landon Donovan could be moved up a rung, but the U.S. is a decidedly better team when they're running at defenders from the wings. Although Dempsey is stronger as a striker, his play on the right, for want of a suitable alternative (Stuart Holden has yet to show consistency), is better for the team as a whole.
There are whispers that contend Davies will make the most miraculous of returns in time for the World Cup. That would be wonderful. But which Davies will we get? The one who dismantled opposing defenses with his blinding speed, clever runs and creativity? Or an out-of-shape, out-of-form, slower version of him? Many players with serious injuries to their legs never regain the speed they once had. Although Davies has every excuse to show up at less than his best, it wouldn't be of much use to the U.S.
Yet Bradley insists on auditioning forwards, making the players fit his system rather than the other way around. Time and again a slew of excellent holding midfielders, a commodity of which Bradley has a surplus, are left on the bench or left off the team altogether. It's the one spot the U.S. is deep in, with Michael Bradley, Ricardo Clark, Maurice Edu, Benny Feilhaber, Francisco Torres, Brad Evans, Kyle Beckerman and the elusive Jermaine Jones all representing viable options.
So here's a thought: 4-5-1.
Rather than play a second forward who is not up to snuff, why not insert an additional central midfielder?
Why not play Altidore up front by himself -- something he has showed he is capable of doing, standing his ground in the physically demanding English Premier League -- with Donovan and Dempsey on the wings, Bradley in an advanced role behind Altidore -- a role he excelled at while with Heerenveen -- and two holding midfielders to back them up? If Davies is healthy and playing to his old standard, he could provide an alternative to Altidore against teams with slower defenders, such as Slovenia.
That way, you'd cater to the available strengths rather than cling to a ploy no longer suitable for the means at hand. You'd also put the team in a better position to compete with World Cup opponents England and Algeria, which will have ample creative forces in midfield (Frank Lampard and Steven Gerrard and Karim Ziani and Mourad Meghni, respectively) to keep the U.S. stoppers busy while the backs are off containing opposing forwards.
Bradley would be wise to stop trying to reinvent the wheel and force players into positions they're not suitable for. Why, just Wednesday, natural left back Jonathan Bornstein filled in at center back while central defender Chad Marshall sat on the bench. "We tried to make sure that he's [Bornstein] comfortable, so that in certain situations we can consider [playing him in the center]," Bradley said in the postgame news conference.
Would he be comfortable playing Bornstein in the center against quality opponents? "It's not necessarily about the big teams but against certain kinds of strikers," he said. The reasoning there would be that Bornstein's athleticism would enable him to keep up with quick strikers. But Clarence Goodson and Oguchi Onyewu also have showed that they possess good speed, and they wouldn't be playing out of position with all the spotlights on them.
An argument can be made in favor of Bradley's desire to see what his players are capable of in case of emergency. But preparing for only the unforeseeable is generally bad policy.
It's hard to understand why Bradley ignores his biggest asset, a wealth of players in a position that has grown indispensable in modern international soccer, with the 4-5-1 becoming the dominant tactic. A paucity of strikers should have induced the change a long time ago, before four friendlies were frittered away by playing an impractical system.
Leander Schaerlaeckens is a soccer writer for ESPN.com. He can be reached at leander.espn@gmail.com.