Davies on remarkable path to recovery
February 2, 2010
Charlie Davies is lucky to be alive. He knows it, and even if he were to forget, there are plenty of reminders.
There are the surgical scars that now tattoo the American soccer star's body. There are the constant reminders from family and friends who never let him forget what he nearly lost, and what he has already overcome. Then there are the pictures burned into his memory of the mangled car he was pulled from after he survived a car crash that killed another passenger on Oct. 13. Davies, 23, sustained multiple serious injuries (a broken right femur and tibia, a broken left elbow, facial fractures and a lacerated bladder). The prognosis was that he would face an arduous six- to 12-month recovery and extensive rehabilitation.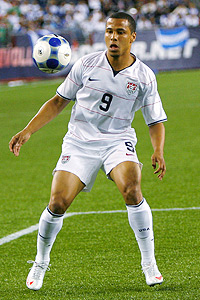 Jim Rogash/Getty ImagesCharlie Davies hasn't ruled out recovering in time for the World Cup.
The strongest reminders of how fortunate Davies is come from Davies himself as he pushes through what is shaping up to be a miraculous recovery from that laundry list of major injuries. Less than four months after the crash that threatened to end his promising career, Davies is already jogging at a good rate and working on agility drills that would have seemed impossible just weeks earlier, when simply getting out of a wheelchair was an exhausting exercise.
What does this progress mean, exactly? It means that, barring any setbacks, Davies could be back on the field with club team FC Sochaux by April, meaning his chances of playing for the United States in June's World Cup should no longer be seen as a shattered dream.
"Charlie is pretty much light years ahead of where anybody would tell you he should be," said Jim Hashimoto, the former U.S. national team trainer who is overseeing Davies rehabilitation. "When everybody heard about the accident, including myself, it was like, 'OK, this is going to be a long one' -- and it's still going to be a long one, but to see his progress is pretty amazing."
Just how amazing? The multiple broken bones in his leg, face and elbow have healed. So has a torn posterior cruciate ligament in his left knee, and he has recovered from bladder surgery, which left a foot-long scar on his stomach. He has regained the 15 pounds he lost after enduring six surgeries following the crash, and is days away from undergoing his final surgery associated with the accident, a procedure to remove a bone, plate and screws from his left elbow. After a week to recover from that surgery, Davies expects to be back training with Sochaux by the end of February.
"The World Cup is easy for me to be back for," said Davies. "I want to get back to France, and I don't want to just get back -- I want to be good.
"I don't want to be that guy just to make the [World Cup] team and just sit there. I want to be back and starting and scoring, playing well and doing the things I know I can do.
"People haven't seen the progress I've made, and maybe they don't know the kind of person I am and the motivation and new appreciation for being able to play that I have."
Davies was written off as a legitimate possibility for the World Cup because of the number of major injuries he suffered in the accident. However, his ability to heal quickly, along with the fact that he avoided any major long-term ligament injuries, has set Davies up for a recovery few could have seen coming.
Today, Davies looks very much like he did before the accident. The swelling in his face that was so evident during his interview with ESPN last November has subsided, though a shorter haircut reveals the scar he has from ear to ear arcing over the top of his skull. That scar came after doctors peeled his face off down to his chin in order to repair the multiple fractures that left his facial bones a shattered mess.
Davies has dealt with the physical recovery from the crash, but the mental recovery has been just as difficult. He acknowledges the mistake he made by breaking curfew with the national team on the night of the accident, and admits to fighting with the lingering doubts and questions about the fateful night in October.
"I couldn't sleep at night for two months," Davies said. "My mind would be racing, just thinking about how it happened and how I let this happen. How did I survive? Why did I survive? Why did I let the girl drive me home? Why couldn't I have taken a cab? When will I be back? Will I be back the same? How will the guys talk to me when I get back with the group? What do I need to do to change and be a better person?"
Davies has spent the better part of the past 12 weeks rehabilitating in the basement of a community center in Wilmington, Del., under the watchful eye of Hashimoto, the longtime head trainer for the U.S. national team. That is where Davies has made the speedy transition in three months from a shaky survivor who struggled to stand up for more than five minutes, to eager athlete pushing the limits of his recovery at every turn.
"The thing with Charlie is he likes to take strides instead of baby steps," said U.S. national team defender Oguchi Onyewu, who has been training alongside Davies for much of his rehabilitation. "He likes to look ahead of himself, and I'm like, 'Look back three months ago. Most people wouldn't be able to even walk at this point and you're already jogging. You've got to put things into perspective and know its a miracle that you're even here with us right now.'"
Onyewu has been in Delaware going through rehab for a ruptured patellar tendon suffered just two days after Davies' accident and has served not only as a voice of reason for Davies but also as someone he can share jokes with and compete with as they both work toward getting back on the playing field ahead of this summer's world Cup.
"That's my little brother. He's my second younger brother," Onyewu said of Davies. "I try and take care of him as much as I can and direct him, give him advice, especially right now through this whole process, just to keep his spirits up and let him know everyday the progress that he's made."
If Onyewu has provided the voice of reason, and Hashimoto the road map to an improbable recovery, it has been Davies' long-time girlfriend Nina who has provided the emotional anchor that has helped keep Davies grounded and focused.
"My girlfriend has been the strongest person through the whole thing," Davies said. "I was in and out [of consciousness] through the first week and a half. I really don't remember too many things, but I remember seeing her.
"When I have her with me, supporting me every single day, from the day I couldn't even move to now, I know I'm a real lucky guy. I honestly don't think I am where I am now if not for her. She's a rock."
If Davies can complete his recovery on its new timetable, it will be some welcome good news for a U.S. team that just recently had midfielder Clint Dempsey sidelined by a PCL injury that threatened to jeopardize his World Cup. The U.S. team's top striker before the accident, Davies brings a combination of speed, strength and finishing ability that no other player in the national team pool can provide, and a healthy Davies would provide a significant boost, both on and off the field.
"Charlie knows he's going to be there," Onyewu said of Davies playing in the World Cup. "I know Charlie's going to be there, or at least physically capable of being there. After that, it's the coach that decides the roster.
"He's doing unbelievably, to be honest," Onyewu said. "I think once the final part of his surgery on his elbow goes through, I think it's going to be flying from there on. I don't think anybody anticipated or expected him to recover or to heal this quickly. Its sort of a Superman story."
It is a recovery few have even realized is taking place, which would explain why Davies is still often overlooked when discussions of the U.S. World Cup team take place, except for the debate on who will replace him.
"That's what's been driving me this whole time," Davies said. "I've been looking at Web sites the whole time and they're always saying, 'We need to find a replacement for Charlie. We need to find someone because he's not going to be back.'
"These people don't know," Davies said. "They don't know me, and if they just knew me alone, let alone the determination and will I have now, you guys don't know.
"When I tell people I'm doing agility on the ladder and I'm running on the treadmill, people are like, 'No way.' They tell me, 'If you're back, this is the greatest comeback in the history of sports.'
"It feels good when I hear all this talk because I'm going to be able to play two months in France. I plan on making a difference at the World Cup."
As amazing as his recovery has been up to this point, there is still much work to be done. He still has to get through one more surgery before a return to the practice field. Even then, the playing field will provide the real measure of just how realistic a full recovery in time for the World Cup will be. As far-fetched as that comeback may still sound, it is hard to bet against Davies considering how far he has already come.
"When you look at the time frame, he's got to accomplish gaining more strength, the on-field training and playing games," Hashimoto said. "Where do I see him in that? I really don't know. I'll be honest: At 12 weeks [of rehab], for him to be where he is, is pretty amazing.
"He's certainly on the right curve," Hashimoto said. "It's a matter [of] if the calendar is kind to him with his progression."
Fate has already been more than kind to Davies, and he knows it. The nights of sitting in a hospital alongside other accident victims who weren't as fortunate won't let him forget. The emotions he felt the first time he returned to the scene of the accident won't let him forget. The knowledge of everything he nearly lost won't let him forget just how lucky he is.
"I'm extremely blessed," Davies said. "The things I had to go through and the things I had to see really changed me as a person as far as having that appreciation for people who can't do certain things. Having that appreciation for being able to play soccer.
"When you see all that, you realize nothing lasts forever and you have to take full opportunity of everything you can do," Davies said. "I know I can come back and be one of the best strikers in the world. I know with the improvement that I'm making, if I can continue that with this new feeling I have now, it's going to be tough to stop me."
Ives Galarcep covers MLS for ESPNsoccernet. He also writes a blog, Soccer By Ives. He can be reached at Ivespn79@aol.com.