Dempsey not out, but U.S. down
February 19, 2010
It was the press release read 'round the world. Well, 'round the United States, at any rate.
English Premier League side Fulham FC announced late Tuesday that U.S. international Clint Dempsey will not require surgery on the knee he injured in Sunday's 2-0 loss to Blackburn Rovers. The statement went on to add, "At this stage, it is thought that the injury will not prevent [Dempsey] from featuring for Fulham, prior to the end of the season." His World Cup hopes are apparently still intact.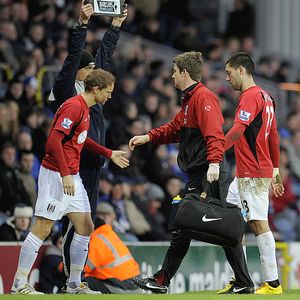 Greig Cowie/BPI/Icon SMIFC Fulham was mum about the nature and extent of the injury suffered by Clint Dempsey, right, but he is expected to be healthy for World Cup play.
Yet while U.S. fans will be relieved at the news, they shouldn't exhale completely. Outside of the fact that Dempsey will not be going under the knife -- which no doubt is a positive development -- Fulham's release is so vague as to offer little in the way of additional comfort. The team didn't even go so far as to indicate which ligament is damaged, although Fulham manager Roy Hodgson let it slip earlier in the week that he thought it was a PCL injury.
And just what conclusions can be drawn from the phrase "prior to the end of the season"? Will he be back in March? April? The last day of the Premier League campaign on May 9?
The answer to those questions will be critical to the Americans' chances of success in South Africa. The team is already reeling from injuries to Charlie Davies (fractures to his tibia, femur, elbow and face in an October car accident) and Oguchi Onyewu (torn patellar tendon). Davies, in particular, is a massive loss. Not only did his pace stretch defenses, but the knock-on effect was that it allowed Dempsey and Landon Donovan more room to maneuver out of midfield.
With Davies still a long shot to recover in time for the World Cup, it was Dempsey's unpredictability in attack, as evidenced by his laser-guided strike against Stoke back on Jan. 5, that had him among the leading candidates to replace his injured teammate up top.
"[Dempsey] has got that little extra ability you can't always teach, to sometimes make a little bit of room and come up with a chance, like [Sunday] on the overhead [kick which hit the crossbar in the first half]," said U.S. manager Bob Bradley earlier this week through a team spokesman. "Those things are important for us and continue to be important for Fulham."
Granted, the U.S. does have a lengthy list of possible fill-ins on the right side of midfield, with Benny Feilhaber and Stuart Holden being the leading candidates. But although the passing of Feilhaber and Holden might make the Americans a better team in terms of possession, neither player possesses Dempsey's traits.
"[Dempsey] is a guy who is one of the most creative players out on the field," said former U.S. international Marcelo Balboa. "He does things that not everyone thinks about doing."
There's no question that prior to Sunday's mishap, Dempsey had been in the best form of his career, scoring seven times this season in all competitions. It raised the likelihood that, along with Donovan, the U.S. would have two attackers playing at their peak headed into the World Cup. That's something that the U.S. has rarely, if ever, been able to say.
That statement, and the level of Dempsey's form come June, are now in doubt. It's not enough to assume that when Dempsey returns to training he'll be back to his best. Who knows what lingering effects there will be from the injury or how it will affect his confidence?
And what if the rest of the U.S. squad can't shake this injury bug in the five months or so that remain between now and the start of the tournament?
"Then you're looking at a team that could be really limping into the World Cup," Balboa said. "You can't keep losing more strengths. There's just too many integral parts that are being lost. If they have one more injury to a big-time player … Bob Bradley's hands are getting tied more and more with all of these injuries."
One item in Dempsey's favor is that if he does heal up and regain sufficient fitness, he'll very likely go straight back into Fulham's lineup, allowing him to begin the run-in to the tournament with at least a semblance of match fitness. That can't be said for Onyewu, who barring a spate of injuries to AC Milan center backs, seems set to ride the pine no matter how healthy he is.
Another positive is that Dempsey -- who has been playing practically nonstop since he first suited up for Fulham in 2007 -- will finally get a chance to rest. That doesn't seem like a completely fair trade when weighed against the sharpness that will be lost, but that depends on when Dempsey returns. As a point of comparison, Liverpool defender Martin Skrtel suffered a PCL injury last season that cost him three months. If Dempsey is back by the beginning of April, then that would seem to be sufficient time to at least get close to top form. If it's closer to May, then U.S. fans will be wringing their hands and holding their breath once again.
Jeff Carlisle covers MLS and the U.S. national team for ESPNsoccernet. He is also the author of Soccer's Most Wanted II: The Top 10 Book of More Glorious Goals, Superb Saves and Fantastic Free-Kicks. He also writes for Centerlinesoccer.com and can be reached at eljefe1@yahoo.com.