Worst World Cup offenders of all time
Quick, who finished second at the 1990 World Cup? Who was third in 1982? Chances are you don't know. And if you do, congratulations -- only a select few would recognize such as a laudable feat.
World Cups are staged to crown a champion, to determine who is the world's best -- over the span of a given month, anyway. Tournaments come and go. The winners are forever heralded, their jerseys embroidered with a star above the crest to mark the occasion. Everyone else is forgotten. Yet some of the losers are memorable for just that: losing.
In 18 World Cups, some have specialized in winning at all costs -- such as Germany and Brazil -- while others seemingly did everything in their power to achieve the opposite. This summer's edition in South Africa has several prime candidates (North Korea, New Zealand and South Africa) that could join the list of clubs remembered as the worst World Cup entrants of all time. Meantime, here are the seven most heinous World Cup crimes against soccer that they'll have to top -- or undercut.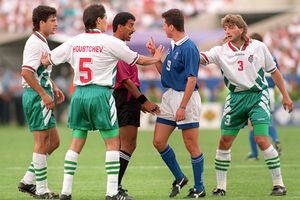 Ben Radford/Getty ImagesGreece used the World Cup to reward its veterans for a job well done in '94 -- with disastrous results.
7. Greece, 1994
Comfortably the worst European team ever to participate, the Greeks -- the European champions not 10 years later -- were horrid in 1994. This was surprising, considering their imperious qualification performance. But having qualified for the World Cup, held in the U.S. for the first time, manager Alketas Panagoulias used the tournament mostly to reward his aging squad for having made it there.
Rather than fit several promising young players into his squad, he opted to play his veterans -- every last one of them, including all three goalkeepers, in just three games. Not surprisingly, the Greeks lost 4-0 to Argentina. With six new names on the team sheet in their next game, they again fell 4-0, this time to Bulgaria. In Greece's final game, Nigeria needed another goal to secure first place in the group. Its manager told forward Daniel Amokachi to cut right through the Greek defense and score. Amokachi obliged, making it 2-0, which said more about Greece's side than Amokachi.
6. Mexico, 1930
In the inaugural World Cup, held in Uruguay, Mexico participated by virtue of having entered. With the nascent tournament desperate for teams to show, everyone was allowed entry. European teams were begged to make the long trip overseas. Romania traveled the farthest -- a 15-day journey -- after King Carol II had personally put together a team, ordered it to participate and promised the players their jobs would be waiting for them upon their return.
Mexico earned the dubious honor of having conceded the first-ever World Cup goal, in the opening game against France. The Mexicans kicked the French goalkeeper in the jaw, reducing France to 10 men after 10 minutes -- there were no substitutions then -- but nevertheless lost 4-1. Things went downhill from there.
A 3-0 loss to Chile was followed by a 6-3 clobbering at the hands of Argentina, which was missing its captain because he had a law school exam to take back home. Mexico's nine-goal difference still stands as one of the worst World Cup performances of all time.
5. Haiti, 1974
Haiti, then under the yoke of brutal dictator Francois Duvalier, had no business at the tournament hosted by West Germany. Not only were the Haitians simply not good enough, they hadn't qualified legitimately. In the deciding qualifier, which was to send them to the World Cup, they benefited from the disallowing of four goals by their opponent, Trinidad. Although the referee was suspended, Haiti's qualification stood.
Shocking one and all, Haiti did take the lead in its opening game against Italy, interrupting a string of a dozen straight Italian shutouts. It eventually lost 3-1, and would go on to lose 7-0 to Poland and 4-1 to Argentina.
After the Italy game, Haitian defender Ernst Jean-Joseph failed a test for doping. Jean-Joseph protested, saying he had taken pills to treat his asthma, a claim disputed even by his own team doctor, who added that Jean-Joseph was too dumb to understand what he'd put into his body. Embarrassed, Haitian officials dragged Jean-Joseph from the team hotel, beat him up and put him on a flight back to Haiti the next morning. Nothing else is known about him.
4. Saudi Arabia, 2002
Saudi Arabia couldn't help but improve after losing its opening game at the 2002 tournament (held in Japan and South Korea) to Germany in an 8-0 destruction. It was a pathetic display against a shorthanded German team that wasn't considered a contender but was so bolstered by the result that it reached the final. Facing a Saudi right side that was virtually undetectable, Germany's Michael Ballack sent cross after deadly cross into the path of Germany's torrid strike force. Saudi Arabia recovered somewhat by holding Cameroon and Ireland to relatively modest 1-0 and 3-0 wins, respectively, in its remaining games.
2. (tie) El Salvador and New Zealand, 1982
The 1982 World Cup in Spain saw the field expanded to 24 teams for the first time (before that, 16 teams qualified; the field expanded to 32 in 1998). Yet at this stage, soccer hadn't proliferated sufficiently to sustain such a large field. The result: a string of rather lopsided contests. El Salvador, which had scraped together only 20 players (two short of the allowed roster size), lost to Hungary 10-1 in the most unsightly scoring line in World Cup history. El Salvador would concede 13 goals in a winless campaign, while New Zealand saw its nets bulge 12 times.
The extended tournament did yield the surprising performance of Kuwait, which drew 1-1 with Czechoslovakia and gave England a scare before losing 1-0.
Kuwait was also responsible for one of the most bizarre moments in World Cup history. Down 3-1 to France, it stopped playing when it heard a whistle from the crowd and mistook it for the referee's, upon which France scored a fourth goal. Furious, a Kuwaiti sheikh and president of the Kuwaiti soccer association waved his players off the field before changing his mind and running onto the field to excoriate the referee who, in his befuddlement, disallowed the goal. The referee was fired and the sheikh fined $10,000. Kuwait lost 4-1 anyway.
1. South Korea, 1954
Just four years after being invaded by North Korea, and less than a year after the armistice, South Korea entered its first World Cup in Switzerland. It marked the occasion by setting the modern standard for World Cup futility, conceding no fewer than 16 goals in a mere two games.
The only time the South Koreans approached excellence was when it could be found in an opponent. A marvelous Hungary team, which hadn't lost in four years, beat them 9-0. The second game was a 7-0 loss to an unimpressive Turkey team. So poor were the inexperienced South Koreans, weary from an endless string of flights, that others in their group were considered to have an unfair advantage: With South Korea in a team's group, an automatic win was assured.
Leander Schaerlaeckens is a soccer writer for ESPN.com.