El Tri resurgent under Javier Aguirre
December 14, 2009
While World Cup qualifying is no trivial matter, especially in Mexico, El Tri's qualifying campaign provided plenty of quirky trivia fodder. For instance: Who was Mexico's head coach for its opening game in CONCACAF qualifying? Sven-Goran Eriksson was famously appointed Mexico national team head coach on June 2, 2008, but didn't actually take the reins until July 1, so Ramon Ramirez led the team in the second-round games against Belize. That time lapse was an omen for the Swede's entire Mexico reign. He was never able to catch up with Mexican soccer culture, and like Ramirez, he won't be leading Mexico in South Africa. And for a time during the third round and the final-round "Hexagonal" there was a real possibility that El Tri would be staying home as well.
The turnaround in Mexico's World Cup qualification fortunes is credited to, appropriately enough, a trio of factors: the appointment of Javier Aguirre as head coach in April 2009, the recall of mercurial talisman Cuauhtemoc Blanco and that hardy perennial of Mexican soccer: Estadio Azteca home-field advantage.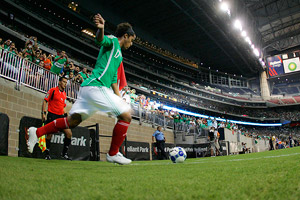 Mario Castillo/Jam Media/LatinContent/Getty ImagesThe introduction of Gio to the starting lineup has added pace and flair for El Tri.
With only one loss ever at the Azteca in World Cup qualifying, Mexico has perhaps the greatest home-field advantage in sports. And El Tri took advantage of it once again. Four of their last six games down the stretch run were played at the Azteca and Mexico won them all. On the road, Mexico's record was a lot less impressive: two wins, five losses, two ties. It did not win a road game in qualifying under Eriksson, with a 3-1 loss at Honduras on April 1, 2009 marking the end of the Swede's tenure and the beginning of a new one for Aguirre.
Aguirre, who coached Mexico at the 2002 World Cup, inherited a team in disarray. And when Mexico lost 2-1 at El Salvador in his first qualifying game back at the helm, suddenly the U.S. game at the Azteca loomed as a must-win for Mexico. Miguel Sabah's strike eight minutes from time gave El Tri the 2-1 win and Aguirre was able to steady the ship from that point. A large factor in the turnaround was Aguirre's decision to bring back Blanco.
The temperamental Blanco was left off the 2006 World Cup roster after publicly feuding with then-head coach Ricardo Lavolpe. And when the former Chicago Fire star didn't see eye to eye with Eriksson, he was quickly on the outside looking in again. But Aguirre knew Mexico needed a spark, and Blanco quickly provided it. His larger-than-life personality and outsize passion for El Tri were infectious, and although Blanco rarely played a full 90 minutes, his presence helped raise morale and boosted confidence.
But can that confidence carry over into the World Cup? For while Mexico is virtually unbeatable at the Azteca, it does not travel well, as evidenced by not only the just-completed qualifying campaign but its entire World Cup finals history. Mexico's best finish at the World Cup is two quarterfinals appearances, in 1970 and 1986, when Mexico was the host nation both times. (It should be noted that when Mexico lost in those quarterfinals, neither game was played at the Azteca.) Prior to 1994, those 1970 and 1986 quarterfinals were the only times Mexico had advanced past the first round. But from 1994 onwards, Mexico has always reached the round of 16 but lost at that stage each time.
Four years ago, Mexico went down to Argentina 2-1 in overtime in a classic game, and several players from that team should be in South Africa, including Rafael Marquez, Andres Guardado, Ricardo Osorio, Carlos Salcido, Gerardo Torrado, Guillermo Franco and Pavel Pardo. They will be supplemented by the two biggest young talents in Mexican soccer, Giovani dos Santos and Carlos Vela, and, if he stays healthy, Blanco.
Mexico will be a team with plenty of flair on offense, a good combination of youth and experience, and solid organization throughout though short on height at the back. But will it be a united team? Marquez and Blanco are unquestionably Mexico's two most influential players, and it is no secret that they have not got along in the past. Marquez missed a large chunk of the qualifying campaign due to a knee injury and therefore his relationship with Blanco did not come into play. It's inconceivable that Aguirre would exclude Marquez from the team if healthy (although he did drop goalkeeper Oswaldo Sanchez, and for a while, Pardo, two players who had also feuded with Blanco in the past), so the Marquez-Blanco relationship will be a story to watch heading to South Africa. As will the play of Dos Santos and Vela.
Gio, as Dos Santos is known in Mexico, is a prodigious talent who flourished under Aguirre's guidance over the summer -- excelling at the 2009 Gold Cup and giving a virtuoso performance in the 3-0 win at Costa Rica. But back in England with Tottenham Hotspur the wunderkind has seen little playing time and then picked up an ankle injury in September that has further curtailed his first-team opportunities. Across North London at Arsenal, Vela has impressed for the Gunners when given a chance. He recently signed a contract extension with Arsenal, and should get more playing time this season due to the Gunners' extensive injury problems.
Gio and Vela were both members of Mexico's 2005 FIFA U-17 World Cup-winning team and all of Mexico has been waiting for them to come of age with the national team. If they can do that next summer, and the veterans around them can all get along, then Mexico has a real opportunity to at least match its best showing at the World Cup.
Mark Young is a World Cup writer and researcher for ESPN.