The thought of the World Cup probably has David Beckham gasping for air. Not just because his recently revealed asthma impairs his ability to breathe, but because England's second-most capped player ever and proud onetime captain might not make it there. Competition for spots on the England squad is fierce, and no position is as well-covered as Beckham's out on the right. With at least three strong candidates (Aaron Lennon, Shaun Wright-Phillips and Theo Walcott) standing a reasonable chance to be deployed there, and several controlling players already certain to make the squad, Beckham has a lot to overcome.
In January, Beckham will return to AC Milan, his annual winter getaway, to prove to England manager Fabio Capello he's worth the return airfare to South Africa. That might prove tricky since Milan is in great form after a lackluster start to the season. Having weathered blistering criticism, Milan manager Leonardo is unlikely to want to tinker with his team to include Beckham in an already crowded midfield.
"He played well for the Galaxy this year," said Bruce Arena, Beckham's manager in L.A. "Obviously, as you get to David's age you're not going to be the same player as he was in years previously, but he's still an effective player. It's the responsibility of the manager of England to make a decision on his team. But David is a very good player, let's put it that way."
"He probably will be included," said veteran Premier League manager David Pleat. "But I will be wary of what impact he could make. Because if we were behind in a game, we need speed to counterattack. And it's not a good commentary on our football if we were in front and we'd need him to come on and hold up the play. I think we should be experienced enough at this point at the international level to be able to cope without him."
Along with Beckham, here are five other big-name players who could struggle to make their national team squads in South Africa:
Ronaldinho, midfielder, Brazil: Once the world's best player before a spectacular decline starting at age 27, Ronaldinho hasn't featured for Brazil since April. The playmaker, now 29, did play in eight of 18 Brazilian qualifiers and has recently crept his way back into Milan's starting lineup, too. The trouble is that Ronaldinho's Milan role has been redefined as a stationary sender of splitting passes. It was an odd transformation for a player once as prone to go on an all-weekend bender as he was to make opposing defenders look downright silly with the mind-boggling attacking runs he'd been perfecting since childhood. His lack of mobility, courtesy of a losing battle with his bathroom scale, simply doesn't mesh with Brazil's new "more pragmatic" approach, centered around quick breakaway attacking.
Massimo Cebrelli/Getty ImagesAntonio Cassano's is the people's choice to add flair to the Italian lineup, but he's not well-regarded by Marcello Lippi.
Like Ronaldo (the chunky one, not the svelte one) and Adriano, Ronaldinho has considerable backing in Brazil but is in danger of not making it to the tournament. Brazil manager Dunga appears set on a group of regulars. Inserting Ronaldinho would force him to abandon a system he has no reason to abandon, considering recent results.
Ronaldinho still has the touch. If he gets back in shape and rediscovers his form, he could deliver a potent dimension to a Brazil team not as deep in its trademark offensive panache as in previous years. "His form has already risen a little bit," said ESPN soccer analyst Ruud Gullit. "The most important thing is to find the players in the right form at the right moment. He has a better chance of being picked now than four months ago, for instance. If Dunga thinks that Ronaldinho is adding something to the team he will take him."
"Chances are unlikely he'll play, the way Brazil are at the moment," Pleat counters. "They have so many talented players. His time might also have gone."
Antonio Cassano, forward, Italy: Soccer's answer to Wilt Chamberlain -- Italy's Cassano -- is famous for his claim to have slept with 600 to 700 women. However, Cassano may not get to boost his scoring stats next summer. Ostracized from the national team picture for his endless string of fights and confrontations with teammates and managers, the enigmatically brilliant Cassano has, at age 27, played only 15 times for Italy. His resurgence at Sampdoria has showcased his ability and buttressed calls for his inclusion. But Italy manager Marcello Lippi has no interest in bringing him along to South Africa. Yet his creative spark is sorely needed on the stale Italian team. That's if Francesco Totti -- yet another personality incompatible with Cassano's -- doesn't return from international retirement, of course, in which case Cassano's services wouldn't be needed and his chances would disappear altogether.
"I don't know if he will ever pick [Cassano]," Gullit says of Lippi. "He's made no suggestions that he will pick him. Italians don't need to play well to qualify and to win the World Cup. They always find the right moments to score goals."
Benni McCarthy, forward, South Africa: Bafana Bafana isn't awash with talent. And it is certainly not brimming with players who starred in a victorious Champions League campaign, the way McCarthy did in 2003/04 with FC Porto. At Blackburn Rovers however, competition from five other strikers has meant he has made only two starts this season thus far.
This and a few altercations have made it hard for South Africa manager Carlos Alberto Parreira to stick him in the starting lineup. "There had been a lot of difficulties with selecting him, because he wanted not to be selected a few times," Gullit said. "There have to be a lot of issues resolved, and then of course he needs to play."
"He has some technical ability which other players may not have," Pleat said. "Looking at South Africa, McCarthy will be fresh; he will be played lightly this season. The style of play at the World Cup will suit him, which I'm not sure the play at Blackburn does. He's a talismanic figure for them."
Indeed, Benni, along with defender Aaron Mokoena and midfielder Steven Pienaar, is one of the few players sufficiently seasoned to be able to compete at a major international tournament. With 111 goals in some of Europe's toughest leagues and 32 international goals under his belt, Benni is South Africa's only hope of fielding a relevant attacker.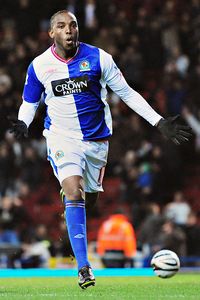 Paul Ellis/Getty ImagesBenni McCarthy is South Africa's lone world-class striker, but might not crack the starting lineup.
Juan Roman Riquelme, midfielder, Argentina: Riquelme plies a dying trade. A former World Player of the Year nominee, he is one of the very last playmakers to have perfected the craft of connecting the lines and setting a game's tempo. But Riquelme is sensitive to criticism and has twice retired from the national team. He returned from his retirement after World Cup 2006 to lead Argentina to the gold medal at the Beijing Olympics last summer only to quit once more in March, citing disagreements with Argentina manager-for-now Diego Maradona. What it will take for Maradona to take Riquelme to the World Cup? Some common sense, and for one of them to swallow his pride. Fat chance.
Nevertheless, much of Argentina would like to see Riquelme play in South Africa. Whether he does or not will have a far-reaching impact on Argentina's fortunes. In effect, a Riquelme-less team will play a pacy, short-pass game hoping to catch opponents out of position. It should come as no surprise that Maradona favors this tactic -- referred to as "tiki-taka" by Argentines -- as it was a hallmark of the team he led to victory in the '86 World Cup. Should Riquelme play, he will impose a station-to-station possession approach on the game, altogether altering the look of Argentina edition 2010. The discussion over Riquelme thus represents a quarrel between two tactical schools of thought, both of which have served Argentina well over the years.
Gullit believes Argentina is better off without Riquelme. "He wants all the attention and all the balls," he said. "At the moment they need faster play; Riquelme isn't the fastest player."
Ruud Van Nistelrooy, forward, Netherlands: One wouldn't expect a team drowning in gifted attackers such as The Netherlands to covet a return by Van Nistelrooy, 33. Yet now that the only other natural striker, Klaas-Jan Huntelaar, has stopped playing regularly after his transfer from Real Madrid to Milan, Holland is suddenly thin on strikers. Huntelaar was expected to back up Arsenal's Robin van Persie. But Van Persie was recently injured -- his first medical course of action being to have a Serbian doctor rub horse placenta on the partially ruptured ankle ligament. Van Persie isn't likely to see the field before the tail end of the season, if at all, suddenly making Van Nistelrooy's presence paramount. There was a jubilant reaction to Van Nistelrooy's announcement last month that he's eager to play in South Africa, backtracking on his international retirement.
Van Nistelrooy's track record is superb and he's a better finisher than Huntelaar, and more consistent too. And he'll be the only pure striker with sufficient international experience to make a difference in a high-pressure situation. However, like Huntelaar, he'll have to finesse some playing time if he is to stand a chance, as Bert van Marwijk, like most international managers, puts a premium on playing time with one's club. Van Nistelrooy has said he'd be quite happy to leave Real, where injuries and competition have kept him to a sole appearance, in order to accomplish this.
"He needs to play," Gullit said. "If a player doesn't play [for his club] he has no chance of going to the World Cup. At the moment I think that the coach has made it clear that he wants to play with [Wesley] Sneijder behind [Arjen] Robben, [Dirk] Kuyt and van Persie, so he has little chance to start, but if he's in shape and he plays you always have a goal scorer on the bench, and you need that." That's if he isn't called upon to start.
Leander Schaerlaeckens is a soccer writer for ESPN.com.