Uruguay to rely on its forward pair
December 13, 2009
Few countries can match Uruguay's storied World Cup history: two-time champion (1930, 1950), host nation of the inaugural 1930 finals and fourth-place finisher twice (1954, 1970). But since that deep run at Mexico '70, Uruguay has won only one game at the World Cup finals: a 1-0 win over South Korea at Italia '90. The former South American superpower is perhaps more burdened by its glorious past than any other country.
In the long South American qualifying tournament, Uruguay had a great chance to lay to rest some of the ghosts of World Cups past by beating archrivals Argentina at home on the last day of qualifying. A Uruguay win would clinch a berth at the 2010 finals and condemn Argentina to the playoff round. But a late Mario Bolatti goal gave Argentina a 1-0 win and sent Uruguay to a playoff with Costa Rica instead.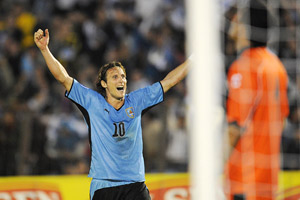 Miguel Rojo/AFP/Getty ImagesUruguay's Diego Forlan is one of the most lethal marksmen in the world.
It was familiar territory for La Celeste. They advanced to the 2002 FIFA World Cup after beating Australia in a playoff. But four years ago, Australia returned the favor and eliminated Uruguay in a penalty kick shootout to advance to Germany '06. This time, Uruguay made no mistake. An impressive 1-0 win at Costa Rica set the stage for a 1-1 tie in Montevideo in the second leg that punched Uruguay's ticket to South Africa.
The man charged with improving Uruguay's dismal post-1970 record at the finals is Oscar Tabarez, the head coach who led them at Italia '90, and produced that only Uruguay win since Mexico. Known as El Maestro, Tabarez began his second stint as Uruguay head coach in 2006. His long résumé includes winning the 1987 Copa Libertadores title with Penarol as well two stints with Argentina's Boca Juniors and a 22-day stint at the AC Milan helm in 1996.
Like all Uruguay teams of recent vintage, Tabarez's squad was plagued with inconsistency throughout the qualifiers. Victories against Chile and Paraguay were offset by a loss to Peru and a pair of home ties with Ecuador and Venezuela. Although Uruguay scored 28 goals in South American qualifying (third behind Brazil and Chile), it was shut out four times in its last seven games down the stretch run.
If Uruguay is to make any noise at all next summer, its offense must fire on all cylinders. And El Maestro has some potent weapons in his attacking arsenal in Diego Forlan, Sebastian Abreu, Luis Suarez and Cristian Rodriguez.
Forlan was something of a misfit with Manchester United, but since moving to Villarreal in 2004, he's transformed into a goal machine, twice winning the Pichichi Trophy (La Liga's leading scorer) and the European Golden Boot (Europe's leading scorer) with Villarreal in 2004-05 and in 2008-09 with Atletico Madrid. A member of the 2002 World Cup team, Forlan led Uruguay in scoring in the 2010 qualifiers and will be its key player in South Africa.
The 6-foot-4 Abreu is another returning member of the 2002 World Cup squad. He provides the physical element to a front line that is fired by the speed of the relative youngsters Suarez and Rodriguez. Since moving to Ajax in 2007, Suarez has done nothing but score goals. He'll be just 23 in South Africa and has the potential to be one of the young stars of the finals as long as he can steer clear of yellow card jeopardy -- a persistent problem for him with Ajax. Rodriguez has pace to burn and will be charging down the left flank at every opportunity looking to stretch defenses, leaving holes for Forlan, Abreu and Suarez to exploit.
Tabarez has a well-earned reputation as an offensive-minded coach. He will put his defense in the very capable hands of Uruguay captain Diego Lugano. The central defender led Sao Paulo to the 2005 Copa Libertadores and FIFA Club World Cup titles. His exploits in 2005 earned him South American Defender of the Year honors. After leading Sao Paulo to a runner-up spot at the 2006 Copa Libertadores, he moved to Fenerbahce in Turkey, where he has continued his excellent play.
The 2010 World Cup finals will mark the 60th anniversary of perhaps the two biggest upsets in soccer history: the U.S.'s 1-0 win over England in the first round, and Uruguay's 2-1 win over Brazil in the final game. The later doesn't get quite the publicity of the former, but "The Maracanazo" is still mourned in Brazil. Against very large odds, Uruguay upset Brazil to win the 1950 World Cup, and while that historic victory will always be celebrated in Uruguay, La Celeste fans will be hoping their team can finally start making some new history in South Africa next summer.
Mark Young is a World Cup writer and researcher for ESPN.