Team chemistry an issue for France
December 12, 2009
France exited the 2006 World Cup finals in a blaze of controversy and heads to the 2010 World Cup finals with more controversy on its hands. France's bumpy tour through World Cup qualifying included a stunning opening game loss at Austria, the perpetual head scratching moves of coach Raymond Domenech, and the loss to injury of the talismanic Franck Ribery down the home stretch. But all that paled in comparison to the finger pointing that followed Thierry Henry's handy assist on the William Gallas overtime goal that knocked out Ireland and punched France's ticket to the finals.
But while precious little bonhomie is being exhibited toward Les Blues for the manner of their playoff victory, make no mistake: France has the components to win the World Cup next summer. With players of the caliber of Henry, Nicolas Anelka, Karim Benzema and Andre-Pierre Gignac on offense, Ribery, Yoann Gourcuff, Jeremy Toulalan and Lassana Diarra in midfield, plus William Gallas, Patrice Evra and Bakari Sagna at the back, then the French should be a formidable force. But at Euro 2008 and during the 2010 qualifying campaign, they were not.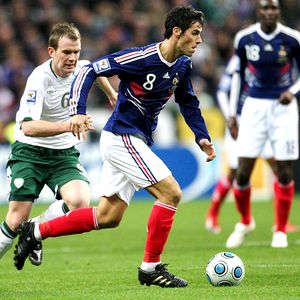 Fevre/US PresswireBordeaux midfielder Youann Gourcuff has been dubbed the "new Zidane" by French pundits.
The blame for that has fallen on Domenech. He is an easy mark. His often-baffling team selections, tactics and substitutions have provided endless fodder for his legion of critics. Reports of assorted contretemps with stars such as Patrick Vieira and Henry have not helped foster a sense of joie de vivre on the team, either. While it's hard to resist the Inspector Clouseau caricature of Domenech, he did lead France to the final four years ago, knocking off Spain, Brazil, and Portugal along the way, and only losing to Italy on penalty kicks in the final.
Perhaps the real reason for France's recent fall from grace is the giant hole left by the retirement of the legendary Zinedine Zidane. His parting shot, of course, was the infamous "head butt heard around the world" in the 2006 final. But Zizou was France's leader both on and off the field. And while it would be impossible to replicate his skills on the field, (although Gourcuff is a rising star in the Zidane mold), no one has been able to replace his leadership in the locker room either.
Vieira was the main candidate to fill the leadership void left by Zidane, but he has struggled with injuries since Germany '06 and has played very little for Inter Milan recently. A member of the 1998 World Cup and Euro 2000 winning squads, Vieira was born in Senegal and has made it clear how much he wants to cap his outstanding career by playing in South Africa. But Domenech, who picked Vieira for the Euro 2008 squad despite his carrying a thigh injury, has refused to accommodate him this time (Vieira didn't play at all in qualifying. This seems to be part of the underlying tension that exists between the head coach and his veterans, plus the many French players who have connections to Africa.
It is the African connection that may ultimately be the catalyst that brings the best out of this French team. Evra was born in Senegal, while fringe players such as goalkeeper Steve Mandanda and Jean-Alain Boumsong were born in DR Congo and Cameroon respectively. Alou Diarra has strong family ties to Mali, as does Sagna to Senegal. Henry has long been a leader in the fight against racism in soccer and will undoubtedly be inspired by playing in South Africa.
How much the fallout from his role in the decisive goal against Ireland affects Henry will also be a factor in South Africa. It's likely to remain a big story through the World Cup kickoff. But Henry is a very dangerous player when he has a point to prove, as he demonstrated at Barcelona last season.
But more than anyone, Domenech has a point to prove in South Africa. The guillotine has dangled over his head since Euro 2008, but he publicly brushes his critics aside and adamantly refuses to quit. He believes he has the recipe to lead France to another World Cup triumph. But as the movie "Julie & Julia" demonstrated, even when you have all the finest ingredients at your fingertips, it's still not easy to cook up a French success.
Mark Young is a World Cup writer and researcher for ESPN.