Turmoil surrounds Nigeria
December 12, 2009
Despite not losing a game in qualifying, it seemed unlikely that Nigeria would gain a spot in the 2010 FIFA World Cup heading into the last day of the long campaign. It had taken a Victor Obinna goal deep into stoppage time at home against Mozambique in the penultimate round to keep Nigeria within two points of Group B leader Tunisia. But with Tunisia only needing a win against Mozambique on the last day to win the group, it seemed like the Super Eagles were doomed to miss their second straight World Cup finals. But World Cup qualifying is akin to Forrest Gump's fabled box of chocolates: You never know what you're gonna get. A surprise Mozambique victory over Tunisia, coupled with Nigeria's come-from-behind win in Kenya, saw a dramatic reversal of fortunes for the Super Eagles, allowing them to gain a berth in the finals.
But as Nigeria gets set for South Africa, there is massive speculation as to who will be its head coach. Shaibu Amodu led the Super Eagles throughout the qualifiers, but a variety of reports claim that Nigerian soccer federation officials will bring in a world-renowned coach for the World Cup. The candidates for the post reportedly include Guus Hiddink, Giovanni Trapattoni, Fatih Terim and Roberto Mancini, among many others. Reportedly, Amodu's contract includes a clause that allows for his dismissal if Nigeria fails to reach the semifinals of the 2010 African Cup of Nations in January, but even if he's allowed to stay on long enough to attain that goal (Nigeria plays Benin, Egypt and Mozambique in the first round), it probably won't stop the rumor mill from swirling. Amodu is very familiar with the drill. He's in his third stint as national team head coach (he's also served as caretaker coach several times) and after leading the team to the 2002 finals was fired three months before the Korea/Japan kickoff when the Super Eagles "only" finished third at the 2002 African Cup of Nations.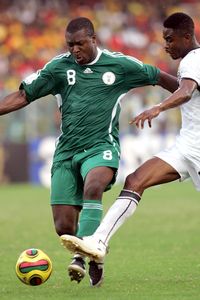 ABDELHAK SENNA/AFP/Getty Images Nigeria will be hoping Yakubu Aiyegbeni regains his sharpness in front of goal.
Head coach turmoil emanating from federation and political interference in national team affairs is nothing new in African soccer. But Nigeria is a soccer nation with a proud recent World Cup tradition, and as such its fans have high expectations. But those expectations may be unrealistic this time around. Nigeria has the necessary blend of youth and experience but lacks a creative force in the mold of Jay-Jay Okocha, or an intimidating presence on offense such as Daniel Amokachi or Rashidi Yekini. That trio of Nigerian stars helped put the Super Eagles on the soccer map in the 1990s.
There is certainly no lack of talent among this flock of Super Eagles, but as with other Eagles team, the stars don't always shine when playing for Nigeria. There are many claims that interference in team affairs by outside forces has negatively impacted many Super Eagles players, and that some of the team's stars such as Obafemi Martins, John Mikel Obi and Nwankwo Kanu have butted heads with federation officials over the chaos that often surrounds the team.
Whatever the reasons, none of those three players have taken on a leadership role for Nigeria in the manner of Didier Drogba with Ivory Coast and Michael Essien with Ghana. Kanu, a veteran of the 1998 and 2002 World Cup teams, has rarely replicated the performances of his glory days with Ajax and Arsenal with the national team. A few years back Martins was a rising star with Inter Milan, and thought to be the player to help the Eagles soar, but that has yet to happen. Chelsea's Obi has proved to be an enigma on a team of enigmas. A young midfield player of immense potential, Obi's feud with Nigerian officials led to him being excluded from the 2008 Olympic team. That rift seems to have been bridged of late, but Obi has struggled with injuries and lack of playing time at Chelsea recently and has yet to develop into the role of Nigerian talisman that was predicted for him a couple of years back.
Obi, Martins and Kanu will most likely all be in South Africa, and Nigeria will hope they are motivated by the big stage. At this stage of his career Kanu is likely to be only used off the bench, but Martins, who has struggled with injuries, should start if healthy. Injuries limited Martins to only three games in qualifying. Ayegbeni Yakubu, Obinna and Ikechukwu Uche carried the load on offense during the qualifiers but didn't intimidate too many defenders.
The versatile Peter Odemwingie brings speed and width to the midfield, but can move up front as well. Obi should be the linchpin of a robust midfield that will feature a surrounding cast well-versed in the take-no-prisoners manner of European soccer, including Dickson Etuhu, Seyi Olofinjana and Onyekachi Okonkwo.
At the back, Everton's Joseph Yobo, who played on the 2002 World Cup team, will marshal the defense. Marseille's outstanding Taye Taiwo will be one of the fullbacks, and Obinna Nwaneri, Chidi Odiah and Danny Shittu are players with plenty of experience that will compete to complete the back four. Vincent Enyeama, who shut out England at the 2002 World Cup, will most likely man the nets.
Nigeria will be a physical team with some potentially explosive players that no team will look forward to playing. But the same thing was said before the 2002 World Cup, and it finished at the bottom of the "group of death." There are plenty of players on the Super Eagles with EPL and other top European league experience, but there appears to be no talismanic figure that can transcend all the off-field distractions. The prime distraction, of course, being who will actually coach this team in South Africa?
Mark Young is a World Cup writer and researcher for ESPN.