Portuguese hopes rest on Ronaldo
December 9, 2009
During his first stint as Portugal national team coach, Carlos Queiroz failed to reach the 1994 FIFA World Cup final despite leading a team stacked with talent. Almost incredibly, he came very close to underachieving in the same manner again 16 years later in his second stint as head coach. But after winning only one of its first five qualifiers, Portugal rallied and got the results in a series of what were essentially playoff games to secure second place in Group 1. As a result, Portugal gained a berth in the actual playoff against Bosnia-Herzegovina. With 1-0 wins in the playoff, home and away, Portugal finally clinched a spot in South Africa.
While Queiroz was widely criticized for Portugal's inconsistent play and lack of offense, there is one thing that cannot be questioned: He never lost the locker room. Many teams would have folded under the intense scrutiny Portugal and its coach faced, but a stoppage-time winning goal at Albania, a critical equalizing goal with four minutes remaining at Denmark and a sweep of its last three games to reach the playoffs demonstrated the character of this team and its support for the coach. And this was all achieved without superstar captain Cristiano Ronaldo scoring a goal.
While Ronaldo is perhaps soccer's most polarizing player, he is without question one of its greatest talents. His many admirers point to his dazzling technical skills, aerial power and audacious free-kick goals. His detractors revile his preening, penchant for diving and, most loudly of all, decry his inability to carry Portugal on his back in the manner of Diego Maradona in his 1980s Argentina pomp. But while Ronaldo didn't score a goal in the qualifiers, his passion for the team was evident by his effort (ultimately futile) to play in the Bosnia-Herzegovina playoff despite being injured.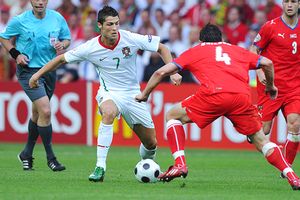 Papon/Presse Sports/US PresswireIn Cristiano Ronaldo, Portugal has a player who is capable of changing the game at any moment.
Regardless of his goal drought in the qualifiers, the Real Madrid supernova will be the man all Portugal's opponents will have to stop at the World Cup. But this is not a one-man team. Simao, Deco and Ricardo Carvalho are all pillars of the 2006 team that finished fourth in Germany and will return in South Africa. The defense should be much stronger with the addition of Real Madrid's Pepe, Chelsea's Jose Bosingwa and FC Porto's Bruno Alves. In midfield Deco will be more than ably supported by Raul Meireles, while Manchester United misfit Nani has the talent to make a difference in South Africa. But as usual, the perennial problem persists for Portugal: Who will score the goals?
Brazilian-born Liedson might be the answer. Sporting Lisbon's prolific goal scorer was drafted into the World Cup cause as soon as he became eligible to play for Portugal, which by chance happened to be for the critical game at Denmark. He scored the vital equalizing goal with four minutes remaining that kept Portugal's World Cup hopes alive. He also scored in the victory against Hungary and will be an important player in South Africa.
The only unseeded team to win the World Cup was Argentina in 1986. That team had a player head and shoulders above the rest in Maradona. During his illustrious, relatively short career, Cristiano Ronaldo has dominated in the EPL and the UEFA Champions League and has got off to a fast (if injury-interrupted) start in La Liga. Now the biggest stage of all beckons again. Last time around, in Germany, he helped Portugal to a fourth-place finish. This time he has a better supporting cast, and most importantly has a strike partner in Liedson who knows how to put the ball in the net. That, combined with the team camaraderie generated in an unexpectedly tough qualifying campaign, means no one should be surprised if the Portuguese get on another roll in South Africa.
Mark Young is a World Cup writer and researcher for ESPN.