Serbians a different force under Antic
December 6, 2009
After a disastrous 2006 World Cup (zero wins, 10 goals allowed in three games and much well-publicized in-fighting), failure to qualify for Euro 2008 and three head coaches in the space of eight months (December 2007 through August 2008), Serbia's national team was in disarray heading into the 2010 World Cup qualifying campaign. That Serbia punched its ticket to South Africa with a game to spare from the only group that contained three teams that played in Euro 2008 (France, Romania and Austria) was one of the big surprises of European qualifying and speaks volumes to the amazing coaching job performed by Radomir "Raddy" Antic.
Using virtually the same players as predecessors Javier Clemente and Miroslav Djukic, Antic transformed the White Eagles following his appointment as head coach in August 2008. Serbia is now an offense-minded, quick-passing force that still features Serbia's traditional defensive prowess. The 6-foot-8 Nikola Zigic, and Marko Pantelic lead the offense with Milos Krasic and Milan Jovanovic ably supporting them from the wings. Pulling the strings in midfield is Inter Milan's Dejan Stankovic, and at the back Manchester United's Nemanja Vidic is a towering presence. Chelsea's Branislav Ivanovic is another defender with Champions League experience who has a knack for getting onto the end of set pieces to score goals (he scored three in qualifying).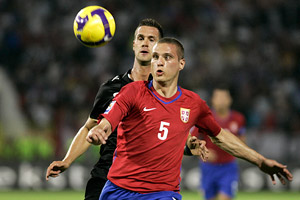 AP Photo/Darko VojinovicNemanja Vidic is the lynchpin of an imposing Serbian back line.
To this veteran mix, Antic has added rising stars Ivan Obradovic, Neven Subotic, Nenad Milijas and Zoran Tosic. For the U.S. audience, Subotic will be the most interesting story. Born in Bosnia, he fled the Balkan Wars with his family as a young boy, spending time in Germany before moving onto the U.S. He played for Team USA at the 2005 U-17 FIFA World Cup and also played on the U.S. U-20 national team. But in 2007, he moved back to Germany to play for Mainz. He joined Borussia Dortmund in 2008 and his stellar play there got him a call-up to the Serbia national team. His parents are Serbian and he happily accepted Serbia's invitation to play for them, turning his back on a potential U.S. national team career. During Serbia's World Cup campaign he has established himself as Vidic's partner in the center of the back four, (a position, it will be lost on no one Stateside, that he could have been playing for the injury-riddled U.S. in South Africa).
Vidic was part of the Serbia & Montenegro "Famous Four" defense that gave up only one goal in qualifying for the 2006 World Cup finals. (Mladen Krstajic, Ivica Dragutinovic and Goran Gavrancic were the other three, with Dragutinovic the only one expected to join Vidic in South Africa). Serbia & Montenegro headed to Germany full of confidence, and some pundits' dark-horse pick to go deep. But when Montenegro declared its independence from Serbia prior to the 2006 World Cup finals, Montenegrin-born star forward Mirko Vucinic suddenly came up lame and withdrew from the squad. When manager Ilija Petkovic named his son to replace Vucinic, the inevitable nepotism charges seemed to impact the team. A subsequent practice ground fight left the team pretty much at each other's throats. Not surprisingly, Serbia & Montenegro quickly self-destructed in Germany and was one of the huge disappointments of the tournament.
Serbia's soccer ancestor Yugoslavia was a notoriously enigmatic team that often boasted very talented players who didn't seem to live up to expectations at the World Cup. That label was put on Serbia & Montenegro four years ago, and Antic is very keen to wipe it away. He is well aware of the internal issues at Germany '06 and claims his biggest success at the Serbian helm has been turning the players "into a big family."
So, while Serbian morale should be much higher this time around, the team will have other potential problems to solve. The biggest being that Serbia could struggle against a team with a strong counterattacking game. There is no classic holding player in the Serbian midfield, which can leave the back line more than a little exposed. And while Vidic is outstanding in the air, he can be beaten for pace. Ivanovic has little playing time at Chelsea, and although a natural central defender, he has been playing out of position at fullback recently both at Stamford Bridge and for Serbia. And veteran goalkeeper Vladimir Stojkovic is another Serbian stalwart struggling for playing time in club soccer and could be a liability in South Africa.
This is the first time Serbia will be going to the World Cup finals as an independent nation (although FIFA officially counts Yugoslavia and Serbia & Montenegro as part of Serbia's World Cup history), so the team will be motivated to do well. And with the savvy Antic at the helm, Serbia will be well coached and this time might actually spring a big surprise or two along the way.
Mark Young is a World Cup writer and researcher for ESPN.