South Korea aims to summon '02 spirit
December 6, 2009
One of the first teams to qualify for South Africa, South Korea was unbeaten in Asian qualifying, going 7-0-7 overall. In its two rounds of group play, South Korea topped Group 3 in Round 3 and qualified for South Africa by winning Group 2 in Round 4. In both qualifying rounds, South Korea was paired with North Korea: meaning that the neighbors, who are still technically at war having only signed a truce at the end of the Korean Conflict in 1953, played each other four times in the space of a year. The ongoing political tensions between the two nations spilled into the sports arena when North Korea announced it would not play South Korea's national anthem or fly the South Korean flag in Pyongyang. The North did offer to play a folk song popular on both sides of the border and fly the flag used by both nations when parading together at the Olympics, but South Korea rejected the idea.
After South Korea lodged an appeal, FIFA switched the North Korea home games to Shanghai, China. No other sanctions were imposed on North Korea even though they had violated FIFA rules honoring flags and the playing of national anthems before games. North Korea did travel to Seoul for South Korea's two home games. South Korea won one of the games, with the other three tied. The teams had also played each other in the qualifying rounds of the 1990 and 1994 World Cups. The 2010 World Cup finals will mark the first time both Koreas have appeared at the same Finals.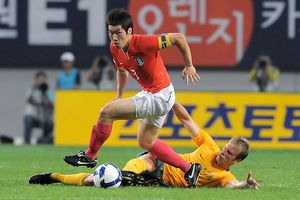 KIM JAE-HWAN/AFP/Getty Images Park Ji-sung believes the current South Korean squad bears strong similarities to the 2002 edition.
The 2010 World Cup is South Korea's seventh straight (and eighth overall) appearance in the finals. The Taeguk Warriors boast Asia's best record in the finals (4-13-7), but the only time South Korea has advanced from first-round group play was in 2002, when it co-hosted the finals with Japan. Led by legendary Dutch coach Guus Hiddink, South Korea was the surprise team of the 2002 World Cup. It advanced (with the USA) from a first-round group that included heavily favored Portugal as well as Poland. In the knockout stages, South Korea knocked off European powers Italy and Spain before falling to Germany at home in the semifinal. In the third-place game, South Korea lost to Turkey, 3-2. That fourth-place finish was far and away South Korea's best performance at the World Cup. Heading to Germany four years ago, the South Koreans wanted to prove they were a legitimate soccer power and that their 2002 success was not due to home-field advantage (it has to be said: hugely controversial refereeing decisions went South Korea's way against both Italy and Spain), but once again, South Korea went down in the first round. In South Africa, South Korea will again be looking to gain the soccer world's respect by advancing to the second round (and beyond) for the first time when playing outside Korea.
In the wake of Hiddink's success, South Korea has generally preferred Dutch coaches to lead the team, but when Pim Verbeek (now Australia's head coach) suddenly resigned after the 2007 Asian Cup, 1986 World Cup player Huh Jung-moo was appointed head coach. (Former Ireland national team head coach Mick McCarthy and former France head coach Gerard Houllier both turned down the job.) It is Huh's third spell at the national team helm, having previously held the position for 12 days in 1995 and from 1998-2000.
Despite his unbeaten record in qualifying, Huh remains an unpopular choice, and is heavily criticized by fans and media for playing an overly defensive style of soccer. But as with previous regimes, Huh doesn't have too many options when it comes to firepower up front and creativity in midfield. South Korea's successes have always been based on stamina, pace, organization and a never-say-die spirit. Manchester United's Park Ji-sung is the team's best player, forward Park Chu-young has had some success with AS Monaco in France and veteran goalkeeper Lee Woon-jae provides experience and leadership at the back.
In a June interview, Park Ji-sung summed up the team this way: "The 2002 team was really strong and had a good chemistry between veterans and young players. The current national team is quite similar to that team.'' Park also stated in that interview that playing high-caliber teams in the run up to the World Cup is Korea's best chance to make an impact in South Africa: "Korea has just faced Asian opponents thus far through the qualification, where we faced no competitive teams. Korea is a powerhouse in Asia, but not on the international stage. Playing tough teams will be helpful to prepare for the tournament.''
Mark Young is a World Cup writer and researcher for ESPN.