Australia seeks redemption for 2006 Cup
December 4, 2009
One of the first teams to qualify for South Africa, Australia went 6-0-2 in the final round of Asian qualifying and punched its ticket to the World Cup with two games to spare. With most of its squad based in Europe, and as a member of the Asian Football Confederation (AFC) for the first time in a World Cup qualifying campaign, Australia's players traveled thousands of miles en route to South Africa.
The journey started in Melbourne on Feb. 6, 2008, with a 3-0 win over China, and ended in the same city with a 2-1 win over Japan on July 17, 2009. Along the way, the Socceroos played seven home games and at Qatar, China, Dubai (against Iraq), Japan, Bahrain and Uzbekistan. Australia entered the Asian qualifying tournament in Round 3 (of four). In their two rounds of qualifying group play, they topped Group 1 in Round 3 and qualified for South Africa by winning Group 1 in Round 4.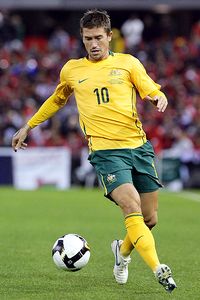 Robert Cianflone/Getty ImagesHarry Kewell and his mates surely haven't forgotten their bitter loss at Germany 2006.
Australia previously played in the Oceania Confederation; its move to the AFC was ratified by FIFA on Sept. 10, 2006. The Australian Soccer Federation made the switch to the AFC because it believed that playing against the tougher AFC competition in qualifying would help make the national team more competitive at the World Cup.
2010 will mark Australia's third appearance in the World Cup. In 1974, Australia didn't score a goal and finished at the bottom of its first-round group. It was a very different story in the Australians' second appearance, in Germany in 2006. Led by Dutch coaching legend Guus Hiddink, Australia advanced to the Round of 16, where it lost to eventual champion Italy on a highly controversial penalty kick awarded five minutes into stoppage time at the end of the game. Several players from that team are expected to be in South Africa, including Tim Cahill, Mark Schwarzer, Lucas Neill, Harry Kewell, Brett Emerton and Marco Bresciano. They will not have forgotten that tough loss.
Coach Pim Verbeek, a Hiddink protégé, will lead Australia in South Africa. Although not among the pre-tournament favorites, Australia is a veteran team with a chip on its shoulder and with its best player, Tim Cahill, in the prime of his career. Few clubs will look forward to playing the Aussies, who will be solid on defense and creative in midfield. Their main weakness is the lack of a top-line striker. If they can compensate for that, they could spring a surprise and go deep in the tournament.
Mark Young is a World Cup writer and researcher for ESPN.