Though heartened, U.S. still has issues
October 19, 2009
It's far too often these days that a soccer game doubles as a wake or a memorial service. And so it was last night, the day after news broke that bright young U.S. striker Charlie Davies had been severely injured in a car crash that killed his friend, Ashley J. Roberta.
As I stood in Washington D.C.'s RFK Stadium on Wednesday, an eerie sensation crept up my spine as the ninth minute of the game was marked by a sea of signs displaying Davies' uniform number: 9. It's that sensation you get when you realize that most things -- yes, even soccer -- are meaningless. Ironically, these moments are always followed by, say, a soccer game.
A brush with mortality can destroy or bring together a group of athletes. If any good at all came of this awful situation, it may have been the latter. The game was very far from pretty, and it's a good thing qualification had already been arranged, but the U.S. certainly showed heart last night. Teammates dedicated their scrappy and gutsy 2-2 draw with Costa Rica to Davies, with close friend and striking partner Jozy Altidore taking particular delight in recognizing his pal. Davies was clearly missed. And not just in an emotional sense.
The first half progressed more or less as follows:
• Conor Casey misses a good chance.
• Jozy Altidore misses a good chance.
• Costa Rica's Bryan Ruiz gets half a chance and scores. Oguchi Onyewu doesn't cover himself in glory.
• Ruiz finds space on the edge of the box and doubles the score with a beautiful shot.
• Landon Donovan misses a good chance.
• Donovan and Casey stare at each other as a huge chance presents itself. By the time they've decided on who will take it -- Donovan -- Costa Rica's keeper has positioned himself to stop a weak shot.
• Altidore misses a good chance.
Against the unimpressive Ticos, Steve Cherundolo appeared out of his depth, Casey showed a clumsy touch, Holden was ineffective, Donovan didn't see enough of the ball, and Altidore appeared isolated. Circulation was poor, although playing against a team that parks the bus -- even a bus as rickety as Costa Rica's -- is never easy.
The second half was better, if only by a little. Although the game degenerated into a middle-school mud fight, the U.S. continued to dominate possession, despite Donovan's best efforts to give the ball away. Once José Francisco Torres came on for the mediocre Benny Feilhaber, the U.S. started to find gaps, culminating in Michael Bradley's fumbling in the goal to draw the Americans to 2-1.
Davies' absence became especially apparent when substitute Robbie Rogers, wearing Davies' number, missed two fat chances and Altidore missed yet another. Following Onyewu's injury -- which will take him out of action for at least three months -- the U.S. finished the game with 10, having used all of its substitutions.
By virtue of Costa Rica's tireless time-wasting, five minutes of extra time were played, the last of which yielded Jonathan Bornstein's equalizing header, capping a solid game on his part. The tie also meant Honduras leapfrogged Costa Rica for the final secured trip to South Africa. The Costa Ricans now must somehow beat Uruguay in a two-tie matchup for the Western Hemisphere's final place at the World Cup.
One can't help but be concerned about the U.S., though, with Davies almost certainly out for the World Cup and defensive bedrocks Onyewu and Jay DeMerit still uncertain. The draw was a victory for team spirit and determination, but not for U.S. soccer hopes.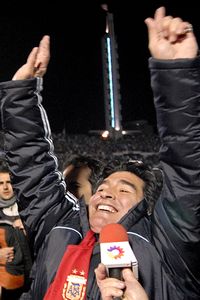 AP Photo/Andres CuencaArgentina's Diego Maradona was exultant after Wednesday's defeat of Uruguay -- but not exactly gracious in victory.
Maradona's escape
In 1986, the young Diego Maradona won Argentina the World Cup almost singlehandedly. In 2009, he has destroyed Argentina's World Cup qualifying campaign almost by himself. Although some argue that the team's problems predated his arrival as manager, Maradona's fielding of no fewer than 63 players in 13 games was just the tip of this slipshod managerial iceberg.
Despite presiding over a side brimming with talent in midfield and attack, it took two last-gasp goals -- an 84th-minute strike by Mario Bolatti against Uruguay on Wednesday and a 90th-minute tap-in by Martin Palermo against Peru on Saturday -- to secure South America's fourth and final automatic berth for next summer's bonanza. "You can all take it up the a--," Maradona told his legions of critics after the game, in his usual couth comportment. His behavior went downhill from there.
Maradona himself had said the World Cup wouldn't be the World Cup without Argentina. Then he set out to prove that very fact, with his club almost falling short of qualification because of his inappropriate tactics, poorly motivated players and erratic lineup shuffling -- not a single player appeared in every one of Maradona's 13 games at the helm (Gabriel Heinze played in 11; Lionel Messi, Javier Mascherano and Javier Zanetti played in nine).
"We've reached the World Cup in style, taking on and beating a great Uruguay side and doing it like real men," Maradona said, conveniently forgetting about the rest of the nightmarish campaign. "This goes out to the believers -- not the disbelievers, who treated me like garbage."
Playoffs preview
Friday brings the seeding for the playoffs that will anoint the final four European entrants into the tournament. The continent, which gets no fewer than 13 spots, will stage a two-game playoff in which the eight best runners-up from the nine qualifying groups will brawl for qualification.
Playoff contenders include Bosnia, France, Greece, Ireland, Portugal, Russia, Slovenia and Ukraine. A soccer smorgasbord is likely to follow on Nov. 14 and Nov. 18. The draw will take place Monday.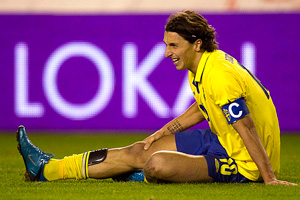 AP photo/Scanpix Sweden/Anders WiklundZlatan Ibrahimovic was this World Cup's unlucky all-world talent left on the outside looking in.
Zlatan, there's always one
There's always one world-class player who misses the World Cup for having been born in the wrong country, or at the wrong time. Although it long appeared that it would be Portugal's Cristiano Ronaldo or Argentina's Messi -- the two consensus best players in the world -- remarkable turnarounds by their respective clubs pre-empted that.
In the end, the victim was Zlatan Ibrahimovic, Barcelona's eccentric Swedish striker. With his team having been knocked off second place by Portugal in Group 1, the World Cup will be bereft of his tantalizing skills, on display here and here. Our lives will be worse for it.
Watch out for: Bosnia-Herzegovina
And just as there is always one famous talent who doesn't make it through qualifying, a relatively unknown side reliably does. Emerging from the difficult Group 5, ahead of Turkey and Belgium, Bosnia is an early candidate for revelation of the tournament, should it get through the playoffs.
Equipped with world-class striker Edin Dzeko, attacker Vedad Ibisevic and midfielders Sejad Salihovic, Zvjezdan Misimovic and free-kick phenom Miralem Pjanic, Bosnia has the makings of a superb side. Led by charismatic manager Miroslav Blazevic, the team has overcome internal squabbles and put on several stunning displays of attacking soccer.
Don't be fooled by a 5-2 drubbing by Spain yesterday: Bosnia is to be feared.
What was the point of all that?
In his quest for a final hurrah at the World Cup, David Beckham has complicated a thing or two, altering the way MLS's transfer system operates in the process. Soon after his arrival to the L.A. Galaxy, his well-documented campaign for a spot on England's South Africa squad began. On the verge of a second loan deal to AC Milan -- one that many expect to become permanent -- he will have fulfilled England manager Fabio Capello's demand for competitive soccer.
"The move to Milan is close," Beckham has said. "It's 95 percent done. I can't see it not happening now."
But that doesn't change that England really doesn't seem to need him anymore. The side, for the most part without Beckham or his captaincy, has jelled of late. And then there's the small matter of Becks' competition. Aaron Lennon and Shaun Wright-Phillips appear to be ahead of Beckham in the pecking order, and even Theo Walcott seems a better option on the right wing. Then there's Jermaine Jenas and James Milner, both also capable of filling in his spot. What's more, with right-back Glen Johnson capable of overlapping and supplying excellent crosses, demand for Beckham's modest skill set appears to have waned.
Last night's 3-0 victory against Belarus suggested as much, with Beckham having little impact in 32 minutes -- although he did somehow manage to dole out two assists -- as England wrapped up its strong qualification campaign. For his troubles, Beckham improbably received the man of the match award.
"I don't know how I got that," Beckham confessed.
"It was like Obama getting the Nobel Peace Prize after eight months as president of the United States," said Capello. "He gets the man of the match after 30 minutes here. …"
The whole scheme seems as silly as Beckham's newly grown (penciled on?) beard. Besides, he's more likely to win trophies with the Galaxy than with the shambolic Milan.
Leander Schaerlaeckens is a former soccer columnist for Guardian.co.uk and a contributor to World Soccer magazine.