Will South Africa yield another Owen?
October 20, 2009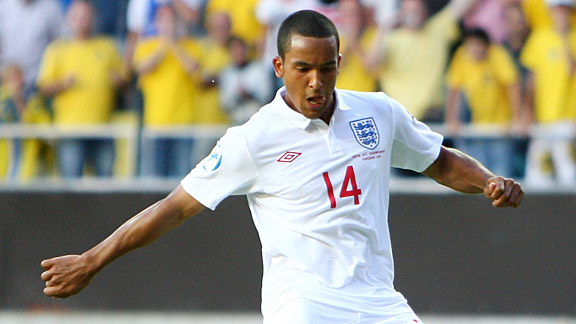 Phil Cole/Getty ImagesTheo Walcott's résumé -- and speed -- are reminiscent of countryman Michael Owen's.
"This 18-year-old has electrified the world."
That's how one excited pundit put it after English striker Michael Owen scored a magical goal against Argentina at France in 1998, using a sprinter's pace to weave past defenders before finding the top corner.
A star was born.
So which young guns might blossom at next year's World Cup? Consider these four, assuming their nations qualify.
Theo Walcott, 20, winger, England: Walcott, matching Owen's speed, should finally see action at a World Cup.
He was named to England's squad for the 2006 edition as a 17-year-old, despite lacking top-league experience. Stranger still, with vital striker Wayne Rooney injured most of the tournament, stoic Swede Sven-Goran Eriksson never used Walcott.
His international breakthrough came against Croatia in a World Cup qualifier in September 2008, when he netted a hat trick as England inflicted revenge in Zagreb. Fabio Capello, England's current boss, inserted Walcott into the right side of midfield instead of the aging David Beckham, and it paid off.
Unfortunately, the slender Walcott was subsequently undone by a shoulder injury, while back and knee injuries have limited his appearances in 2009-2010 for Arsenal.
"It feels like I've been around for a very long time, but I'm still only 20," Walcott told reporters in September. "There's always going to be pressure, but down the years I think I've dealt with it fairly well. It's a big year for me, so I just want to get back on the pitch."
Walcott is still a work in progress, however. He gets outmuscled easily, and his final ball, be it a shot or pass, often frustrates.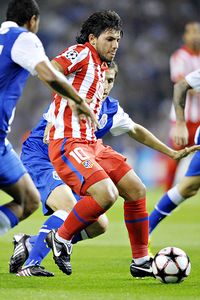 Miguel Riopa/Getty ImagesSergio Aguero can't escape the shadow of Diego Maradona, but the comparisons speak volumes about his skill.
Sergio Aguero, 21, striker, Argentina: All the fuss surrounding Diego Maradona must be getting to Aguero. After all, he is the father of Maradona's grandchild, and pretty soon he'll be his son-in-law.
Talk about pressure.
But Aguero has handled pressure his entire life. He was the youngest player to appear in Argentina's passionate top flight, eclipsing Maradona. Atletico Madrid, desperately trying to compete with Barcelona and Real Madrid, paid roughly 20 million euros ($29 million) for a teenage Aguero three years ago.
His performances since have helped Atletico fans come to terms with the departure of favorite son Fernando Torres. Aguero scored 36 league goals in the past two seasons and forged an impressive partnership -- perhaps the world's best at club level -- with fellow South American Diego Forlan.
"When he has the ball at his feet, there is the feeling that something will happen, and always good," Atletico president Enrique Cerezo told reporters last year. "Does that sound like anyone familiar?"
Aguero has done big things already on the international stage, leading his country to the under-20 World Cup title and chipping in as Argentina won 2008 Olympic gold in Beijing.
The problem is, with the likes of pal Lionel Messi and Carlos Tevez around, starts might be hard to come by. Aguero outshone Messi one glorious night in March, when he was named man of the match in Atletico's thrilling 4-3 win over Barcelona.
Yoann Gourcuff, 23, forward, France: Don't you hate comparisons? The ones that go: "This guy's the next Pele" or "That fella reminds me of Maradona"?
Greatness rarely ensues.
Gourcuff was labelled a Zinedine Zidane clone a few years ago and went on to flop at A.C. Milan.
But a loan move to Bordeaux unleashed Gourcuff's natural ability in 2008-2009.
He finished 10th in Ligue 1 scoring and co-led the division in assists to earn domestic player of the year honors. Thanks largely to Gourcuff, Bordeaux ended Lyon's unprecedented seven-year reign, and finished on top for the first time since 1999.
"I am slightly sorry that he has gone," Milan general manager Adriano Galliani muttered after Gourcuff made his loan deal permanent in May.
Often-bumbling French manager Raymond Domenech has employed Gourcuff regularly in qualifying, forced to infuse youth into the lineup in the wake of France's disastrous Euro 2008.
"He will have a great season with Bordeaux and France," Bordeaux manager Laurent Blanc, a World Cup winner on home soil in 1998, told reporters in August.
Gourcuff, on the mend from a thigh injury, and Bayern Munich ace Franck Ribery give Les Bleus a formidable duo that is set to be around for a while. The first task is to upend Ireland in November's two-leg playoff.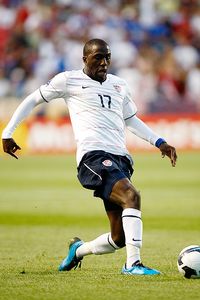 Jonathan Ferrey/Getty ImagesJozy Altidore still must prove himself to the soccer cognoscenti, but a Cup coming-out party would surely win them over.
Jozy Altidore, 19, striker, U.S.: Altidore's high-profile (and high-priced) move to Villarreal turned out to be a dud.
He didn't play much and got shipped on loan to second-tier Xerez (now in La Liga). The folks at Villarreal, perennial contenders for a Champions League spot (current record notwithstanding), made up their minds about Altidore pretty quick.
Altidore showed what he was made of, though, at the summer's Confederations Cup, scoring once and, as the saying goes, working his socks off to help the U.S. stun Spain and give Brazil a huge scare in the finale.
Remaining unconvinced, Villarreal loaned Altidore to Premier League relegation contenders Hull City. His imposing physique -- a little like Didier Drogba's -- is made for England, and wouldn't you know it, he produced a dominant display in his maiden appearance and netted in his first start.
A good showing in South Africa for the U.S. would boost the sport at home further.
"Soccer is definitely getting bigger and stronger" in the U.S., Altidore told Hull City's official magazine in September. "It's growing and growing, and who knows where we'll be in 10 or 20 years' time?"
Others: A few things must fall his way, but 23-year-old Schalke 04 stalwart Manuel Neuer might be Germany's starting keeper in South Africa. He's big, agile and a great shot stopper. Once he grabs the No. 1 spot, we're looking at an Oliver Kahn-type reign. Giovani dos Santos can't get a game with Tottenham, although it hasn't affected the flashy 20-year-old winger's recent efforts with Mexico. He's one of the major reasons Mexico rallied in qualifying.
London-based Ravi Ubha covers soccer and tennis for ESPN.com.