Africa hitches hopes to Drogba, I.C.
October 6, 2009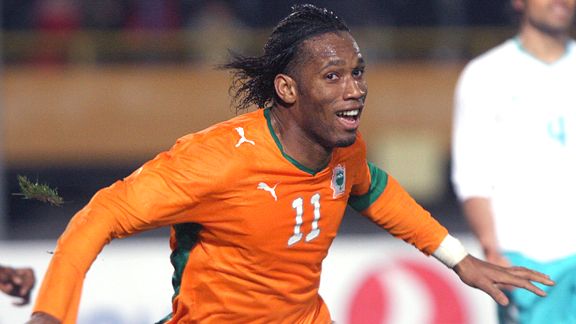 Bulent Kilic/Getty ImagesDidier Drogba can be a handful for the Ivory Coast, but he's usually toughest on his opponents.
Slowly but surely, murmurings suggest an African nation could finally break through at next year's World Cup. And why not now, for symmetry's sake? After all, South Africa hosts the extravaganza on the continent's behalf for the first time.
"We will definitely have one team that will go far," the former Ghanaian standout Abedi Pele boldly told reporters in June. "And when I say go far, I mean as far as getting the trophy. When I say this, people laugh, but I believe it."
Just don't expect South Africa, more effective in rugby and cricket, to excel. The "Bafana Bafana" failed to qualify for January's Cup of Nations -- Africa's equivalent of the European Championships or Gold Cup -- and struggled in the summer's Confederations Cup. Reaching the semifinals masked a lack of ammunition and had more to do with landing in the same group as Iraq and New Zealand.
Ladbrokes generously lists South Africa as joint 15th favorite at 66-1 -- ahead of the likes of World Cup veterans Mexico, Sweden and the U.S.
The English bookie (along with a few respected figures in the beautiful game) suggests Didier Drogba's Ivory Coast is the African side to monitor. You can get them at 33-1, good for 10th.
As a reminder, no African team has even reached the final four. Roger Milla defied age to inspire continental giant Cameroon to a quarterfinal berth in 1990. Upstart Senegal, backed by the explosive winger El-Hadji Diouf, did the same a dozen years later in Asia. Those insipid results belie Africa's individual brilliance -- past and present -- on some of the top clubs around. Think George Weah, or more recently Drogba, Samuel Eto'o and Michael Essien.
The feeling is, African teams labor with organization and tactics.
"Romantically, I think everyone wants an African team to do well," said Shaka Hislop, who featured in goal at the 2006 World Cup for Trinidad & Tobago, in an interview. "I certainly think the Ivory Coast are good enough for a semifinal spot. Whether they're good enough for a final place, I'm not sure. I would love to see them win the Cup as much as any other side, but I just wonder if it's one step too far."
Before pondering their fate amid the world's best, let's point out that the Elephants haven't officially qualified -- unlike neighbor Ghana, spearheaded by Essien. That, however, seems a mere formality given that Drogba & Co. need a single point from their final two games, against minnows Malawi and Guinea. Meanwhile, Cameroon and Nigeria, armed with a notable history, and two-time defending Cup of Nations winner Egypt face nail-biting finishes to qualifying.
Drogba, the 2006 African footballer of the year, remains the big man for the Ivory Coast, just as he was at Chelsea. Quite simply, he has it all.
He's good with the ball at his feet, towers in the air, can take free kicks, prospers from long range -- and he's built like a tank. Drogba rarely goes AWOL at crunch time, unlike other high-profile strikers. (Hello, Zlatan Ibrahimovic.)
The 31-year-old Drogba faces less-than-stellar African opposition here and there, but his believed international strike rate of 40 goals in 59 games -- official stats are hard to come by -- is impressive nonetheless.
Drogba netted once in two games in Germany in 2006, when the Ivory Coast surfaced as debutants and then unluckily landed in the group of death alongside Argentina, the Netherlands, and Serbia and Montenegro.
Milla bagged four goals in Italy in '90, and Drogba needs a similar tally for the Ivory Coast to linger. The early signs are good, with Drogba tied for third in Premier League scoring with six goals -- two behind Liverpool and Spanish sensation Fernando Torres. Drogba outclassed Torres on Sunday, setting up both goals in Chelsea's vital 2-0 win.
"

We will definitely have one team that will go far. And when I say go far, I mean as far as getting the trophy. When I say this, people laugh, but I believe it.

"

-- Abedi Pele on African nations' chances in the 2010 World Cup
"Largely, for countries to win for the first time, you need that one big player to step up and have a very big tournament," said Hislop, now an analyst with ESPN. "If they are to go to the semis, Drogba is going to have to have a fantastic tournament."
Drogba does have help, mind you. His supporting cast includes Manchester City defender Kolo Toure, Barcelona holding midfielder Yaya Toure, Sevilla's versatile Didier Zokora, on-loan Portsmouth striker Aruna Dindane, and Salomon Kalou, occasionally Drogba's partner up front at Stamford Bridge. The man calling the shots, Bosnian Vahid Halilhodzic, was linked to the manager's job at Portsmouth in the European offseason.
Torres' international teammate, the majestic Barcelona midfielder Xavi, said last month that the Ivory Coast appears "very strong." Hugely respected England boss Fabio Capello singled out the Ivory Coast, too, insisting the club is "very good" and hinting that domestic advantages wouldn't hurt.
Of the seven countries that have claimed the title, six triumphed at home, with Brazil being the anomaly. The Samba Boys, runners-up at home in 1950, seek to join the club again in 2014. England and France capped lone successes with unforgettable performances at hallowed Wembley and the Stade de France, respectively.
The Ivory Coast, situated in northwest Africa, isn't that close to South Africa -- but still.
"I don't know how they're going to compete against some of the top European teams," West Ham's U.S. international Jonathan Spector said in an interview. "I'm sure it'll be difficult for them, but at the same time, with it being in Africa, it'll give them a boost."
Working against the Ivory Coast is a mediocre 3-2-3 record versus non-Africans after the 2006 World Cup. Qatar and Kuwait, lightweights, were two of the victims.
And what happens if the bad Drogba shows up? The one who got sent off in the 2008 Champions League final for a slap, earned a three-game ban for haranguing an admittedly terrible Norwegian referee in May following a Champions League exit, and picked up another three-match suspension last November for tossing a coin at Burnley fans in a League Cup encounter -- after one threw the coin at him to start the trouble?
Liverpool manager Rafael Benitez, Arsenal manager Arsene Wenger and even Jose Mourinho -- Drogba's biggest supporter at one point -- have piped in about the player's theatrical falls, accompanied by minimal or no contact. Simulation -- a gentler word for diving -- gets plenty of attention at World Cups, so refs will be closely eyeing Drogba and international teammate Emmanuel Eboue.
Shy off the field, Drogba exhibited his tempestuous nature in Germany, collecting yellow cards against Argentina and the Dutch to earn a one-game ban.
Under Luiz Felipe Scolari at Chelsea in 2008-2009, Drogba turned into the Incredible Sulk (bettering fellow Blue Nicolas Anelka) and apparently played a role in the gregarious Portuguese's sacking.
"Those types of players come along every now and then," Hislop said. "You kind of take the ups with the downs and hope there are more ups than downs. The head coach has a responsibility to get to understand him as a player and a person, keep him happy and motivated, and make sure he continues to be an asset for the team -- because when he's not, he goes completely the other way."
If the latter happens, Africa's most realistic contender has no chance, and the laughs will indeed come at Pele's expense.
London-based Ravi Ubha covers soccer and tennis for ESPN.com.