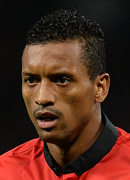 Overview
Luis Carlos Almeida da Cunha, better known as Nani, is a Portuguese winger who currently represents Manchester United in the English Premier League. Nani is known for his flowing passes and control as well as strong long-range efforts and is considered by many to be "the next Cristiano Ronaldo," even having followed the same club path as his Portuguese teammate. Though he is yet to find consistent success on a club level, Nani featured for his country in Euro 2008 as well as several youth national competitions.
Early Years
Nani was born Nov. 17, 1986, in Praia, Cape Verde, an island off the west coast of Africa. He was raised primarily by his aunt, and his family moved to Lisbon when he was still young. There, at the age of 8, Nani joined the local youth academy, Real Sporte Club in Massama.
It wasn't long before Nani was recruited to join the city's most successful club, Sporting CP, as a youth signing. Nani worked his way through the ranks of the club of his heroes -- both legend Luis Figo and Cristiano Ronaldo also attended the academy -- before making his full team debut.
Club Career
At 18, Nani made his senior debut for Sporting Lisbon, and he went on to make 32 appearances during the 2005-06 season, scoring five goals along the way. His success continued during his second year at the club, with another five goals notched in 29 appearances. But he came to fame mostly because of a wonder goal scored in a Champions League group stage match against Spartak Moscow in September, featuring some fancy footwork clipped in at a tight angle.
His success in Europe -- as well as on the international stage -- drew interest from several Premier League clubs, and Nani looked close to signing with London's Tottenham Hotspur at the end of the Portuguese season. In the end, though, it was Sir Alex Ferguson and Manchester United who earned the young winger's signature, agreeing to terms in May and signing the contract in July 2007.
The deal was for five-and-a-half years and cost a reported 17 million pounds, and Nani arrived to high expectations and relentless comparisons to United's superstar, Ronaldo. Scoring in his first three pre-season appearances did nothing to lower those expectations.
In his first season, Nani scored only four goals in 41 appearances in all competitions. The winger made only 16 league starts, but United won the Premier League title and the Champions League final (in which Nani scored a penalty kick in the deciding shootout). Nani's 11 assists in all competitions near the top of the team's stat charts.
But perhaps the most talked-about moment of the season came during a fourth-round FA Cup against Arsenal. Despite his goal and two assists, Nani's accused "showboating" near the end of the 4-0 win earned the headlines. In the dying minutes, Nani dribbled the ball into a corner and began to juggle it, drawing the ire of Arsenal coaches and players alike -- and even earned a comment from Ferguson in the locker room.
During the 2008-09 season, Nani saw action in only 30 games in all competitions -- only 13 in the Premier League -- but managed to increase his tally to six goals. Much of his statline came from the FA Cup and Carling Cup competitions, with the winger starting the Carling Cup final win against Tottenham.
When Ronaldo finally moved across the pond to Real Madrid during the summer of 2009, the calls for Nani to fill his very large shoes intensified. Ferguson signed two new wingers, Antonio Valencia and Gabriel Obertan, to help fill the void. For the better part of the season, it looked as though Nani would remain a bench player or even leave Manchester United, making only two appearances between November and the start of 2010.
But four starts out of five games in January seemed to renew Ferguson's faith in the winger, especially after a striking solo goal and a neat back-heel assist against Arsenal on Jan. 31 had the pundits again claiming Nani's title as Ronaldo's successor.
International/World Cup Experience
Having made his way through the youth ranks of the Portuguese national team, Nani's first big break on the national stage came in 2006's U-21 European Championships. The youngest member of Portugal's squad, Nani played in all three games before Portugal bowed out in group stages.
Nani made his senior debut on Sept. 1, 2006, when he came on as a substitute and scored in a 4-2 win against Denmark, earning man of the match honors.
He repeated in the U-21 European Championships in June 2007, this time scoring a goal during the group stages. With Portugal again finishing in third, they were knocked out before the semifinals. They did play in a game with Italy to decide qualification for a 2008 Olympic spot, a 0-0 final Italy went on to win in a shootout, 4-3 (Nani made his attempt).
After playing in nine games for the full European Championship in 2008, Nani was named to the finals squad and traveled to Austria with the team. He played in three games, starting one. Nani was brought on as a second-half substitute during the quarterfinal against Germany, hoping to rally Portugal from a 3-2 deficit, and he almost did with a low shot just outside the net.
In preparing for his first World Cup, Nani played in 11 matches in Portugal's qualification for South Africa 2010. Though he usually came off the bench during the campaign, he did start both the playoff matches against Bosnia-Herzegovina, providing assists on both goals in Portugal's 2-0 aggregate win.
Personal
Nani celebrates every goal with a backflip followed by a somersault -- a move inspired by his love of capoeira, a Brazilian martial art that he studied as a child.
Nani is close friends with footballer Manuel Fernandes, who currently plays for La Liga side Valencia. Fernandes, who previously played in England for Everton and Portsmouth, was Nani's teammate on the youth and senior Portuguese teams, and the two grew up together in the outskirts of Lisbon.