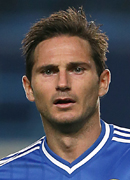 Overview
Frank Lampard Jr. is an English midfielder who currently plays for Chelsea FC in the English Premier League. Lampard, considered one of the top box-to-box midfielders in the game, also is one of the most consistent, rarely missing more than one league game in a season. Lampard is the top scoring midfielder in Chelsea's history, as well as the 14-year history of the Premier League. He also ranks second in assists in Premier League history. He has become a constant presence in midfield for the English national side.
Early Years
Frank Lampard was born June 20, 1978 in Romford, London. In 1994, Lampard joined the youth academy at West Ham, where his father was serving as first-team coach and uncle Harry Redknapp was manager. Lampard's father was a defender at West Ham for nearly two decades and also earned caps for England.
Lampard said he might have pursued a future in cricket if he hadn't played soccer. He used to play against current England internationals while on a team in Essex.
Club Career
Frank Lampard signed a professional contract with West Ham a year after joining their youth academy. After spending nine games on loan with Division Two side Swansea City, he made his West Ham debut in a match against Sheffield United in late January. He spent the remainder of the 1995-96 season on the reserve squad, a regular on the team which advanced to the FA Youth Cup finals.
In 1996-97, he made a more significant impact on the squad but, after breaking his leg in March, was forced to cut his season short and remained without his first league goal. Among cries of nepotism -- with his father and uncle running the squad -- Lampard faced harsh criticism by much of the West Ham faithful, but he remained in the starting XI for the next season and rewarded the squad with 10 goals in all competitions. His first goal came in this, his third season with the club, in a road victory against Barnsley.
Lampard's production increased again in 1998-99, when he was one of the most important players in the Gunners' fifth-place campaign. The squad also won the third-division European competition, the Intertoto Cup, sending them to UEFA Cup play in the next season. So 1999-2000 brought Lampard his first European goals, with four in the competition's 10 games for West Ham. In the following season, Lampard managed nine goals in 37 games, but the sale of close friend Rio Ferdinand to Leeds and then the sacking of both his uncle and father led Lampard to leave the club.
On June 14, 2001, Lampard signed with London rivals Chelsea FC for an 11 million pound transfer fee. Critics who said the price was too high pointed to Lampard's first season with the Blues, with only five goals from Lampard in 27 league starts. But the 2002-03 season showed signs of what would become the midfielder's trademark consistency -- Lampard started every league game but one -- which he entered as a sub -- recording eight goals and two assists.
After a 15-goal, seven-assist campaign in 2003-04, Lampard finished second in the Professional Footballers' Association Player of the Year voting, behind only Arsenal striker Thierry Henry. Following the season, he signed a new five-year deal with Chelsea.
But the 2004-05 season would prove Lampard's most prolific yet. Chelsea won their first Premier League title in 50 years, thanks in large part to vice-captain Lampard, whose 13 league goals led not only Chelsea's midfielders, but all of the Premier League's, and who managed 16 assists, as well. Lampard, who started every league game for the Blues, was voted Chelsea's player of the year as well as the Barclays Player of the Season, and he was voted the Sportswriters' Footballer of the Year. He finished runner-up to Brazilian Ronaldinho in both the Euro and World Player of the Year voting.
Chelsea won its second title during the 2005-06 season, with Lampard again the Blues' top scorer with 20 goals. His 16 leage scores marked the highest tally by any Premier League midfielder in the league's history. He was named Barclays Player of the Season for the second time. Before missing a league match in December with a virus, Lampard had carried on a streak of 164 consecutive appearances, a new Premier League record.
Lampard's 62 games during the 2006-07 season were the most by any Chelsea player in a single campaign, and many of them came with the arm band as traditional captain John Terry sat out with back injuries. Lampard again increased his goal output, this time with 21, and recorded 16 assists.
The 2007-08 season marked the first when Lampard had missed any significant time, with the midfielder making only 25 league appearances. Lampard's struggles began with a thigh injury that saw him miss the month of September, then another thigh sprain suffered on Boxing Day caused him to miss another six weeks. Lampard also missed several games on bereavement after his mother died from pneumonia complications in April. On his first game back, Lampard played in the second leg of the Champions League semifinals against Liverpool, netting a penalty to win the game on aggregate. A few weeks later, Lampard scored an equalizer against Manchester United in the European finals before Chelsea lost in a shoot-out. Even with his struggles, Lampard scored 16 total goals with 11 assists and was named the UEFA Club Midfielder of the Year.
In August 2008, Lampard signed a new five-year deal worth 39.2 million pounds that made him the highest paid player in the Premier League. He has since said he hopes to finish his career at Chelsea. He called the season that followed his best yet, after scoring 20 goals with a career-high 19 assists in the campaign and scoring the winner for Chelsea in the FA Cup finals against Everton. He was again named Chelsea's Player of the Year.
During the 2009-10 season, Lampard became the fifth-highest Chelsea scorer of all time, with a Champions League goal in October marking his 133rd goal and sending him into sole possession of fifth place. Since 2004-05, Lampard has averaged more than 20 goals per season for England and Chelsea. With his equally impressive assists record, Lampard currently ranks second all-time in Premier League assists.
International/World Cup Experience
A former England U-21 captain, Frank Lampard made his full-sde debut on Oct. 10, 1999, starting in a friendly against Belgium, a 2-1 win for the Three Lions. Lampard's cousin Jamie Redknapp also started in the midfield for that match. But Lampard was left out of the squad for the 2002 World Cup, having little England experience at that time.
So Lampard's first goal came almost four years after his debut, coming in a friendly against Croatia. After coming on as a first-half sub, Lampard scored during the game's final minutes to cement the win at 3-1.
In June 2004, Lampard traveled with the squad to the European Championships, and he was one of the highlights of England's squad, netting three goals in four matches, including the equalizer in the 115th minute of the quarterfinal match against Portugal to send the game to a penalty kick shoot-out. Lampard went second and scored his kick, but England eventually were knocked out. Lampard was named to UEFA's Team of the Tournament and then was voted England's Player of the Year in both 2004 and 2005.
The midfielder started all 10 of England's 2006 World Cup qualifiers, scoring five goals, and was expected to be one of the Three Lions' most potent threats going into the World Cup in Germany. But despite playing every minute of England's four games, Lampard never scored a goal -- though his 24 shots were tops on the England squad. Lampard also missed the first penalty kick of the Round of 16 shoot-out, setting the tone for England's disastrous exit.
Due to his lack of goals and the missed PK -- though he was far from the only English player to miss -- Lampard bore much of the blame for the early World Cup exit, even being booed by England fans during a match in October 2007. England's missing Euro 2008 did nothing to endear the midfielder to the public, but new England manager Frank Capello's lineup has seen Lampard earn new success and soothe the disrespect.
Lampard again played in all 10 of England's qualifiers for June's World Cup, the only player to do so, totalling 890 minutes. His four goals in the games also were second on the squad, and two of them came in the Sept. 9 win against Croatia that sealed qualification for England. The second of the two also marked Lampard's 20th international goal. A month later, in the Oct. 10 loss to Ukraine, Lampard earned his 75th England cap.
Personal
Frank Lampard is the son of Frank Lampard Sr., a former player and manager, whose coaching during Lampard's childhood the midfielder credits with much of his success. Uncle Harry Redknapp currently serves as manager of Tottenham Hotspur, and cousin Jamie, a former Liverpool captain and England international, now is a pundit for Sky Sports.
In 2003, a sex tape involving Lampard and fellow footballers Rio Ferdinand and Kieron Dwyer emerged, sold to the tabloids by one of the people involved. The incident was taped in 2000 while the players were on vacation in Cyprus, and the tabloids exploded with reports and pictures. Ferdinand addressed the tape in his autobiography several years later, saying that video of the three footballers having sex ended up on the same tape, but that it was "not all one big orgy, as was reported."
Lampard has two daughters with former fiancee and Spanish model Elen Rives: Luna, born in August 2005, and Isla, born in May 2007. Since the couples' split, Lampard has said they will share custody of the girls. In April 2009, shortly after the break-up became public and ran rampant in the tabloids, Lampard called into a British radio station to defend his name against a radio host he felt was trashing his name, saying that not seeing his daughters was "breaking his heart."
Lampard said he has been wearing the same shin guards in every game for the "past several years" for good luck -- a superstition shared by Chelsea and England teammate John Terry, who does the same.
Lampard reportedly has an "unusually high" IQ, discovered when a company took the test while researching the impact of football headers and neurological damage. The doctor who took the test said Lampard's was one of the highest set of marks ever recorded by the company. Lampard said in a 2010 interview his IQ was around "150 or something."