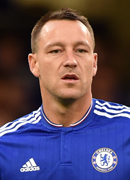 Overview
John George Terry is an English international defender who currently plays for Chelsea in the English Premier League. Terry has served as captain of Chelsea since the 2004-05 season and wore the England armband between August 2006 and February 2010. Terry, regarded as one of the premier defenders in the world, was the only English player named to the All-Star squad of the 2006 FIFA World Cup and has been named UEFA's Club Defender of the Year three times, most recently in 2009.
Early Years
John Terry was born Dec. 7, 1980, in Barking, Essex, in England. At age 9, Terry joined The Academy at West Ham United, studying for five years with acclaimed director Tony Carr. In 1994, Terry joined Chelsea's youth system, playing as a holding midfielder. When the club had a shortage of centre-backs during one season, Terry made the move out of necessity before settling on the backline throughout his career.
Club Career
John Terry made his Chelsea first-team debut in Oct. 28, 1998, coming on as a substitute in a Carling Cup game against Aston Villa. His first start came a few months later in an FA Cup game. Terry started one other game that season before being loaned out to Nottingham Forest to gain some first-team minutes. Terry made six appearances for Forest before returning to West London.
He became a regular starter for Chelsea during the 2001-02 season, playing on the backline alongside French World Cup winner Marcel Desailly. Terry was voted Player of the Year at the end of the season, and in the next several seasons became more and more prominent in the back.
Upon Desailly's departure prior to the 2004-05 season, Terry adopted the captain's armband, and that year he led the club to its first Premier League title in 50 years. After also hoisting the League Cup, Terry was voted Professional Football Association's Player of the Year, Chelsea's first-ever winner. After another strong season -- and another Premier League title -- in 2005/06, Terry was named Chelsea's Player of the Year for the second time.
Injuries plagued Terry's next two seasons, but he did manage to earn more silverware -- winning the League Cup again and then becoming the first player to lift the FA Cup in the new Wembley Stadium in 2007. Chelsea finished as runners-up to Manchester United in both the 2006/07 and 2007/08 seasons. But Terry's 2007/08 season likely will best be remembered for one of his lowest moments.
In a penalty kick shootout with Manchester United in the Champions' League finals, Terry took the fifth penalty kick for Chelsea, which would have won the title. Instead, Terry's holding leg slipped and his kick sailed wide right. Chelsea went on to lose in sudden death PK's. It was later revealed that Didier Drogba, not Terry, was supposed to take the fifth PK, but Drogba's sending-off in added time led Terry to replace him in the order.
In 2008/09, Terry remained relatively injury-free and started every league game but three. Chelsea finished in third place, behind Manchester United and Liverpool. Chelsea also won its second FA Cup in the past three years, with Terry captaining the final four games of the campaign.
International/World Cup Experience
John Terry began his England career on the U-21 team from 2000-02, making nine successful appearances on defense and even taking the captain's armband at one point.
On June 3, 2003, Terry made his England debut on the first-team, coming on at halftime in a friendly against Serbia & Montenegro. Terry earned more regular minutes in the run-up to the 2004 Euro Championships, starting several games of the campaign and cementing his place in the squad.
Terry scored his first international goal in 2006, during a May friendly against Hungary in Old Trafford. He then started in six of England's World Cup qualifiers, before starting at centre back in all five of the World Cup finals games. Terry was noted for strong defensive performances against Sweden and in a PK-loss to Portugal, and he was the only English player named to the All-Star team.
After David Beckham resigned the armband following the World Cup, England manager Steve Mc Claren named Terry the national team's captain, and Terry scored in his debut as skipper, a 4-0 win against Greece in an Aug. 16 friendly. Almost a year later, he scored the first full international goal in the new Wembley Stadium in a 1-1 draw against Brazil.
Terry's reign as captain hit a snag during the Euro 2008 campaign, which saw England miss out on a major finals for the first time since the 1994 World Cup. Sitting out the final three games of the campaign while recovering from knee surgery, Terry watched as the squad lost two of their final three matches, including a late 3-2 loss to Croatia in which a draw would have seen them through. Terry marks failing to qualify as the lowest point in his career.
In August 2008, new England manager Fabio Capello named Terry the squad's permanent captain, after rotating the arm band during the first several games of qualification. On March 28, 2009, in a friendly against Slovakia, Terry earned his 50th cap for England. He captained eight of England's 10 qualifiers for the 2010 FIFA World Cup.
Capello stripped Terry of the captaincy on Feb. 5, 2010, after news broke of Terry's alleged affair with England teammate Wayne Bridge's ex-girlfriend.
Personal
John Terry's older brother, Paul, currently plays midfield for Conference National side Rushden and Diamonds, in the fifth division of English soccer. Paul Terry has played in various divisions in Football League since 1999.
Terry is the main face of sports brand Umbro, which produces all of England's kits, and also has sponsorship deals with the Pro Evolution Soccer video games and Samsung (which is also Chelsea's shirt sponsor).
In 2002, Terry and two teammates were arrested for assault and affray after allegedly attacking a male receptionist in a nightclub in central London. Terry continually denied the charges and was cleared in August 2002. Terry was banned from international football for several months until the case was resolved.
On June 15, 2007, Terry married long-time girlfriend Toni Poole, whom he had been dating for nine years. Poole gave birth to twins, Georgie John and Summer Rose, on May 18, 2006. Terry celebrated his first international goal two weeks later by miming rocking a baby. In June 2009, Terry was voted "Dad of the Year" in a national poll of UK adults.
Reports in late January 2010 claimed Terry had an affair with Vanessa Perroncel, the ex-girlfriend of former Chelsea teammate Wayne Bridge. Upon discussions with his aide Franco Baldini and a short talk with Terry, Capello announced that he would end Terry's captaincy on Feb. 5, 2010.
Capello decided the affair, which reportedly took place in September 2009, shortly after Perroncel and Bridge broke up, could disrupt the balance of the England squad before the World Cup, with reports claiming that Bridge would boycott the finals if Terry remained captain.
In January, Terry had attempted to impose a "superinjunction" to stop newspapers from reporting on the affair, but a judge overturned the efforts within a week.
Later reports claimed Terry also financed an abortion after Perroncel became pregnant. The affair with Perroncel was not the first time Terry had been accused of cheating on Poole, with several liaisons reported before their 2007 wedding.