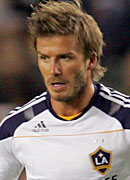 Overview
David Robert Joseph Beckham is an English midfielder who currently plays for Major League Soccer's L.A. Galaxy. Known for his vicious free kicks, his good looks and his marriage to former Spice Girl Victoria Adams, Beckham is recognizable worldwide and almost certainly is the most famous football player in the world. Though his best years on the pitch are behind him, he remains the face of the sport in America and was expected to become the first Englishman to play in four World Cups before tearing his Achilles' tendon in March.
After spending most of his career with Premier League side Manchester United -- winning 15 trophies in 14 years with the club -- Beckham also has spent time at La Liga's Real Madrid, Serie A's AC Milan and the Galaxy. A former captain of the English national side, he has played in three World Cups and in 2003 received from the Queen one of the highest honors given by the British royalty, an OBE, for services to football.
Early Years
David Beckham was born May 2, 1975, in Leytonstone, London. The middle child between two sisters, Lynn and Joanne, Beckham and his family moved to Essex when he was still a child. His father, Ted, raised Beckham as a Manchester United fan, and Beckham began playing at an early age. In 1986, Beckham impressed several scouts while playing at the Bobby Charlton Soccer School, and he won his coaching group in a series of skills tests. As an 11-year-old, he traveled to Manchester to compete against 100 finalists in the National Skills Final. Upon winning the national title, Beckham won a week-long trip to Barcelona FC's Camp Nou. But more importantly for Beckham, the Manchester United scouts who saw him play at Old Trafford soon after signed him to a schoolboy's contract, on his 14th birthday.
Club Career
Manchester United
David Beckham trained with Manchester United for two years before signing his official trainee forms in 1991, joining a squad that included other soon-to-be legends Paul Scholes, Ryan Giggs and Gary Neville. In 1992, the squad won their first Man U title in the FA Youth Cup, Beckham scoring in a 3-1 victory in the first leg of the finals against Crystal Palace. Beckham made his full-team debut the same year, at the age of 17, when he came on as a substitute in the second half of a League Cup tie with Brighton.
After several more games with the youth squad, Beckham signed his full professional contract on Jan 23, 1993. Playing on the reserves that season, Beckham won another medal with United, this time that for the reserve team championship.
Beckham's first goal for the full side came during the next season, in a Champions League match against Galatasaray in December 1994. Despite his early success, manager Alex Ferguson sent Beckham on loan to Preston North End for some first-team experience. Beckham played five games -- scoring twice -- before being called back to United due to injuries to several midfielders. Beckham made his first-team debut on April 2, 1995, against Leeds United.
Despite the youth of United's squad in 1995-96 -- including several starters who'd played on the youth team only two years before and known as "Fergie's Fledglings" -- Manchester United exceeded all expectations and won a double, taking the Premier league and FA Cup titles to close the season. Beckham recorded eight goals in his 40 games.
By the next season, Beckham had become the first choice at right midfielder. His became a household name after a halfway strike against Wimbledon midway through the season, a goal that eventually was named best of the season. At the end of the season, United repeated as Premier League champions and Beckham was voted Professional Football Association's Young Player of the Year.
The 1998-99 season was the best yet for Beckham, as he played in 52 games for the Reds and the squad won an unprecedented treble: taking the Premier League, FA Cup and Champions League titles in one season. Beckham assisted both of Manchester United's late goals to take a 2-1 win against Bayern Munich in the European final and to complete the treble. Beckham finished runner-up in both the European and World Player of the Year voting in 1999, but was named UEFA's Club Player of the Year.
The next two seasons were just more of the same for Beckham and Manchester United, with the midfielder featuring regularly as the Reds won their second and third successive Premier League titles. The 2001-02 season saw Beckham's most significant output yet, with Beckham scoring 16 goals in all competitions despite breaking the second metatarsal in his left foot in April, missing the final two months of the season. In May, Beckham signed a new three-year contract that made him the highest-paid footballer in England.
Beckham began the 2002-03 season after suffering a falling-out with manager Ferguson, reportedly because Beckham had been missing training sessions to be with his family and Ferguson was doubting his commitment to the squad. Beckham helped Manchester United reclaim the title by a large margin before unexpectedly being sold to Real Madrid, a move said to be in large part because of the struggles in the player-manager relations. Beckham ended his Reds career after 14 years, six league titles, two FA Cups and more than 80 goals in more than 300 appearances.
Real Madrid
David Beckham was sold to Real Madrid in June 2003 in a four-year contract worth 25 million pounds, becoming only the third English player to feature in the squad. Beckham became one of Real Madrid's first "galacticos" squad, including French legend Zinedine Zidane, Luis Figo and Brazilian Ronaldo. Beckham made an impressive debut, scoring in a friendly at home and then again less than three minutes into his official La Liga debut. Real Madrid failed to win the league title but did pick up the Spanish Super Cup at the close of the season.
During the 2003-04 season, Beckham played in 38 games, even though limited by England international duty, but didn't record much production -- scoring only four goals with no assists. The 2005-06 season was much more productive for the midfielder, seeing him top in La Liga in assists with 10 league and three others in European competition.
Fabio Capello began his tenure as Real Madrid coach in 2006-07 and in the process brought Real Madrid their first league title since 2003. Beckham didn't play much into the equation, starting only 14 games while recording three goals and five assists. After reported tensions with Capello and Real Madrid ownership, Beckham announced in January that he would leave the squad at season's close to play in America with L.A. Galaxy.
After the announcement, Capello vowed he would not play Beckham ever again, though said the midfielder could stay and train with the squad. After a string of poor results, Capello changed his mind, and Beckham's performances improved by season's end. Real Madrid then said they would try to execute an escape clause in Beckham's Galaxy contract, but the Galaxy officials said no such clause existed and they would keep the player's contract intact.
L.A. Galaxy
David Beckham announced his signing with the Galaxy on Jan. 11, 2007, in a five-year contract worth about $250 million, including both salary and commercial endorsements during the five-year period. In the press conference announcing his signing, Beckham said he hoped to increase awareness and support of soccer in the US. In the 48-hour period after the announcement, the Galaxy sold more than 5,000 season tickets.
After Beckham's Real Madrid contract expired on June 30, he traveled to L.A. to start the season with the Galaxy, making his debut in a friendly against the Premier League's Chelsea on July 21. His league debut came the next month, and his first start for the Galaxy was on Aug. 15, when he also scored his first goal, recorded an assist, and surprised everyone by wearing the captain's armband, which former captain Landon Donovan gave up to Beckham in his first start. Donovan later said that order had come from the team's officials as well as Beckham's managers.
But in Beckham's first season, he played in only seven games, suffering ankle injuries and, more seriously, a sprained ligament in his knee that kept him out for six weeks. The Galaxy missed the playoffs, and Beckham's quest to change the face of soccer in America was held off for another year. To stay fit for England call-ups during the winter, Beckham spent three weeks training with Arsenal FC before returning for Galaxy's preseason.
In 2008, Beckham scored his first MLS league goal nine minutes into the Galaxy's home opener, on April 3. He went on to register a team-best 10 assists and five goals in 25 games. Beckham was named MLS Player of the Week twice and was named to the league's All-Star squad for the first time, but the Galaxy missed the playoffs again.
After the season, Beckham signed on loan with Serie A side AC Milan on Oct. 30 so he could stay in shape as England began qualifiers for the 2010 FIFA World Cup. Fabio Capello, now the head coach of the English national side, had made it clear that any player not starting for his club wouldn't be considered for a national roster, and he'd also expressed that the MLS wouldn't cut it. Beckham made his Serie A debut on Jan. 11, 2009, playing against Roma, and scored his first goal two weeks later against Bologna. In all, Beckham played 18 games for the Italian side, scoring two goals and five assists.
Though Beckham had planned to leave Milan in time to return for the start of the Galaxy's season, he announced in February that he was seeking a permanent transfer to the Italian side. Though the terms could not be agreed upon, the Galaxy did allow Beckham to extend the loan and stay through the end of the Serie A season, meaning his return to L.A. would come as late as mid-July.
After arriving with the Galaxy on July 16, Beckham faced a harsh response from the supporters who accused him of a lack of commitment after his request to stay at Milan. Beckham refused to apologize or address the fans' concerns, leading to several altercations soon after his arrival. He played only 15 games with the Galaxy, but the squad's form improved. The Galaxy went on a seven-game unbeaten streak to end the season, winning the Western Conference and falling to Real Salt Lake, 5-4 in a penalty shoot-out, in the MLS title game.
Beckham signed another loan contract with AC Milan on Nov. 2, 2009, and returned to play with the side again during the 2010 off-season. His debut came Jan. 6, 2010, in a 5-2 win at home against Genoa. He played 13 games for Milan, recording one assist, before tearing his Achilles' tendon on March 14 in a league match against Chievo. Beckham flew to Finland for surgery on the injury and is expected to be out for at least three to four months. The injury is not considered career-ending, and he should return for his club season next year.
International/World Cup Experience
David Beckham made his debut for the England full-team on Sept. 1, 1996. Though the midfielder had played several games for the U-21 side, his first game for the full team came in a World Cup qualifier against Moldova which the Three Lions won 3-0. Beckham went on to feature in six other qualifiers leading up to the finals in 1998.
Beckham competed in his first World Cup finals in France in 1998, scoring his first international goal in a group stage match against Colombia. But his first finals made him more of a villain than a hero. A sending-off in the second round against Argentina left England with 10 men and saw Beckham miss the penalty kick shoot-out that knocked England out of the competition. Following the finals, Beckham was made scapegoat, even receiving death threats and bullets engraved with his name mailed to his home.
When he returned to an international finals in Euro 2000, even after scorng twice against Portugal, Beckham continued to hear jeers. Despite the poor response from some fans, fter the competition new England caretaker Peter Taylor named Beckham the new England captain, a title he would hold for the next six years. Beckham's hero status eventually returned, after a soaring free kick in injury time of a qualifier against Greece salvaged a draw for England and sent them to the 2002 World Cup finals.
After injuring his metatarsal with Manchester United in April, Beckham seemed a doubt for the finals that year, but eventually recovered at least partially and played in the games. Beckham scored the sole penalty in a 1-0 win against Argentina in group stages to avenge the country's previous knock0out, and the midfielder recorded two assists in a 3-0 win against Demark in the Round of 16. Eventually England fell out in the quarterfinals, this time to Brazil.
In 2004, England lost to Portugal in a penalty kick shoot-out in the European Championships. Beckham played in every game, but one penalty was saved in a loss to France, and he missed his PK in the shoot-out to Portugal, later saying he felt the ground lift under his foot as he kicked it and knew it would be off-target.
It was a familiar story in 2006, when the same Portugal knocked England out of the World Cup quarterfinals in a penalty kick shoot-out. Beckham again started all five games, recording two assists and one goal. His goal against Ecuador in the Round of 16 made him the only English player ever to score in three World Cups. After the World Cup, Beckham tearfully relinquished the captaincy, after six years and 58 caps with the armband.
When Steve Mc Claren took over the squad following the 2006 defeat, he announced that he would be taking the squad in a new direction and Beckham would not be included. So after 10 months without an appearance, Beckham didn't reemerge in the lineup until a friendly against Brazil on May 26, 2007. he then played in several qualifiers for Euro 2008, even setting striker Peter Crouch up for the goal to draw level against Croatia before being knocked out in the final minutes of the last game.
A friendly against France in March 2008 -- and Beckham's first call-up under Capello -- saw Beckham become only the fifth player to earn 100 caps for England. The same year, he was inducted into the English Football Hall of Fame. And almost two years after giving up the armband, Capello's rotation policy saw Beckham act as captain again for one more England game, a friendly against Trinidad & Tobago.
After appearances in more friendlies and several 2010 FIFA World Cup qualifiers, Beckham came on as a halftime substitute in a qualifier against Slovakia to earn his 109th cap, becoming the highest-capped outfield player in England history. Only goalkeeper Peter Shilton, with 125, has more.
Beckham had aspirations of playing in the 2010 finals and eventually beating Shilton's cap-record, but an Achilles' tendon injury and reconstructive surgery in March effectively ruled him out of contention for Capello's finals squad. Beckham's doctors said that the recovery process will take about four months before he can walk and run and that it will be closer to six months before he is able to play.
With his Achilles injury still sidelining Beckham in June for the 2010 World Cup, the English FA announced he would serve the squad as a mediator and member of the coaching staff throughout the finals in South Africa. He sat on the bench with the coaches during the games and attended training sessions with the players. He also used his time at the World Cup to serve as an ambassador for England's bid for the 2018 World Cup.
After the finals, rumors began to swirl that Beckham was being groomed for management and would eventually take over England as coach, but the player denied any interest in the job or management in general. In the same interview, Beckham blamed England's players for the disappointing World Cup campaign, claiming coach Fabio Capello did "everything he could" but the players could not deliver. He said he hopes to return to the English squad for its qualification campaign for EURO 2012.
If Beckham does not return and has in fact played in his last game for the Three Lions, he would end his career at 34 years old with 115 appearances (second-most in history) and 17 goals.
Personal
David Beckham is married to Victoria Beckham nee Adams, better known as "Posh Spice" from the hit British group Spice Girls. The two met in March 1997 when Victoria attended a game between Manchester United and Sheffield United and asked to be introduced through a mutual friend. In January of the next year, Beckham proposed to Victoria.
The couple were married in Dublin on July 4, 1999, and then hosted a reception for 236 guests that reportedly cost more than 500,000 pounds. The couple sat in gold-plated, red-velvet thrones during the reception, which required 437 staff. Though the wedding ceremony was kept private, the Beckhams sold exclusive coverage of the reception to tabloid OK! magazine for 1.5 million pounds.
Victoria Beckham gave birth to the couple's first child four months before their wedding, a son named Brooklyn. Second son Romeo was born in September 2002, with third son Cruz born in Madrid in February 2005.
In 2001, Beckham was named BBC'S Sports Personality of the Year. Two yeas later, in June 2003, Beckham became on Officer of the Order of the British Empire, one of the highest honors awarded from the Queen. Beckham received the award "for services to football."
On March 12, 2003, the film "Bend It Like Beckham" premiered, about an Indian-American girl who admires Beckham's footwork and dreams of being a professional soccer player. A Beckham body-double appears in the film as a cameo.
In spring 2006, Beckham opened the David Beckham Academy in Carson, Calif. The academy is meant to teach young male and female players skills and techniques as well as rules of the game and for interacting with officials. A second academy opened in London in November, and there were plans to eventually move academies to Asia and to Brazil. Both the London and Los Angeles academies closed in early 2010, though, and plans for further facilities were shelved -- reportedly due to poor attendance rates and the worsening economy.
Upon arriving in Los Angeles, Beckham and his wife became part of the young Hollywood crowd and made several appearances with actors Tom Cruise and Katie Holmes, good friends of the British couple. The day after Beckham's debut for the Galaxy, Cruise and Holmes, along with Will and Jada Pinkett-Smith, hosted a party in their honor at the Museum of Contemporary Arts. Beckham and his wife also have appeared on numerous magazine covers, campaign ads, talk shows and red carpets, both together and apart.
In January 2009, football magazine Four Four Two released its latest "Football Rich List," in which Beckham remains the richest player at an estimated 125 million pounds. The closest player to Beckham's haul was Michael Owen, whose tally was less than one-third Beckham's.
Beckham's main sponsorship deals include Adidas and Armani, and the footballer also has had deals with Gilette and Pepsi Co. He also partners with Coty fragrances, Coba resort in Brazil, Motorola and Sharpie.