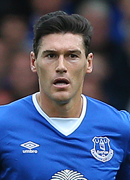 Overview
Gareth Barry is an international who plays central midfield for his club team, English Premier League side . He played more than a decade for Aston Villa before moving to in 2009, becoming one of Villa's most capped players in the process. He also became a regular for the squad late in his career, when new manager Fabio Capello gave the player a place in his starting XI.
Early Years
Gareth Barry was born Feb. 23, 1981, in , a smalltown on the southeastern coast of . Barry was a quick fan of soccer, his father a former player for the local professional club. At the age of 10, Barry was spotted while playing soccer in his neighborhood and invited to join the youth & Hove Albion, a third-division club close to his hometown.
Barry attended in while playing for Brighton & Hove Albion's youth teams for several years. But at graduation for the sports academy, before ever making a senior appearance for Brighton, Barry was recruited to the of club Aston Villa.
Club Career
Gareth Barry moved up north to attend Aston Villa's academy in 1997 and made his debut less than a year later. At 17, Barry made his first Premier League appearance, coming on as a substitute in centre defense against Wednesday on May 2, 1998. Early in his career, Barry also played at left back and left midfielder before settling in his preferred position at centre midfield.
Though he only made one other appearance in his first year at Villa, Barry played a significant role in midfield during the coming seasons. In his first full season with the senior squad, 1998-99, Barry started 27 league games, scoring twice. His success continued in 1999-2000, when he started 30 games with one goal, and in 2000-01 with 29 starts and his first European goal in the Intertoto Cup.
In the following season, manager John Gregory asked Barry to play in different position and different style than the previous three years, meaning only 16 league starts and no goals for the midfielder. Gregory left at the end of the season and Barry returned to his normal production.
A stalwart in centre midfield for the next several seasons, Barry played 138 of a possible 152 league games for Villa between 2002-06. Scoring at least three goals every season, his seven league scores in 2004-05 were at the time a career-best, and he also excelled for Villa in the FA and Carling cup campaigns each year.
Barry signed a new four-year contract with Villa in August 2006, turning down interest from Portsmouth and his boyhood club, Tottenham. Barry was named Aston Villa's captain going into the 2006-07 season, a title he would hold for the next two seasons. After scoring eight goals with four assists and being named the Villa Player of the Year in 2006-07, he followed that up with the best year of his career in 2007-08.
Barry scored a career-high nine goals, paired with 10 assists, during the league season, missing only one game -- through injury -- in the process. In a league match against Bolton in October, Barry became the youngest player in history to reach 300 Premier League games, at only 26.
The following summer transfer window led to several rumors of a move to Liverpool, with Barry himself stating he was interested in the move, seeking a club that played Champions League football. Aston Villa manager Martin O'Neill repeatedly refused Liverpool's offers of 15 million pounds plus players, demanding at least 18 million pounds for Barry.
As relations between O'Neill and Barry -- who accused the manager of not caring whether he left and starting no communication with the player -- began to sour, O'Neill stripped Barry of the captaincy going into the 2008-09 side, when the midfielder would stay at Villa.
The conflict eventually subsided, and Barry started every game of the league season for Villa, even earning back the captain's armband after Martin Laursen faced a long layoff in January. Barry scored his first European goal since 2000 as Villa reached the final 32 of the UEFA Cup, their best appearance in more than a decade. At the end of the season, Barry reached 440 Villa appearances in all competitions, good for seventh-best on the all-time list.
In the summer of 2009, the long-awaited transfer finally arrived, Barry eventually moving to Manchester City in a 12 million pound deal. Fans vilified Barry for the move, and he responded by sending an open letter to the Birmingham Mail newspaper explaining his reasons to move and thanking the fans for their support in his decade-long career.
The 2009-10 season, the first of Barry's five-year deal, started well for the midfielder, with five assists and one goal in his first 20 league games, through the first half of the season. Man City was in a competitive run for the fourth Champions League qualifying spot, validating Barry's move in search of European football.
International/World Cup Experience
Gareth Barry was a regular for years on the England youth teams, at one point holding the record for caps on the U-21 squad, after making his first appearance for the team in 1998. His full senior debut came on May 31, 2000, when he came on as a second-half substitute in a friendly against Ukraine.
After a last-minute injury to one of England's midfielders, he was included as a late replacement in the squad that traveled to UEFA Euro 2000 in the Netherlands/Belgium. Though he never made it off the bench, he said the experience of fighting for the championship remains one of the top moments of his career.
Barry made his first start shortly after returning from the European Championships, in which England dropped out in group stages, in a friendly against France on Sept. 2, 2000. Just a month later, he returned to competitive internationals, starting two qualifiers for the 2006 FIFA World Cup.
But when Sven-Goran Eriksson became England manager in 2001, Barry found himself relegated to the England U-21 and B sides, at least in competitive matches. Barry did make a few starts in friendlies in 2003, but a start against Serbia & Montenegro in June would prove his last appearance for the senior team for almost four years.
Barry didn't return to the squad until Feb. 7, 2007, when new boss Steve Mc Claren brought the midfielder on as a halftime substitute in a friendly against Spain. His play impressed, and he was again called to the squad for five qualifiers for the 2008 European Championships. Particularly strong performances in qualifiers against Israel and Russia -- and Man of the Match honors in the Estonia game -- in September 2007 led many to call for Barry's permanent inclusion in England's starting XI.
But with England missing out on the Euro 2008 finals, Barry's next chance to impress came under new manager Fabio Capello in 2008. Capello quickly became a fan of Barry in his lineup, and Barry responded with his first international goal, in a friendly against Trinidad & Tobago in June.
Barry went on to feature in eight of England's 10 qualifiers for the 2010 FIFA World Cup, scoring once in a 4-0 win against Kazakhstan in June 2009. He ranked fifth on the team in minutes with 676 and will be one of the first names in Capello's starting XI in South Africa.
Personal
Gareth Barry married childhood sweetheart Louise in the summer of 2007. The couple have two children: son Oscar, born in 2003, and a daughter, Freya, born in 2005.
Barry attended William Parker Sports College as a child, and he played on the same cricket team as current England cricketer and Sussex captain Michale Yardy.