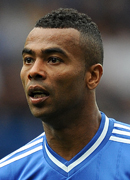 Overview
Ashley Cole is an English football defender who currently plays for Chelsea FC in the Barclay's English Premier League. Cole is considered one of the best left-backs in the world but has been ill-received by many English fans for a few high-profile gaffes and a controversial cross-London move from Arsenal early in his career. Despite the criticism, Cole has always found success on the pitch, and his five FA Cup wins mark the most of any player in the modern era.
Early Years
Ashley Cole was born Dec. 20, 1980, in Stepney, London. Born to a black father and a white mother, Cole grew up with his family in in London before his parents separated in 1987. His father then moved to Melbourne, and Cole and his brother were brought up in England by their mother.
Growing up in East London, Cole became an Arsenal fan and immediately accepted an invitation to join their academy in 1996. The academy director has since called Cole one of the academy's biggest success stories because, when Cole signed on, he was not rated to be a star for club or country. Cole began playing with the reserves squad at 17 and moved up to the senior team soon afterwards.
Club Career
Ashley Cole made his debut for Arsenal's first team in 1999, coming on as a substitute in a league cup game one month before his 20th birthday. Seeking more first-team experience, Cole went on loan to Championship side Crystal Palace for three months, where he scored one goal and played 14 games for the Eagles.
Arsenal manager Arsene Wenger had not ignored Cole's success at Palace, and he rewarded the defender with his first Premier League appearance in the final game of the season in May 2000. Cole signed his first professional contract with Arsenal in early 2000.
In 2000-01, an injury to first-choice left back Sylvinho saw Cole take over the starting role for the Gunners. He ended the season with 15 starts in the league -- 24 total appearances -- and three goals. By year's end, even after Sylvinho's return, Cole had taken over the left back position.
During the next year, Cole made 20 starts in the league and earned his first silverware with Arsenal as the Gunners won the domestic double, taking the Premier League and FA Cup titles. After sitting out the early months with injury, Cole started every game in the last half of the league season and four games in the FA Cup campaign, including the 2-0 win in the final against Chelsea.
The Gunners repeated their FA Cup success in 2002-03, and Cole's minutes increased again, this time starting 30 of the year's league games. The next season brought Cole's -- and Arsenal's -- best campaign of his career, as Cole started 47 games and played in every competition. A squad dubbed "the Invincibles," the Gunners won the Premier League title for the second time in three years, going undefeated in the league with a 26-12-0 record.
In the next season, with Arsenal on its way to another FA Cup win, Cole started 35 league games and was named to the Professional Footballers' Association's Team of the year for the third time, having previously been honored in 2002 and 2004. But Cole's year became clouded with controversy when his involvement in "tapping-up" meetings with Chelsea became public.
In the middle of the 2004-05 season, Cole met privately with Chelsea manager Jose Mourinho and several club executives in a hotel in London without Arsenal's knowledge or approval. At the close of the season when the meetings became public, Cole, Chelsea and Jose Mourinho were fined 600,000 pounds between them, though the amounts were later reduced on appeal. Cole's agent, Jonathan Barnett, was fined 100,000 pounds and suspended for 18 months by the Football Association.
After the controversy, many were surprised when Cole signed a one-year contract extension with Arsenal in July 2005, and the next season proved a disappointment for the defender. Starting only nine league games -- and making only 15 appearances total -- Cole's season was hampered by injuries, finally returning to start in the Champions League final, a loss to Barcelona.
Before the next season, Cole finally completed his move to Chelsea, signing a 5 million pound deal that also saw star centreback William Gallas change hands. Cole's Chelsea debut came the next month, in a Champions League match against Werder Bremen, and the defender finished the season with 23 league appearances and nine European games. That season Cole also won his fourth FA Cup, coming on as an extra-time substitute against Manchester United.
After undergoing ankle surgery during the summer before the 2007-08 season, Cole damaged his ankle again on international duty in October, missing about a month of action. But the defender still started 27 league games and played in all but three in Chelsea's Champions League campaign, which saw them fall to Manchester United in a penalty kick shootout in the final (Cole converted his kick). Cole also scored his first goal for Chelsea during the season, in a March game against West Ham.
The 2008-09 season was Cole's best since leaving Arsenal, with the defender starting 33 league games on top of significant time in the FA Cup and Champions League campaigns -- totally a career-high 49 club appearances. Cole was voted the Players' Player of the Year at the end of the season, just a few days after scoring his only goal on the year, in Chelsea's final league game. With another Chelsea FA Cup win -- Cole's fifth -- the defender now has won more FA Cups than any other player in the modern era.
Cole signed a new four-year contract with Chelsea in September 2009, boosting his wages to 120,000 pounds per week. After starting most every game in the first two-thirds of Chelsea's 2009-10 campaign, Cole suffered a broken ankle from a challenge from Landon Donovan in the Blues' Premier League match against Everton on Feb. 10, 2010. Cole underwent surgery on the fracture and was ruled out for three months.
International/World Cup Experience
Ashley Cole began his England career while still in the Arsenal academy, playing with several of the nation's youth sides. Cole represented the nation in the U-20 World Cup in 1999, playing in two matches in the first stage.
His full team debut came in 2001, when he came on during a friendly against Albania in March. He continued to make an impact in the side during the next few years, including five qualifiers for the 2002 World Cup in Korea. Cole also was called up for that squad, and he played in all five of England's matches in the finals.
But he first earned real praise for his showing in the 2004 Euros, when he put on what was considered a near-perfect display for England, particularly in their quarterfinal against Portugal, when he marked Cristiano Ronaldo and held him goalless. He was one of four English players named to the tournament's All-Star squad.
Cole returned to the international stage with continued success in 2006's World Cup finals in Germany, starting eight of the squad's qualifying matches. In the finals, Cole started all five games and played every minute of England's campaign. England were knocked out by Portugal on a shootout for the second time in two campaigns.
In the process of qualifying for the 2010 FIFA World Cup, Cole earned his 75th cap, in a 2-1 win against Slovenia on Sept. 5, 2009. Cole played in eight games, recording the second-most minutes of any England player. Before breaking his ankle in February, he was all but guaranteed the starting left back spot at his second World Cup. He made his return from injury by the end of the club season and regained his spot in England's XI.
In a World Cup when very little went right for England, Cole's performances were some of the few high points. Cole generally impressed in South Africa, providing a solid presence on the backline but also a threat up the wings. His form was considered impressive throughout England's group stages campaign and even in the embarrassing loss to Germany, Cole pretty much avoiding blame for the Three Lions' early exit.
Cole set a new record for international appearances for a black Englishman in the World Cup matchup against Algeria, his 80th appearance.
Personal
Ashley Cole is married to English pop star Cheryl Tweedy, a member of the popular girl group Girls Aloud. Created by a reality TV series "Popstars," the group had several Top 10 hits before going on hiatus in 2009. Cheryl Cole currently serves as a judge on the reality show, "The X Factor." Ashley Cole and Cheryl met in 2004, and they became engaged in 2005 while on vacation in Dubai. The couple were married July 15, 2006. After several allegations of Cole's infidelities, Cheryl announced she was separating from Cole on Feb. 23, 2010 and announced she would file for divorce three months later.
In 2006, Ashley Cole released an autobiography, "My Defence." The book was not well-received, selling only 4,000 copies in its first six weeks, and the defender drew criticism for writing a memoir at the age of only 25. The most famous passage involves Cole telling of his swerving his car and almost crashing when his agent told him Arsenal would pay him only 55,000 pounds a week instead of his requested 60,000.
Cole worked with England teammate Rio Ferdinand on a film project in 2009. The pair exclusively produced a film starring 50 Cent. "Dead Man Running" tells the story of a loan shark pursuing an ex-con who owes him money. The film, released Oct. 30, was relatively well-received, and both footballers said they would consider pursuing further work in the film industry after their careers.