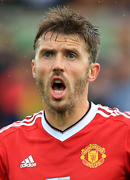 Overview
Michael Carrick is a midfielder currently playing for Manchester United in the English Premier League. Carrick, an English international, has won three league medals and one European title with the Reds. Carrick also has earned 20 caps for England, though the presence of veterans such as Steven Gerrard and Frank Lampard in England's midfield mean starting opportunities are rare for the young midfielder.
Early Years
Michael Carrick was born July 28, 1981, in Wallsand, near Newcastle. Carrick joined the academy of Middlesbrough FC -- where his father had played for the reserve team for years -- at the age of 13, spending two years with the club before leaving for London.
Amid interest from several Premier League clubs, Carrick decided to attend the prestigious Academy at West Ham United. Carrick moved to east London in 1996. After playing centre forward during most of his youth career, Carrick moved to the midfield at West Ham.
With the youth team at West Ham, Carrick -- along with teammate and current Chelsea starter Joe Cole -- won the FA Youth Cup in 1999, earning their first club honors. Carrick scored twice in a 9-0 win in the finals against Coventry City.
Club Career
Michael Carrick made his first team debut in August 1999, coming on as a substitute in a 3-0 league win against Bradford City. Carrick went on loan twice that season -- first for six games to Swindon Town, then for two to Birminham City -- to gain more first experience.
After returning to West Ham, Carrick played a significant impact on the 2000-01 season, his first making a real contribution. Carrick's play earned him national attention as well as a short-list nomination for the Professional Football Association's Young Player of the Year award, though it was eventually won by Liverpool midfielder Steven Gerrard.
Carrick was plagued by injuries during his next several seasons, undergoing groin surgery three times, in 2001, 2002 and 2003. He still managed three goals in only 51 starts during the 2001-03 seasons, though he couldn't help West Ham from relegation to the Championship after the 2002-03 season.
Though most of West Ham's young stars fled for Premier League football after relegation, Carrick stayed to try and pull the squad up. Carrick started every league game but one, recording one goal and five assists in the process, but West Ham lost to Crystal Palace in the play-off final to remain in the Championship.
With West Ham strapped for cash and Carrick seeking top-flight play, the midfielder was sold to Tottenham for 2.75 million pounds during the off-season. In 38 appearances in his first season, Carrick had six assists and was one of the league's most effective ball-winners in terms of completed passes and won challenges.
In 2005-06, Tottenham seemed poised for a top-four finish and Champions League play for most of the year, with Carrick's presence in midfield and two goals and six assists a major component. But Spurs dropped to fifth after playing their final game of the season with Carrick and nine other players, many of them starters, sick with food poisoning. Spurs' 2-1 loss to West Ham allowed Arsenal the fourth spot.
Seeking European football, Carrick signed with Manchester United following the 2006 World Cup. The 18.6 million pound fee was the fifth-highest ever doled out by the Reds and provided Tottenham with more than 15 million pounds profit off the young midfielder.
Carrick made his Man U debut on Aug. 23, 2006, against Charlton, and his three goals and four assists marked his most productive offensive season to date. Encouraged by manager Sir Alex Ferguson to push farther forward than his normal holding midfield role, Carrick scored his first goal on Jan. 13. In his first season in European play, Carrick scored twice in 12 Champions League games.
With several midfielders on the roster, Ferguson began rotating his starters during the 2007-08 season, but Carrick -- when healthy -- was one of the most stable presences. With 24 starts in the league and 11 in Europe, Carrick was a key component in Manchester United's second straight league title and success in the Champions League. After starting the final against Chelsea, Carrick also scored his attempt in Man U's 6-5 penalty kick shoot-out win. Following the season, Carrick signed a new four-year deal with the Reds.
After missing nine games early with an ankle injury, Carrick returned to his most productive season yet, scoring four goals with five assists, and playing 43 games for Man U. Carrick played during the finals of Manchester United's FIFA Club World Cup final, a 1-0 that earned him another winners' medal, and Manchester United won its third consecutive league title.
Midway through the 2009-10 season, Carrick played several games at centre back following an injury crisis on the Manchester United defense.
International Career
Michael Carrick joined the England schoolboys' team as a child and also played 14 games for the England U-21 side. His full debut came in May 2001, when he appeared as a second-half substitute in a friendly against Mexico. He appeared for England again shortly after, against Holland three months later.
But then three surgeries on his groin in the next three years kept him out of the squad for almost four full years. His next appearance came on May 28, 2005, when he made his first international start in a friendly against the United States. He played in another friendly three days later, also starting that match against Colombia.
Carrick was called into the squad for the 2006 World Cup the next June, but due to a lack of experience leading up to the finals, few expected the young midfielder ever to leave the bench. But England manager Sven-Goran Eriksson tore up his usual line-up in England's Round of 16 game and inserted Carrick as a holding midfielder in front of the back four. Carrick wasn't particularly comfortable in the role -- and had played only 23 minutes of full-side international football in the past year -- but played all 90 minutes in England's 1-0 win against Ecuador.
Several injuries kept Carrick in and out of the roster for England's Euro 2008 qualifying campaign. The midfielder started two games in October 2006 and came in as a substitute earlier that year, but a fractured elbow saw him miss six weeks of action that kept him out of the roster for the squad's final four games.
When Fabio Capello joined England after the side missed the Euro finals, he placed a renewed interest in Carrick, allowing him several starts and other appearances in friendlies for the squad. His brightest moment of the early Capello campaign came in a 2-1 win agianst Germany, in which Carrick's presence in midfield saw him named Man of the Match by numerous media associations.
Carrick, again struggling with injury, saw him play in only one of England's qualifiers for the 2010 FIFA World Cup, while he was an unused substitute in two others. His sole start, the 1-0 loss to Ukraine on Oct. 10, 2009, also marked the 20th cap of his England career. Despite his limited usage in qualifiers, many still expect Capello to named Carrick to his 22-man squad, though starts would likely be few in the South African finals.
Personal
Michael Carrick's father played for the reserve squads of Middlesbrough FC for years before quitting football. Carrick originally followed in his father's footsteps, playing for the academy of the club at the beginning of his career. Carrick's younger brother, Graeme, played for the West Ham Academy for years before suffering injuries that saw him abandon his playing career. He then became a coach at the Newcastle United academy and currently serves as a skill coach for England's Football Association.
Carrick was married in June 2007 to longtime girlfriend Lisa Roughead, who attended high school with the footballer. The wedding was held on the same day as the weddings for England teammates Steven Gerrard and Gary Neville. The couple had their first daughter, Louise, in August 2008.