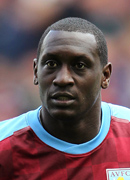 Overview
Emile William Ivanhoe Heskey is an English international striker who currently plays his club football with the English Premier League side Aston Villa. Heskey has been somewhat of a nomad in his long career in professional soccer, playing with several different clubs in the English leagues since his debut in 1995. His spot in the English national line-up also has been come-and-go, with the striker left out of the squad for more than three years in the middle of his career. Since Fabio Capello joined the team, Heskey has become a favorite target man for the English offense and is expected to be first-choice to pair with Wayne Rooney in the 2010 FIFA World Cup finals.
Early Years
Emile Heskey was born Jan. 11, 1978m in Leicester, Leicestershire. Heskey begane playing football at a very young age and soon joined the local youth team, Ratby & Groby Juniors -- one of the top youth clubs in the region. Even there Heskey's abilities were clear, and he joined Leicester City's football academy at the age of nine. Heskey trained in the academy for years before making his professional debut, which he finally did at the age of 17.
Club Career
Emile Heskey signed a professional contract with Leicester City in 1994, making his senior debut for the club in March 1995 against QPR. City were relegated to the second division at the end of the season, and Heskey's first full season with the club came in the Championship. But with the help of new manager Martin O'Neill and seven goals from new boy Heskey, the club earned promotion straight away and returned to the Premier League.
Heskey's first few seasons in the top division brought substantial offensive output, with the striker scoring 10 goals in each of his first two seasons. He helped Leicester to a League Cup win in its first season back in the Premier League and started 35 games in both of his first two seasons. During the 1998-99 season, his goal tally dropped down to six and, in search of more advanced football, decided to move from Leicester. He was convinced by O'Neill to sign a one-year contract and stuck through to help try and save Leicester from another relegation.
Heskey stayed with Leicester through the January transfer window of the 1999-00 season, at which time he signed with powerhouse Liverpool, joining his England teammate Michael Owen, in an 11 million pound deal that broke the squad's transfer record. In his first 12 games at the end of the season, Heskey scored three goals.
His most prolific campaign to date came in the 2000-01 season, which saw the striker score 23 goals in all competitions, including 14 in the league. Liverpool won every knockout competition they entered that season, earning a cup treble with titles in the FA, Carling and UEFA cups. The next three seasons brought less success for the striker, scoring no more than nine league goals despite playing almost every game on the year.
By the end of the 2003-04 season, which saw Heskey score only six goals in 32 league games, the Liverpool management felt it was time for a change. In May 2004, Heskey was sold to Birmingham for 3.5 million pounds. In his first season with Birmingham, Heskey managed 10 goals with four assists in the league, but his number again dropped drastically after his initial campaign, this time to four scores in 2005-06 as Birmingham were relegated to the second division.
So again Heskey was on the move during the 2006 offseason, this time to Wigan in a 5.5 million pound deal. And it was a familiar story when Heskey scored 10 goals in his first season with the club. But a broken metatarsal and -- unsurprisingly -- less impressive play in his second campaign dropped his total to four goals in the league in 2007-08, though a goal scored near the end of the season did mark the 100th score of his Premier League career.
After another half season with Wigan -- two goals in 14 league games -- Heskey reunited with former Leicester manager Martin O'Neill, by then at Aston Villa. On his debut for the Villans, Heskey scored the only goal in a 1-0 win against Portsmouth, though he'd manage only one other score in his next 13 games. At the start fo his first full season with Aston Villa, Heskey was used mostly as a substitute, though three goals in five games in a December run had O'Neill speaking of increased playing time leading up to the World Cup.
International/World Cup Experience
Emile Heskey began playing for the English youth squads for years, eventually making his senior debut in April 1999 in a friendly against Hungary. His first several games for the full side saw little output on the field, though he continued to excel on the U-23 side. His first goal for the senior team came on June 3, 2000, in a friendly against Malta, and he was rewarded with two substitute appearances at the European Championship later that month.
Heskey became a more regular addition to the side by the time of qualifiers for the 2002 World Cup, and the striker featured in seven qualifying matches late in the campaign. He scored once in those seven matches, in a 5-1 win against Germany in the final game for qualification on Sept. 1, 2001. But in June's finals in South Korea, Heskey played mostly as a left winger, exposing his flaws and drawing heavy criticism for his play. He did manage one goal, in a 3-0 win against Denmark in the Round of 16, and started all five games, but he left an unpopular figure to England fans.
His next major tournament was another disappointment, after his appearance in the opening match against France proved to be his last for more than three years. Even in qualifying, Heskey had struggled to find form, making the roster for seven games but playing only four and starting just once. After he came up short in two international competitions, England manager Sven-Goran Eriksson left Heskey out of his squads for the 2006 World Cup qualifying campaign and the finals themselves.
So Heskey's next England cap didn't come until September 2007, when he appeared in two Euro 2008 qualifiers. With star striker Wayne Rooney hurt, new manager Steve Mc Claren decided to recall Heskey to the offense. After he helped set up several goals in both games -- 3-0 wins for England -- many called for Mc Claren to keep Heskey in the squad despite Rooney's return. A broken metatarsal suffered at Wigan made that a moot point, but it seemed Heskey might have redeemed his English reputation.
When Fabio Capello became the new manager of the squad in late 2008, he used numerous players in his first several games, attempting to find his favored lineup. Heskey's first shot came as a halftime substitute in an August friendly against the Czech Republic, almost 11 months since his previous start. All combined, Heskey had played only two competitive matches in more than four years by the time he began the World Cup qualifying campaign.
But Heskey had become a favorite selection for Capello, pairing with Rooney as the young striker's target man, and Heskey made six starts in England's qualification campaign, earning his 50th cap for England in the process. But he scored only once, in a 4-0 win on June 6, 2009, and several pundits questioned Capello's reliance on a striker who doesn't score. Despite the questions, it seems Capello will look to Heskey for England's opening match in South Africa.
Personal
Emile Heskey's middle name is "Ivanhoe," named after Sir Walter's Scott's 1819 novel, his father's favorite book.
Heskey has five children: two with current fiancee, Chantelle Tagoe, and three from former partner Kylee Pinsent.