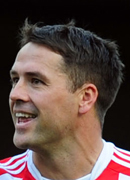 Overview
Michael Owen is a striker for the England national team, currently playing in the Barclays Premier League with Manchester United. Owen gained fame as an 18-year-old when scoring against Argentina at the 1998 World Cup, and has since played for three Premiership clubs along with Real Madrid in Spain's La Liga. In 2001, Owen helped Liverpool FC win the FA and UEFA Cups and was awarded the "Ballon d'Or," an honor presented each December by France Football magazine to the European Footballer of the Year.
Early Years
Michael Owen was born on December 14, 1979 in Chester, in Cheshire, England, and grew up in Howarden in Clwyd, Wales. Owen's father Terry played professional soccer in England, and young Michael proved talented in the sport at an early age. After attending the England FA's School of Excellence, Owen signed with Liverpool FC at age 16 and was among the youth side's top goalscorers on its run to winning the FA Youth Cup in 1996.
Professional/Club Career
Michael Owen made his debut for Liverpool FC's first team in May of 1997, scoring a goal in a match against Wimbledon. He played more regularly the next season, when he scored 18 goals and was named as the Premiership's Young Player of the Year for 1997-98 as well as BBC's Sports Personality of the Year in 1998.
Owen's reputation as one of Europe's top strikers was enhanced during the 2000-01 season, when Liverpool claimed three competition trophies. Owen scored two late goals to lead Liverpool past Arsenal in the FA Cup final. Liverpool also defeated Manchester United in the Worthington Cup final and claimed the UEFA Cup trophy that season as well, with Owen named Premiership's Player of the Year (by the Football Writers Association) and also awarded the "Ballon d'Or" as European Footballer of the Year for 2001.
After eight years with Liverpool, Owen left Anfield in August 2004 to sign for Real Madrid to play in Spain's La Liga. Lasting only one season in Madrid, Owen notched 13 goals in 22 starts for Real, before making a return to the Premier League by signing with Newcastle United.
Owen started well with Newcastle by scoring seven goals in a ten-game stretch midway through the 2005-06 season. But he suffered a bone fracture in his foot during a late December match, forcing him to the sidelines for the rest of the season. Further injuries marked Owen's time at Newcastle, with the striker scoring 29 goals in only 65 starts for the club over four seasons.
When his contract with Newcastle expired in the summer of 2009, Owen was signed on a free transfer by Manchester United. In one of his first appearances at Old Trafford, Owen scored the winning goal in the 96th minute in Manchester United's dramatic derby win over Manchester City.
International/World Cup Experience
After scoring three goals for England at FIFA's World Youth Championships in Malaysia in 1997, Michael Owen made his international debut for England's senior team in February of 1998 in a match against Chile. With the appearance, Owen become (at the time) the youngest-ever player to be capped for England's national squad.
The 18-year-old Owen made England's squad for the 1998 World Cup in France, and scored one of the more memorable goals from that tournament. In a Round of 16 match, he scored after a mazy run through the Argentina defense during the dramatic encounter that saw England eliminated on penalty kicks.
During qualifying play for the 2002 World Cup, Owen scored a hat-trick for England in a 5-1 win over Germany in Munich. Owen went on to score two goals for his country at the 2002 World Cup, including the lone strike for England in its 2-1 loss to Brazil in the quarterfinals.
At UEFA's 2004 European Championships in Portugal, Owen failed to score a goal in three group-stage matches for England (but did register one assist). Owen then hit the net for a goal against hosts Portugal in the quarterfinals, but the Three Lions were again eliminated from a major competition on penalty kicks.
Owen was again a regular for England's team at the 2006 World Cup in Germany, but the injury-prone striker suffered a torn cruciate knee ligament in his side's third group match against Sweden, missing the rest of the finals.
The injury sidelined Owen for almost one year, but he returned to the England squad during qualifying play for the 2008 European Championships. England did not advance through qualifying for that tournament, but Owen's country has qualified for the 2010 World Cup in South Africa by capturing Europe's Group Six.
Overall, Owen has made over 85 appearances with the England national team.
Personal
Michael Owen married Louise Bonsall in June 2005, and has three children. Owen's father Terry also played professional soccer in England, as a member of the Everton, Bradford City and Chester City clubs.
When scoring twice against Russia in a September 2007 match, Owen became the first player to score international goals at both the old and new Wembley Stadiums.
Owen has appeared in promotions and advertisements for a number of companies, including Nestle, Jaguar and Pro Evolution Soccer.