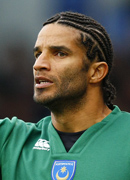 Overview
David Benjamin James is an English goalkeeper, currently playing for Portsmouth FC in the English Premier League. James currently holds the record for most Premier League appearances, contained in a career that spans almost two decades in the top flight. James -- though known as "Calamity James" for several high-profile gaffes throughout his career -- also holds the record for most Premier League clean sheets.
Early Years
David James was born Aug. 1, 1970, in Welwyn Garden City, England. Born the seventh of eight children, James moved with his family to Jamaica shortly after his first birthday. When his parents separated, he and one of his brothers returned to England to live with his maternal grandparents. James started playing football in primary school.
James also competed in athletics, setting a new record in the triple jump during his first year at the school. James has said he would calculate times or measurements he'd need to get to break school records by studied a "records board" the school posted in the gym. He has said this led to his later fascination with his Premier League statistics and records.
In 1985, James signed on with Watford FC in their youth training system after he was spotted by the club at the age of 13. When he studied with the academy, the youth coach would pick him up and drive hi to training because James' mother couldn't drive.
In 1989, James and the youth squad won the FA Youth Cup, beating Manchester City 2-1 in the final.
Club Career
David James made his first-team debut for Watford in 1990, where he became the top keeper for the Division Two side. James made 98 appearances in his two years with the club before signing with Premier League side Liverpool in July 1992.
James' deal with Liverpool was worth 1.3 million pounds, and he began starting in goal immediately. A run of poor performances saw him benched that winter in favor of more veteran keepers, though he eventually regained the starter's role late in the season but never seemed to earn the manager's trust. When Roy Evans joined the club as manager in 1994, James was given a resurgence as veteran keeper Bruce Grobelaar retired. James was the regular No. 1 for Liverpool in 1994-95, and he won his first medal with a win in the League Cup that season.
Between February 1994 and February 1998, James set a record for consecutive appearances in the Premier League with 159. That mark eventually was broken by Chelsea midfielder Frank Lampard. In 1999, after 279 appearances for the Reds, James was sold to Aston Villa.
But he likely will be most remembered for his biggest mistake for Villa, though, when an error in the 2000 FA Cup final allowed Chelsea midfielder Roberto Di Matteo to score from close range the only goal of the 1-0 Blues win. After one more season with Villa, James was on the move again, this time in a 3.5 million pound switch to London-based West Ham United.
His next two years were spent with West Ham, though his second season at the club saw United relegated to the Championship with a 10-12-16 record. James played with West Ham in the Championship through January 2004, when he moved to Manchester City for an undisclosed fee.
After starting 17 games to close out the 2003-04 season, James went on to play every league game for City during the next two seasons, recording more than 180 Premier League saves in each. In August 2006, James moved to Portsmouth FC after requesting a transfer to be closer to his sons and girlfriend, who lived in south England.
James recorded 261 saves in his first season with Portsmouth, again playing every regular season match. A nil-nil draw against Aston Villa on April 22, 2007, broke former England keeper David Seaman's record and gave James his 142nd Premier League clean sheet.
The following season, James' streak of league matches ended, with the keeper missing the final three games of the 2007-08 season. But James had again set the record for consecutive appearances, this time at 166. Aston Villa's Brad Friedel later broke that record. James and Portsmouth won the FA Cup at the end of the year, qualifying Portsmouth for European play for the first time in club history.
During the 2008-09 season, James made 46 starts in all competitions, recording 160 saves, and he sat a new record for Premier League appearances in a match in February 2009, playing in his 536th game. Amid the financial troubles embedding Portsmouth during the 2009-10 season, James has been linked with moves away from Fratton Park, but the keeper has been adamant and vocal in his desire to stay with the club and belief they won't be relegated.
International/World Cup Experience
David James premiered with the England U-21 side in 1990, earning 10 caps for the squad and playing in the next year's European Championships qualifiers. His first-team debut didn't come for several years after, though, with Glen Hoddle calling James up for a friendly against Mexico on March 29, 1997. England won 2-0, but James wouldn't play for England again for three and a half years.
James traveled with England to the World Cup in 2002, but, as the third-choice keeper, he never made an appearance. So his first international tournament involvement came two years later, when he started every game during England's Euro 2004 campaign. But despite promising performances in Euros, James was cut from the squad after costly errors in a 2006 World Cup qualifier against Austria wasted a 2-0 lead from England.
In the next four years, James would make only five England appearances, and one of them was as disastrous as his last appearance. Coming on as a halftime substitute in a friendly against Denmark in 2005, James gave up three goals and later admitted to not being "properly prepared" for the match.
When Steve McClaren joined the team as manager, he dropped James in favor of younger English keepers, but Fabio Capello's appointment in 2008 brought James back to the squad, and the keeper even started Capello's first game in charge, a 2-1 win against Switzerland in February. In the months that followed, James played in six qualifiers for the 2010 FIFA World Cup, going 5-1-1 while allowing six goals.
James was backed and fully expected to take over the position fo the No. 1 goalkeeper in South Africa, even receiving the No. 1 jersey. But before England's opening game against the United States, coach Fabio Capello announced that Robert Green would start for the Three Lions. A huge gaffe by Green which gifted the U.S. a goal and a draw eventually saw James reclaim the starting keeper spot, which he would retain for the rest of the tournament.
James played in both of England's remaining group games, keeping clean sheets in both, and in England's Round of 16 matchup against Germany. A 4-1 rout, the loss could not be placed on James' shoulders, though on occasions he did make plays called into question by the pundits later. By starting his first finals game against Algeria, James became the oldest-ever World Cup debutant at 39.
Personal
David James has four sons who live with their mother in south England. James and his wife separated in 2003. He has since been dating a woman with whom he went to school. They live together in Devon, England.
James writes a weekly column and blog for The Observer newspaper, the fee for which he donates to charity. The column, usually articulate and forthcoming about relevant topics, has made James well-known and well-liked to many readers.
In 2003, James accepted an invitation to attend training sessions with the Miami Dolphins. James went through running, passing and throwing drills and took "crash courses" in learning the quarterback, wide receiver and kicker positions. He has since said he believes football should adopt training techniques from the NFL.
James created the David James Foundation, which aids Malawian farmers with production and learning the most efficient techniques, in 2005 after visiting the country with several other footballers. James also is an ambassador for the Special Olympics.