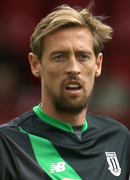 Overview
Peter Crouch is a striker for the England national team, who currently plays for Tottenham Hotspur in the English Premier League. At 6ft 7 in, Crouch is the tallest player ever to appear on the English national team. Crouch is probably best known for his height and his 2006 post-goal celebrations, which featured "The Robot" dance.
Early Years
Peter Crouch was born Jan. 30, 1981, in Macclesfield, Cheshire, but the family moved to London shortly after. Crouch's father's work sent the family to Singapore before his fourth birthday, where they spent the next year before returning to London. Crouch began playing with the North London-based Tottenham Hotspur as a trainee in high school. He signed a contract with Spurs in 1998 but never appeared in a match during his first two-year stay.
Club Career
Peter Crouch has played at 11 clubs in his 11-year career, including early stays at Queens Park Rangers, Portsmouth and Aston Villa, but he began his rise to prominence in 2004 with Southampton. Crouch scored 16 goals in 33 appearances for the side and caught the eye of Liverpool manager Rafael Benitez.
Crouch joined Liverpool in 2005 for 7 million pounds and became one of their top strikers the next season, scoring 18 goals in 48 appearances for the Reds. He won an FA Cup with Liverpool in 2006, scoring three goals in the competition and recording an assist in the finals. But in 2007-08, Crouch fell out of favor for the Reds, making only nine Premier League starts, though he still managed 11 goals in all competitions.
Crouch then was sold to Harry Redknapp, who had coached Crouch at Southampton, to play for Portsmouth in 2008-09. He started every league game of the season, scoring 11 goals. When Redknapp accepted a position to coach Tottenham the next season, he again recruited Crouch, who made his return to North London.
International/World Cup Experience
Peter Crouch debuted on England's U-20 team in 1999, making 10 appearances and one score. He made his senior team debut almost six years later, in a friendly in 2005, and since then has played a peripheral role on the England attack.
Crouch's first World Cup appearance came in the 2006 finals, when he recorded one goal in two starts and two substituted appearances. With several goals in qualifiers for Euro 2008, as well, Crouch became the first player in England history to score 10 goals in one calendar year, netting 11 in 2006.
In 2010 qualifiers, Crouch netted four goals in as many appearances to help carry England through direct qualification to the World Cup finals.
In 36 career appearances -- and only 19 starts -- Crouch has recorded 18 goals.
Personal
Peter Crouch is possibly best known for his robotic dance goal celebrations, which he made famous during the 2006 World Cup qualifiers. After scoring against Hungary and Jamaica, Crouch celebrated by doing the robot, leading to a new wide-spread nickname " Robo Crouch." He has since stated he won't do the dance again until England win a World Cup.
Crouch is engaged to British lingerie and catwalk model Abigail Clancy, whom he began dating in 2005.