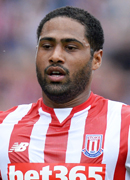 Overview
Glen Mc Leod Cooper Johnson is an attacking right-back and England international currently playing at Liverpool in the English Premier League. Johnson is known for his ability up and down the flank and has become one of the premier defenders in English soccer.
Early Years
Glen Johnson was born Aug. 23, 1984 in Greenwich, Kent in England. Johnson joined the youth program of West Ham United in near-by East London, going on scholarship in the West Ham academy at 14. Johnson remained with the academy until he was signed to a full deal with West Ham in 2002.
Club Career
After signing with West Ham in 2002, Glen Johnson was loaned out to League One-side Milwall to gain some first-team playing time. Johnson made his League debut in October of that year, starting seven games in the next three months, before retuning to West Ham in January.
Johnson saw his first-team debut on West Ham in January 2003 and started most of the squad's league games through the end of the season, but United were relegated to the Championship for the next year.
Searching for first division soccer, Johnson became the first signing of Chelsea's Roman Abramovich era, joining Chelsea for 6 million pounds in July of 2003. He made his debut for Chelsea that August and earned significant playing time throughout the season. Johnson also recorded four goals for the Blues, cementing his ability as an attacking back.
In the next two seasons, Johnson won the Premier League title twice with Chelsea, but upon Jose Mourinho's arrival as manager in 2005, Johnson's playing time dropped. Fall-outs with the manager led to his being loaned to Portsmouth at the end of the season, having played only eight league games in the season.
Johnson excelled at Portsmouth, quickly becoming a fan favorite and starting 25 league games. The deal became permanent at the end of the season, with Johnson signing a four-year contract with manager Harry Redknapp. In the 2007-08 season, Johnson again garnered significant playing time and helped carry the squad to its first FA Cup championship since 1939. Johnson started all six games of the campaign.
During the 2008-09 season, Johnson again was a stalwart in the Portsmouth defense, starting 36 games in all competitions. He was named to the Professional Football Association's Team of the Year for right-back, and a long-distance left-footed strike against Hull on Nov. 22 was named Match of the Day's Goal of the Season.
With his success at Portsmouth, Johnson caught the eye of several other managers, particularly Liverpool's Rafael Benitez. Benitez offered 17 million pounds to buy Johnson, a bid then topped by Chelsea, who wanted to see him return to North London. Portsmouth's owners allowed Johnson to decide where he'd play, and his move to Liverpool was finalized in July of 2009.
International/World Cup Experience
Glen Johnson began his international career with England's youth teams, playing with the U-19 and U-21 teams during his time at West Ham.
But his first foray into international soccer didn't go as well as he'd hoped. Only a few weeks after debuting for the U-21 team, Johnson made his senior team debut, coming in as a substitute in a 4-1 defeat to Denmark in November 2003. Shortly after, Johnson was sent home from a camp for the U-21 side for a lack of enthusiasm and professionalism.
Johnson only played in three games in the next four years, staying mostly outside of England's roster until Fabio Capello joined the team in 2008. Capello was immediately impressed with Johnson and placed him as the regular right-back for England's World Cup qualifiers. A qualifier against Kazakhstan on Oct. 11 marked not only Johnson's 20th cap, but also his ninth consecutive start under Capello.
Personal
In 2007, Glen Johnson opened the Glen Johnson Soccer Schools in his hometown of Dartford, Kent, created for children aged four to 16. The schools include everything from after-school clubs to weekend trainings for young players. One of Johnson's students has since been recruited to West Ham's academy teams.
On Jan. 18, 2007, Johnson was arrested for attempting to steal bathroom accessories out of a B&Q home improvement store near Portsmouth. Johnson, as well as Milwall striker Ben May, reportedly put a toilet seat in a box with a less expensive price tag and also tried to hide a set of bathroom taps to avoid paying for them. Both were fined 70 pounds for the incident.
Johnson has since said that May didn't know the seat they swapped out was more expensive and that they offered to pay the difference in price after they were told of the error. Johnson also said they paid the fine not to admit guilt but to avoid the hassle of going to court.