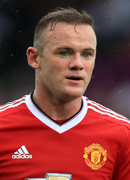 Overview
Wayne Mark Rooney is an English international striker, currently playing professionally for Manchester United in the English Premier League. Rooney, twice named the Professional Footballers' Association's Young Player of the Year, also holds the record as the youngest player ever to score for the English national team. He was England's leading scorer with nine goals during the qualifiers for the 2010 FIFA World Cup.
Early Years
Wayne Rooney was born Oct. 24, 1985, in Croxteth, Liverpool. Not far from Everton FC, Rooney grew up a Blues fan and joined their youth academy at a very young age. Rooney rose through the ranks quickly and Everton before playing two years with the U-19 and reserve squads (at the age of 15). During the 2001-02 FA Youth Cup campaign, Rooney scored eight goals in as many games in helping Everton to the finals.
In a U-9 academy game against Manchester United, Rooney once scored six goals in a thrashing by Everton -- a game the Man U coaches remembered years later when signing Rooney to a contract.
Club Career
Wayne Rooney made his professional debut for Everton at only 16, starting a Premier League match in August 2002. Rooney recorded an assist in the match. Only a few months later, on Oct. 19, 2002, Rooney became the youngest goalscorer in the history of the Premier League, netting a 90th minute shot against Arsenal five days before his 17th birthday. The goal also ended a 30-game unbeaten streak by defending champions Arsenal. The record has since been surpassed.
After making waves with his first goal, Rooney netted seven others in 37 total appearances for Everton in his first season. During his second season, Rooney increased his tally to nine. Following the season, rumors began to grow that Rooney wanted to leave Everton to seek European football.
Sure enough, it was announced on Aug. 31, 2004, that Rooney would transfer to Manchester United for 30 million pounds, making the striker the world's most expensive teenager to date. Rooney didn't take long to make an impact -- scoring a hat-trick in his debut, a Champions' League match against Fenerbahce.
By the end of the season, Rooney had amassed 17 goals in 43 appearances and was named PFA's Young Player of the Year. The following season, despite missing the final month of the season with a metatarsal injury, the striker managed 19 goals and 14 assists on the season, repeating as Young Player of the Year and adding Man U's fan-voted award, Sir Matt Busby Player of the Year.
During the 2006-07 season, Rooney netted 23 goals, with 14 assists, as Manchester United won its first league title in four years and doubled with the Carling Cup. As Man U won its second title and the Champions League in the next season, Rooney continued his offensive output, recording18 goals -- including three braces -- and again recording 14 assists.
In September 2008, Rooney became the youngest player in Premier League history to make 200 league appearances. That season, he scored 17 goals -- that included a run of five straight league games with a score -- as Manchester United won the league for the third time. Rooney's three goals in the FIFA Club World Cup semifinals and finals also secured the title for the Reds.
On Aug. 22, 2009, Rooney scored his 100th and 101st goals for Manchester United in a 5-0 rout of Wigan, only the 20th player for the club to reach the milestone.
Rooney suffered an ankle sprain in a Champions League semifinal match against Bayern Munich on March 30, 2010. He is expected to miss two to four weeks with the injury, though most pundits believed he would be back to full health by the end of the Premier League season and in time for the World Cup in June.
International/World Cup Experience
Wayne Rooney played through England's youth ranks as a child, appearing for virtually every England youth side, before making his full-team debut in 2003.
On Feb. 12, Rooney became the youngest-ever player to appear for England, aged 17 years and 111 days, when he came on as a halftime substitute in a friendly against Australia. Striker Theo Walcott later surpassed this record by 36 days. Later that year, Rooney's first goal made him the youngest goalscorer for the national side. At 17 years 317 days, Rooney scored in a Euro 2004 qualifier against Macedonia.
Rooney was one of the most prolific playmakers at the European Championships, scoring four times in his first three games. Despite breaking a bone in his foot during the quarterfinal match that saw England knocked out, Rooney's performances were enough to catch the attention of the nation -- and Manchester United.
Rooney's England appearances continued, and he played in seven of the squad's qualifiers for the 2006 World Cup, and after recovering from a metatarsal injury just six weeks before the finals, started at striker for the Three Lions in Germany. But Rooney's World Cup was noted more for his sending-off against Portugal than any offensive prowess -- during the quarterfinal match, Rooney stomped on Ricardo Carvalho and was shown a straight red card. England lost the match in a penalty kick shootout.
Following England's omission from the Euro 2008 finals, Rooney's next competitive appearances came during the run-up to the 2010 FIFA World Cup, following shortly after his being named England's Player of the Year by a fan vote. Rooney started nine of England's 10 qualifiers, leading all England players with nine goals. His 50th cap for the Three Lions came during a qualifier against Ukraine on April 1, 2009, and his 25th goal came shortly after, against Croatia on Sept. 9.
Rooney was expected to be one of the star's of the 2010 World Cup and held almost single-handedly England's hopes for Cup glory. But Rooney was one of the biggest disappointments of the entire tournament, failing to score a single goal or even threaten on attack in England's four games. Rooney was sluggish and seemed only half-involved in most of England's play, failing to make any of his signature runs into the box or the goal poaching for which he had become known.
He made headlines when, after a dour 0-0 draw against Algeria, he looked into a television camera and criticized fans who were booing the English performance, sarcastically lauding them as "loyal supporters." Rooney came under further criticism, especially considering his poor performances, for the comments and later apologized.
Personal
Wayne Rooney has two younger brothers, John and Graeme, both of whom have played football. John, five years younger, currently plays on contract at League Two side Macclesfield Town, but his rapidly improving play has earned him the attention of higher-division managers. Graeme, like both of his brothers, previously played at the Everton academy but gave it up to pursue boxing.
On June 14, 2008, Rooney married longtime girlfriend Coleen Mc Loughlin, whom he had been dating since the pair were 14. In a wedding that cost more than 5 million pounds, the Rooneys sold photography rights to tabloid OK! magazine to pay for almost half that. Rooney had proposed five years earlier, in 2003. In November 2009, Coleen gave birth to the couple's first child, a son named Kai.
In December 2002, Rooney was named BBC's Young Sports Personality of the Year.