2010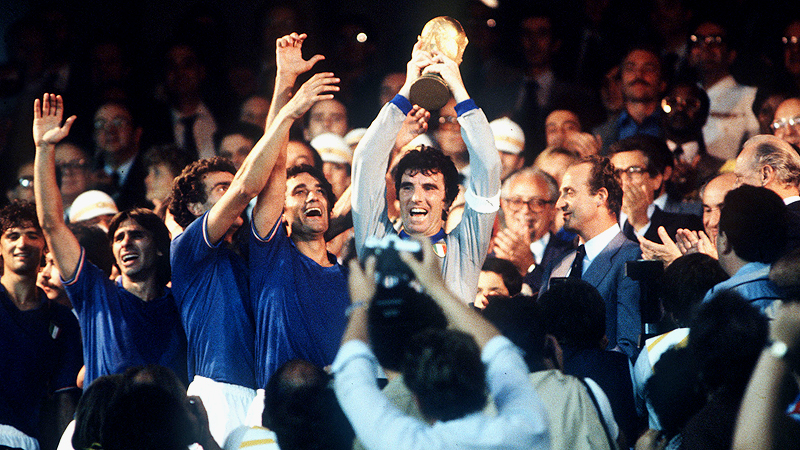 GettyImagesItaly end a 44-year wait for glory on this day in 1982
The first World Cup Final ever held in Africa. At the Soccer City stadium, Johannesburg, venue of the tournament's opening match.
1982
Italy won the World Cup for the first time in 44 years. It was always on the cards after their great win over Brazil, and they could afford a giveaway first half and still beat West Germany easily in the Final. Already without their skilful playmaker Giancarlo Antognoni, they lost centre forward Francesco Graziani early on, missed a penalty through Antonio Cabrini - then scored three goals in the second half. Paolo Rossi, the scourge of Brazil, headed the first, which meant he'd scored Italy's last six. Quite a comeback from suspension for match-fixing.
Marco Tardelli got the second before setting off on the most memorable celebration in any televised match, all fists and larynx. Lanky sub Alessandro Altobelli made it 3-0 before Paul Breitner scored West Germany's late consolation. Italy won the trophy with a wide age range (goalkeeper-captain Dino Zoff was 40, defender Giuseppe Bergomi 18) and by beating the world champions, the tournament favourites, and now the European champions. It only remained for the Spanish police to use their batons one last time, on the photographers shooting the presentation!
1966
The opening ceremony and opening match in England's World Cup. Historic occasion though it was, not everyone was deeply impressed. Although nearly 88,000 tickets were sold, only 75,000 people turned up. Maybe they knew what was coming. Uruguay used a sweeper behind a back four, and everyone else in withdrawn positions, including their two most creative players - a web the England players rarely looked like breaking. When they did, bodychecks and knee-high tackles came into play. Any optimism England fans may have had was well doused. Still, the only way was up. All the way to lifting the trophy.
Talking of which, the one England paraded after the Final was the real thing, yes? Well, no. Bobby Moore received the actual trophy, but it was immediately swapped for a sub. True story. After the World Cup had been stolen and found before the tournament began, the FA had a replica made. On this day in 1997, it sold at Sotheby's for £254,000! The fake trophy was made by goldsmith George Bird, who then kept it under his bed for 27 years. The World Cup version of the Man in the Iron Mask.
1998
Another 3rd-Place Final that made someone top scorer after his team had been knocked out. Back in 1958, Just Fontaine set an unapproachable record by scoring four against West Germany. Today Croatia, in their first World Cup finals as a separate country, showed less disappointment over their semi-final defeat by hosts France than Holland did over their shoot-out shocker against Brazil. All three goals came in the first half. Boudewijn Zenden equalised with a convulsive left-footer, but Davor Šuker scored his sixth goal of the tournament with a first-time ground shot. Meanwhile Italy's Christian Vieri scored five, all from open play, in four matches. Fair's not the word.
1977
The day after his birthday, Don Revie resigned as England manager. He and his wife "agreed the job was no longer worth all the aggravation". The following day, he revealed that he'd agreed to work in the United Arab Emirates for an annual tax-free salary of £60,000 plus bonuses. A huge amount at the time, it led to the nickname Don Readies. He left the England team with an uphill task to qualify, which new manager Ron Greenwood couldn't manage. A dreadful 2-0 win in Luxembourg left them too much to do, and a win by the same score against Italy at Wembley wasn't enough when the Italians won their last match easily. Revie, the man who took Leeds United to the top, was banned from English football for ten years, but this was quashed by a court ruling which cost the FA £141,000. Revie died of motor neurone disease in 1989. The FA didn't send anyone to the funeral or arrange a minute's silence.
2008
A managerial appointment this time. After two spells as Alex Ferguson's second-in-command at Manchester United, Carlos Queiroz took over as national coach of Portugal. In his second World Cup match in charge, the team went 2-1 up with only four minutes to go - but still lost 3-2 at home to Denmark. Portugal recovered to qualify through the play-offs, beating Bosnia 1-0 in each leg.
1958
Hugo Sánchez was born in Mexico City and grew into his country's most famous player - and biggest World Cup disappointment. He was only 19 in 1978, and he was playing in a desperately poor side (Mexico lost all three matches, including one to Tunisia and 6-0 to champions West Germany), but he still disappeared rather too easily. Eight years later, when the finals were held at home, he began by heading the winner in the opening match but missed a penalty in the second and didn't take one in the quarter-final, when Mexico were eliminated without losing a match. He played in Mexico's opening match of the 1994 finals, but wasn't seen again after the defeat by Norway.
By playing only the first minute of a match arranged in his honour, he had an international career that lasted 20 years. A folk hero at Real Madrid, Sánchez was league top scorer four years in a row, and his total of 38 in 1989-90 gave him a share of Europe's Golden Boot. He helped Real retain the UEFA Cup in 1986, scoring in the Final against Cologne. As national coach, he took Mexico to the Final of the 2007 CONCACAF Gold Cup, which they lost after taking the lead. He was sacked the following year and replaced by Sven-Göran Eriksson, who was definitely no improvement.