Asian teams growing in stature
June 26, 2010
Two out of the four Asian teams at the World Cup finals have made it through the group stage. That is wonderful news indeed for football in the region.
no_source / Lars Baron/Getty ImagesLee Jung-Soo celebrates with team-mates after scoring the equaliser against Nigeria.
After South Korea's somewhat shaky draw against Nigeria and Japan's spectacular demolition job against Denmark, the success ratio of 50% comes as a boost, especially given that the corresponding ratio at the last World Cup in Germany was 0%.
It is also the only time, other than the home World Cup in South Korea and Japan, that both nations have made it to the last 16 together, with these foreign exploits coming to show that those results were far from freak occurrences.
AFC President Mohamed Bin Hammam was certainly thrilled with his continent's charge in South Africa, saying: "Their achievements have made millions of Asians proud. It has also underlined the calibre of Asian football. The whole of Asia is behind its teams."
Indeed, long gone are the days when Asian teams used to be the exotic whipping boys of the World Cup. There can be no doubt that the future of Asian football is now. The continent has begun producing top-class players at some of the best clubs in Europe, and national teams are becoming increasingly confident. It has validated the question of whether Asia deserves more than just four qualifying spots. The performance of the Asian teams in the group stages in South Africa seems to suggest that the answer is a resounding yes.
When I talked to then-Qatar coach Jorge Fossati at the very start of Asian qualifying for this World Cup, he said: "I cannot understand why, now that Australia has come to join the Asian Federation, we still only have the same number of qualifying spaces available."
The Uruguayan may just have been right, but qualifying spots matter little right now. Curiously, the now of Asian football is also Uruguay. The first Asian team to qualify for the knockout stages, and also the first to begin the second round against Uruguay, are South Korea.
Before the start of the tournament I predicted mighty things from the men in red, and they certainly delivered on the opening day, dismantling Greece with a 2-0 win. Manchester United's Park Ji-Sung added the final touch to a solid, if not spectacular performance against the Euro 2004 winners.
Next up were Argentina's Diego Maradona. Suffice to say that El Pelusa stole the show with his dazzling array of attacking options, but South Korea were much too passive and respectful of their opponents. Even so, at 2-1 down the South Koreans missed a great chance to level the game. A little more self-belief might have brought about more than the eventual 4-1 loss.
The final group game against Nigeria was indeed a somewhat shaky affair, with the South Koreans edging through by the narrowest of margins and thanks in part to some astonishing misses on the part of the Africans. That fact though does not discount the Taeguk Warriors' campaign - just look at the problems England and Spain had in securing their qualification.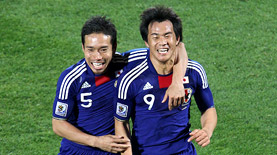 no_source / Phil Cole/Getty ImagesShinji Okazaki of Japan celebrates scoring his team's third against Denmark.
The positive aspects were certainly South Korea's fighting spirit after going a goal down, as well as their new-found free-kick prowess during the tournament. Three of four goals from Huh Jung-Moo's men came from set-pieces. The last and decisive effort was a beautifully taken free-kick which Park Chu-Young, a highly promising former Asian Youth Player of the Year, handily curled home to help his side qualify for the next round.
In doing so he became the first player to convert a direct free-kick at this World Cup finals, a fact his coach attributed to a whole lot of practice.
"We trained quite a lot for the free-kick from that position and Park Chu-Young was the one for the free-kick," Huh Jung-moo said at a high-spirited press conference after seeing his side book the clash against Uruguay on Saturday. "Compared to other balls, if you kick it too hard then 80 to 90% of the time it seems to go up in the air, too high. So we trained so that it would be kicked lightly, without hitting it too hard. I think we adapted well to the ball."
Adaption seems to be the key word for the South Korean's campaign so far. Besides showing other countries and players the way to stop whining about a ball which will certainly not be changed mid-tournament, Huh's men have been pragmatic in their approach to each match, and qualified from a tricky group in the process.
The verdict on their tournament so far is a solid performance with room for improvement, which will be necessary against Uruguay. Still, Park and co have shown that they have enough quality to take advantage of a half of the draw that also contains Ghana and USA.
Perhaps even more outstanding has been the form of Japan in the finals, which came as a surprise following their rather mediocre preparations for the tournament. When I talked to Japan coach Takeshi Okada during the qualifying campaign, he spoke about 'Japan football', a Far-Eastern version of the Dutch patent. That label must have seemed somewhat farcical for some observers ahead of the tournament, but Japan have steadily won in confidence during their three matches.
The opening 1-0 win over Cameroon laid the foundations, with Honda snatching the only goal of the game. Honda has been a key figure for the Blue Samurai, living up to the expectations. Against Netherlands a 1-0 loss followed, but signs of top form were beginning to show. Indeed, a late equaliser almost materialised, but as it was the final game against Denmark brought about qualification. And in emphatic fashion.
Honda's spectacular free-kick opener brought Japan on track, and Endo's equally well-taken second from another set-piece put them on course for a 3-1 win and Japan were in ecstasy. The overall record of Asian sides against European teams is 3-3 for the tournament. That goes to show just how confident Asia's top two teams have become. And there are no indications that either South Korea or Japan are content with their achievements so far. "I know this is a really big win for Japan," the ever more impressive Honda said ahead of the crunch clash with Paraguay in Pretoria on Tuesday. "I expected to be really jubilant but I'm not as jubilant as I thought I would be because I don't think we are finished here. I believe we can go further in this competition."
That new-found self belief is indeed the driving force behind this Asian revolution at the World Cup finals. It is indeed fit to call it such: further top performances from Asian sides and players await. Both Uruguay and Paraguay will be warned.