Penalties at the World Cup
June 26, 2010
Forget the gaffes between the sticks that have plagued the group stage of the World Cup. Now is the time the world's top keepers really need to prove their class.
GettyImages / Dominic Barnardt/Getty Images Petr Cech with Oliver Kahn
That's the unanimous view of Oliver Kahn, Petr Cech and Sergio Goycochea, three of the finest shot-stoppers of their generation who took centre stage on Friday to discuss the art of saving penalties and the psychology needed to gain the upper hand.
Germany's Kahn was voted top player at the 2002 World Cup, Cech has played a crucial role in three Premier League title wins with Chelsea and Goycochea's heroics helped take Argentina to the 1990 World Cup final.
All three teamed up at an Adidas function to discuss a range of issues - with shootout tactics at the top of the list now that the drama of penalties enters the equation in the knockout rounds.
Of the 198 penalties in World Cup history, 160 of them have been converted - excluding shootouts. The significance of well-prepared goalkeepers is never more important than at this stage of the tournament. "It's in the knockout stages where having a good goalkeeper will be most important," said Cech. "It's early days and we'll see what will happen. But this is where keepers will be most important. You need to keep your nerve. In shootouts, if you move too early or if your if your decision-making is wrong, you will never save a kick. You need to be mentally stronger than the taker."
But surely penalty shootouts are merely a case of Russian roulette? Not so, says Goycochea. "I used to tell people that it was all down to luck but in fact a good goalkeeper in shootsouts needs talent, skill, strength in the legs and a cool head. I don't like it when I hear people say a shootout is just a lottery."
Kahn, whose shootout heroics won the 2001 Champions League for Bayern Munich against Valencia, also talked up the virtues of thorough preparation. "It is a psychological game between the two of you which is often invisible to the fans. You can read a lot from the kicker's body language, about whether he's afraid.
"You can do a lot with eye contact and you can also irritate the taker with your body language. In a shootout the only one who can lose is the kicker, never the goalkeeper. The goalkeepers here so far have not yet been really tested or had too many opportunities to show their talent."
Khan, who won 86 caps for his country, was inevitably asked about the dearth of English goalkeeping talent, a subject that has picked up steam ahead of Sunday's eagerly awaited last-16 clash between England and Germany. He believes the number of foreign players between the posts at the leading Premier League clubs is the reason why the production line has dried up.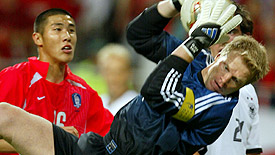 GettyImages / Greg Wood/AFP/Getty ImagesAs a player Oliver Kahn was widely regarded as Germany's greatest ever goalkeeper
"England had a great tradition of goalkeepers like Peter Shilton, Ray Clemence, David Seaman and, going further back, Gordon Banks," said 41-year-old Kahn, who played in both the 2002 and 2006 World Cups and gained the nickname King Kahn for his shot-stopping.
"Now, in England you have a situation where many foreign goalkeepers are playing for the top clubs like Manchester United, Chelsea, Liverpool and Arsenal. That makes it very difficult for them to develop an English goalkeeper into a No.1 world-class keeper."
Robert Green's gaffe in England's opening game against the United States, when he let a shot from Clint Dempsey sqiurm through his hands, is one of the most talked-about of all the goalkeeping howlers so far in the competition. Although David James has since taken over, Kahn fears for England if another shootout occurs on Sunday, with the drama of Germany's nail-biting triumphs of Euro 96 and Italia 90 still fresh in the memory.
Incredibly Manuel Neuer - who replaced the injured Rene Adler as first choice - has saved four of his last 10 spot-kicks. Not only that. The three goalies in Germany's squad have collectively kept out 15 of their last 27 penalties compared to England's three out of 26. No wonder Kahn feels his country could have the psychological edge even if England triumphed 3-2 the last time they met, in Berlin.
"In Germany it is different from England," said Kahn. "Bayern Munich, for example, has a policy that Germany's No.1 goalkeeper needs to be in their team and there are many German goalkeepers playing in the Bundesliga.
"Neuer is still a very young goalkeeper. He's had many positive experiences and few negative ones to look back on. He became a European Champion with the Under-21s and is full of self-confidence. He sees himself positively and as a winner.
"England are a very experienced side with many top stars from the Premier League. Germany are a young inexperienced team, but they do play a lovely game of passing football, which is actually not quite typical of Germany. It's going to be a classic battle."