Fresh from mocking the action in this season's Premier League, the Fifth Official returns to point the finger and laugh at events in South Africa this summer.
Here come the goals. Err, not.
GettyImages / AlexLiveseyGermany surprisingly claim "the most entertaining team to watch so far" award
• Hush: Stuttering start for Africa
• Carter: Best of the round
• Hubbard: Tactical review
Thank heavens for Germany. I bet you weren't expecting that as my opening gambit after a first round that was more electrocuting than electrifying. Several times - notably during France v Uruguay and Ivory Coast v Portugal - I had to taser my own arm just to stay awake.
And the first game promised so much. On a jolly in Edinburgh I'd just listened to an inebriated local (is there any other type of Scot?) tell me how South Africa didn't have the players to create or score goals when Siphiwe Tshabalala lifted the roof off Soccer City. Never before have I seen an entire country explode with such joy. Such was the noise even the vuvuzela choir was drowned out momentarily. I swiftly informed my new friend he had forfeited his right to an opinion due to his own national team getting nowhere near a World Cup for 12 years. From then on goals have been at a premium. Teams have exhibited brown pants whenever the opposition have come into their half and managers have sent players out to operate a system designed to give their opponents less space than a herd of wildebeest in a shoebox.
Which is why Germany's demolition of Australia was a rare piece of Hollywood-blockbuster-style escapism in an otherwise gritty week of British-council estate dramas. Still, the second round of fixtures will be miles better, as all those teams that stuffed it up first time around look to make amends.
Stick your Vuvuzela up your Jabulani
The only thing annoying me more than the constant drone of vuvuzelas at every single blinking match is the persistent whine of journalists harping on about the constant drone of vuvuzelas. They are starting to emit a sound slightly more high-pitched, but just as infuriating as those plastic trumpets.
Just as bad are the goalkeepers banging on about how terrible life has become now that the Jabulani ball from adidas is displaying freakier moves than Justin Timberlake on amphetamines. Yet in the opening week no goals can be directly attributed to its wobbly flight. The two 'keepers who made clowns of themselves - Algeria's Faouzi Chaouchi and England's Rob Green - can hardly blame the flight of the ball for their 'I'm a duffer get me out of here,' moments can they?
FIFA has decided against banning the vuvuzelas, but there is a precedent here. During Euro '96 bagpipes were banned from grounds after fans of Scotland pitched up and assaulted the ears of the watching public. England got their own back though, by conceding a late goal during their 4-1 win over Holland that knocked their neighbours out of the competition in the group stages. Ahh.
England: From hysteria to hysteria
GettyImagesRob Green: Doing his best to preserve the USA-England "special relationship"
Now perhaps we understand why the FA pays Fabio a bowel-loosening £6 million a year after everything that could go wrong did against USA. And it had all started so well. Those who didn't know better had allowed themselves to be hyped to within an inch of their life by the English press, so when captain Steven Gerrard slotted Emile Heskey's pass after only four minutes, they thought we'd already won the darn thing.
Rob Green quickly disabused them of that silly notion with the gaffe of his life, as did Jamie Carragher with his second half performance, reminding us he's slower than a paraplegic tortoise. Throw in James Milner's nightmare, Ledley King's creaking body failing another road test, and it was an altogether wretched night. The only people delighted were those poisonous tabloid hacks who had been itching to declare war on everyone's favourite Italian.
That is not to belittle USA's performance, which was accomplished and chock full of spirit. But if England do have serious designs on the latter stages, as they keep telling us, they should be murdering the sort of chances that fell to Heskey and Shaun Wright-Phillips Even the old goat Franz Beckenbauer couldn't resist sticking the boot in, saying England were nothing but a long ball team. I'll wager he's still smarting from that 5-1 defeat in Munich in 2001. No-one likes a bitter Kaiser do they?
Bring on the underdogs
In this seemingly never-ending mucky torrent of mediocrity, the only bright notes were delivered by the unfancied teams - South Africa as previously discussed - North Korea and New Zealand, who delighted us with their bright-eyed and bushy-tailed version of underdogism.
We know very little about North Korea's football team, apart from the fact that they aren't great at counting after they sneakily tried to register a striker as a goalkeeper. The man they refer to as their Dear Leader, Kim Jong-Il, may be marching them to the brink of nuclear war and threatening not to broadcast any of their games back home but they won't hear a bad word said about him. Their tactics were like their Dear Leader's approach to foreign policy: quick to defend and even quicker to attack. They briefly rocked Brazil, and grabbed a thoroughly deserved consolation goal.
As for the Kiwis, their game was the one I picked out in my preview as a humdinger and while it may not quite have lived up to that billing, it did deliver a dramatic injury-time leveller and the All Whites' first ever World Cup point. It also provoked the quote of the week, from Slovakia coach Vladimir Weiss, who labelled New Zealand's equaliser a "small sporting tragedy." Nowt like perspective, is there?
Who wants it then?
As I pen this, the shock result of the week has been confirmed, as Switzerland cast aside their notorious neutrality to inflict a hammer blow to Spain's chances of topping the group. Vicente del Bosque's side dominated the match completely but fell apart in the final stages like a one-legged pigeon. Villa and Torres spurned chance after chance, while Gelson Fernandes showed them how it is done with one of the silkiest goals in World Cup history. Switzerland went for the old 'big man draw's keeper then falls over spectacularly as supporting striker kicks defender in head before stabbing ball over line' approach. Spain were the main casualties, but no-one has looked especially good.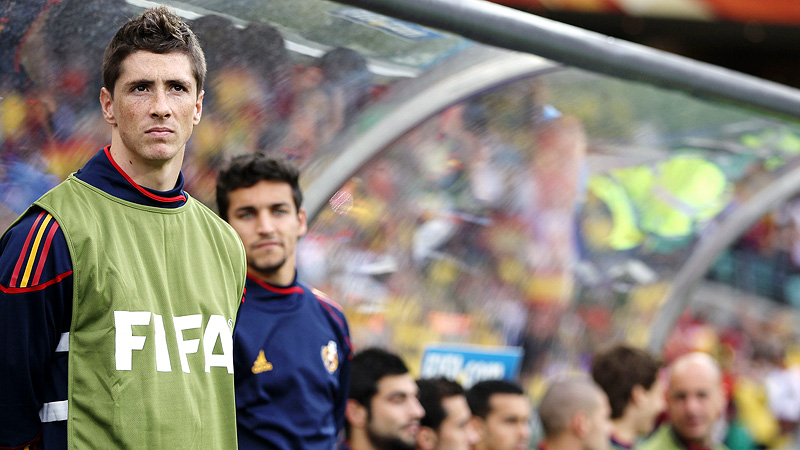 no_source / Doug Pensinger/Getty ImagesJust like Samson, it turns out Fernando Torres' power was locked in his hair
Portugal were rotten against the Ivory Coast, Ronaldo somehow claiming man-of-the-match entirely through one half-decent shot in the first half. If they handed it out based on moaning he'd have been a shoo-in. France were hopeless, as they sink further into the abyss created by Inspector Clouseau aka Raymond Domenech, while Italy looked like a team of pensioners allowed out on day release during their draw with Paraguay.
At least the South American duo, Argentina and Brazil claimed three points, even if they were about as convincing as a three-sided bucket. Maradona's men were as frantic on the field as he is off it and did at least create a host of chances but any backline with Jonas Gutierrez in it is surely a cause for concern. And as for Brazil, they just about held on against plucky Dear Leader, despite offering more sozzle than sizzle. The big teams can only get better, just like the tournament. At this rate, I'm praying for a Germany v Chile final.
As well as Sepp Blatter, you can follow the Fifth Official on Twitter at http://twitter.com/fifthofficial