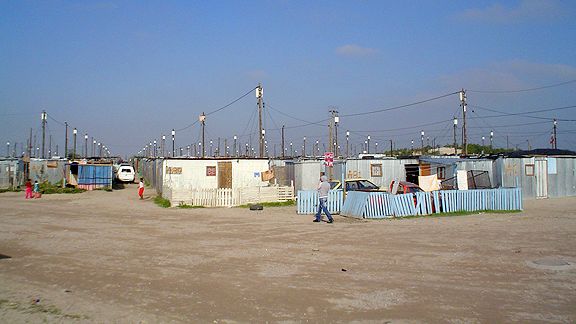 Leander Schaerlaeckens Bikkiesdorp is a ramshackle existence.
BLIKKIESDORP, Cape Town, South Africa -- If Quasim Valentine goes back to the streets of Cape Town, where he is comfortable, he will be thrown in jail.
Valentine, 26, grew up on those streets as an orphan. It's home, even after he's been taken and relocated to Blikkiesdorp, miles from the heart of South Africa's mother city, all because of the World Cup.
Valentine was one of the scores of homeless people swept off the city's downtown streets as part of the pre-World Cup face-lift, scenes witnessed in most of South Africa's host cities in the months before the June 11 opening game. People such as Valentine were moved off the streets and out of slums skirting major World Cup sites and into temporary and less conspicuous camps where no visitor would care to look. In Durban, shacks were demolished. In Johannesburg, the streets were "sanitized" too. Human rights campaigners estimate that at least 1,000 of the very poor were moved in the countrywide scrubbing.
Displacement practices are quite common in the run-up to big events. Estimates put the number of people forcefully relocated for the Olympic Games at 2 million over the last 20 years. But in South Africa, where 95 percent of those living in poverty are nonwhite, relocation brings to mind the apartheid regime's practice of moving blacks and "coloreds" out of cities and into townships by the thousands.
The South African government, however, denies any wrongdoing. "As far as I'm aware, there is no such phenomenon as people being displaced by the World Cup in South Africa," said Ronnie Mamoepa, a spokesman for the Ministry of Home Affairs.
City of Cape Town officials maintain that the move is voluntary and accepted by the homeless, and part of a longer process to help everybody into a home. The city's officials told ESPN.com that there are 400,000 people on its housing waiting list. "Nobody stays in Blikkiesdorp against their will, and they are free to leave if they chose to," said Kylie Hatton, a spokeswoman for the City of Cape Town. "Anybody that makes the accusation that we've moved people there for the World Cup is completely untrue." (The Department of Human Settlements did not return a call seeking comment.)
Valentine begs to differ. "Before, I was living by the stadium, but the social worker sent me out here," he said. "They told me, it was about the 2010 World Cup, they don't want us on the street. That's why they catch us."
Community leaders said more than 100 homeless people were moved into Blikkiesdorp before the World Cup, which corresponds with the 160 spots the City of Cape Town announced it had set aside for them there.
But it seems that Valentine, like most homeless people, was moved against his will. "If I had a choice, I'd go back to the street," he said. "It's better to live there because I grew up on the streets. The people give me food, but not here." But if he goes back, he fears officials will throw him in jail again, like they did the last time, when he spent 30 days in jail. Valentine has been imprisoned a total of eight years for petty crimes, but claims that since his conversion to Islam he no longer engages in criminal behavior. Only the threat of more jail time and the dependence of his girlfriend and her two young children on him keep Valentine from ignoring the judge's orders and returning to the streets once more.
"Some of them went back to the streets because they can't deal with the situation inside Blikkies," said Blikkiesdorp community leader Bern de Kock of the homeless people brought in. "They're not comfortable with the way they used to stay here. They used to say that where they lived they were always full, there were always people reaching out to them. Here, they don't know anybody. Some people had been living up to 15 or 20 years in the street and they don't know anybody here inside Blikkiesdorp. So, for them, it's almost like this is a concentration camp."
Leander Schaerlaeckens Quazim Valentine was relocated from Cape Town to Blikkiesdorp.
Blikkiesdorp -- "blikkies" is Afrikaans for tin cans, "dorp" means village -- isn't the sort of place one chooses to live in, after all. Officially called the Symphony Way Temporary Relocation Area, Blikkiesdorp was built two and a half years ago. The temporary housing project is home to more than 10,000 people in 1,300 carefully aligned tin shacks not much bigger than most American garden sheds, but not nearly as well built. Its citizens had to beg the government to hook them up to the power grid. Leaky roofs and thin walls leave the inhabitants exposed to the elements. There is one toilet and one tap for every four houses -- each occupied by as many as eight people. Diseases and infections spread easily. AIDS, as everywhere in South Africa, is rampant, as is crime. Unemployment is 95 percent.
Blikkiesdorp is so out of the way that earning a living and gathering enough food is extremely difficult. Disenchanted locals try to exercise the "xenophobia tax" on foreigners living there through intimidation and violence, figuring they have more right to what little there is on offer by way of housing.
"The World Cup for me is difficult," Valentine said. "They told us if we come here, they will look after us because they knew where we come from. But we don't have food in our places, we don't have nothing. It's like we are now in a desert. No people, no one's here. We must make our own way how to survive here.
"I try to make my life better here but sometimes it's hard, I didn't know what to do," he said.
The government has given no indication that Blikkiesdorp is a transient place. "It's supposed to be temporary but still nothing is coming," de Kock said of Blikkiesdorp. "If the [government] comes in here, they will only make empty promises to our people.
"If they can spend millions on a stadium, millions on streets and so on," added de Kock, "how come they can't spend millions on proper housing?"
Leander Schaerlaeckens is a soccer writer for ESPN.com. He can be reached at leander.espn@gmail.com.