Keeping the demons at bay
July 8, 2010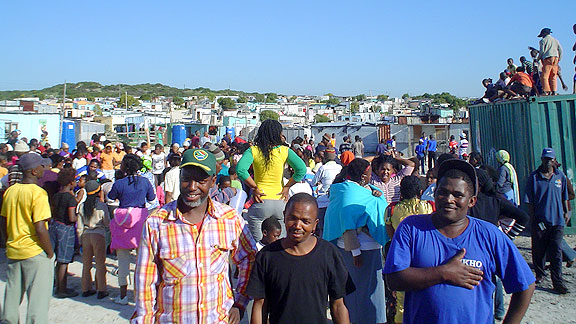 Leander Schaerlaeckens for ESPN.comFrom left are Farrington Mkagotsheolwa, Mnzetisi Gxisishe and Mpulellelo Fani of the Harare Townships.
HARARE TOWNSHIP, Western Cape, South Africa -- Nosiphiwo Mtengwana is struggling with a bag of onions while walking through the Harare police department's dilapidated headquarters.
"It's for the children," she said. "We are going to cook them, so they can eat something."
Mtengwana, 39, is the department's communications officer and a part of its social-crime unit. She's a squat woman with a perpetual smile, the first traces of gray setting in at the crown of her braided hair. Her T-shirt bears the police department's crest on the front. On the back it says, "Don't abuse us!" She's about to take us into the heart of the Harare Township.
"When the school closed, we started this program because we are having a problem in our area," Mtengwana said, referring to the all-day soccer and dance camps being put on for the children since June 9. "The rape is too high. They are raping the young children in our area. We need to keep those children for the whole day; they must be busy. That way they are not going to be the victims of rape. If they are loose, going up and down [the streets], somebody is going to see an opportunity to rape them."
Although there are no specific statistics for Harare, a South African woman is more likely to have been raped than to have learned to read, with U.N. and African surveys estimating one in three women in South Africa to have been victims at least once. (The ratio of reported rapes in the U.S. is one in 672.) Estimates put the number of children raped annually at about a half million -- many of them occurring in townships. After a two-year study, the United Nations anointed South Africa as world leader in rapes per capita.
In Harare, sexual child abuse is rampant whenever kids aren't in school -- weekends, holidays. Police have teamed up with a few government departments, nongovernmental organizations and the township committee to organize the camps, which are intended to offer children a safe place, to keep them out of harm's way and molesters' hands. They also are designed to urge parents and children to report rapes, even if a family member was the culprit.
Mtengwana couldn't explain what she said was a sudden spike in rapes -- the department does not have computers to track or analyze data -- and she doesn't think it has anything to do with the urban South African myth that sex with a virgin cures AIDS. "I won't lie," she says. "I don't know what is happening here."
Situated between the breathtaking, sandy, white-and-green dunes 17 miles southeast of Cape Town that eventually roll into the Indian Ocean, Harare sits at the edge of the sprawling Khayelitsha Township. But the township's idyllic location is a thin veil for the misery unfolding there.
As we pull off one of the newly paved roads cutting through the hills and onto the rocky path into the township, a toddler spots us. "Umlungu! Umlungu!" he bellows in Xhosa, pointing at our conspicuous, silver BMW. "White man! White man!" The township's informal alarm system has kicked into gear. Like all townships, Harare is all black. Whites are treated with the utmost degree of suspicion. The whites put them there, after all. But it's not the outsiders whom the boy should be fearing; it's the men from within the township.
In an open space between the sea of brightly painted tin shacks, thumping music blasts from a boom box. Boys and girls show off their moves, some from atop a freight container. Off to the side, little girls swivel their hips, sending hula hoops into orbit. The main event is taking place farther along, an ad hoc soccer field inside plastic cones where teams of boys, blending those barely old enough to walk with fully grown teens, are hotly contesting a tournament.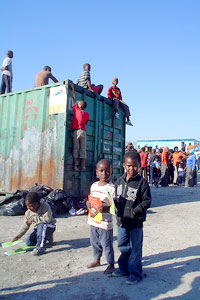 Leander Schaerlaeckens for ESPN.comSoccer provides the children of Harare Township with a welcome distraction.
Farrington Mkagotsheolwa, Mnzetisi Gxisishe and Mpulellelo Fani look on. They are the township committee's chairman, secretary and vice chairman, respectively. They make up an unpaid and unofficial government safeguarding the well-being of the township's population. And what's ailing this place most, aside from AIDS, is sexual predators.
"Three months ago, this guy came as a teacher to teach the children the African dances," Fani said. "The mothers of the children allowed him -- because he was like an angel to them -- to take their children out of the street. They all found out that this guy, he raped them." The girls were 5 to 8 years old. The mothers had gotten suspicious when he would take only girls for his classes. "He just came to help the people and keep the children out of the street," Fani said of the man's claim. The case is moving through the court system.
Harare Township is the sort of place the critics were talking about when they said the billions spent on staging the World Cup could be put to better use elsewhere in South Africa. Harare is ruled by lawlessness, identified by the City of Cape Town as a crime hot spot in urgent need of attention. Anybody with ill will can act with impunity. Parents can't keep their children safe. The police department is struggling to make ends meet, even to put on cheap events such as these. What's more, winter holidays for schools have been extended until after the World Cup to simplify logistics, increasing the days the children have to be looked after, further stretching the tiny budget. The World Cup seems so far away.
"I don't feel it," Mkagotsheolwa said of the tournament, altering the much-used "Feel it!" slogan. "They are feeling it," he adds, waving in the general direction of Cape Town, "but us, we don't feel it."
"Now there's a World Cup," Fani said. "We don't have any electricity here. We just sit here and we see the flags; the rest, I didn't see it. The World Cup … we are in favor of all of it, but it don't have any positive to us. I would lie if I said I see the positive to us."
Life in Harare Township will change little. World Cup or no World Cup, there will be children to protect from harm, ends to meet. Mtengwana and her allies will labor on, a few of the thousands of people trying to make this country what they think it could be.
Leander Schaerlaeckens is a soccer writer for ESPN.com. He can be reached at leander.espn@gmail.com.